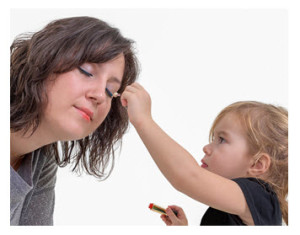 Mothers and daughters. Don't we wonder why some become best friends and others are at odds, even in adulthood? This mother-daughter pair surely falls into the first category, offering us a delightful double dose of makeup before and after looks.
I know you will find Missy and Sharon as lovely as I do.
Missy, who is a busy remarried mother in a blended family of seven (3 + 2 = 5 kids!), scheduled her makeup appointment in advance. She chose the Lancôme counter of her local department store. It was also suggested that she make a minimum purchase for the service.
Please note — Personally, I have never been told that I need to make a minimum purchase. On those occasions when I have visited a makeup artist I know, he is well aware of the (Dior) products I use routinely, and he knows I always return to him for purchase of those products.
Makeup Samples – What Say You?
I will add that I almost always ask for samples when I visit a makeup counter if I'm unsure of what I wish to purchase. Whether my go-to (Dior) or anywhere else, to me this seems like common sense. Considering the cost of cosmetics, it's only natural (and smart) to try at home before spending, unless we're certain to use the products.
I have never felt compelled to purchase anything, though more often than not, I do — only if I genuinely like the product. I suspect this degree of comfort (purchasing or not) is something that has come with a few years of maturity… Thinking back, this wasn't the case in my thirties or younger.
Missy had no issue with this, however. She says:
I knew that I needed mascara and so it was no problem for me to go with the intention of purchasing something.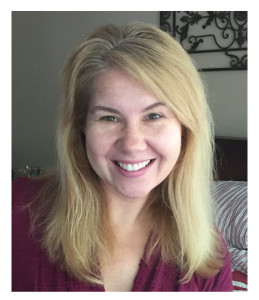 Now, how about Missy's "before" picture?
Here she is. Missy tells me she's in her forties, though I find it hard to believe. And she's beautiful without a spec of makeup on her face!
Missy's Makeup Goals – Lancôme
Missy explains that she had specific objectives in seeking a new makeup look.
I explained that I was seeking a fresh spin on my makeup routine with the ultimate goal of "opening" my smallish eyes and adding as much life to my face as possible. I arrived with only light powder and mascara which was promptly removed.
As in the case with the other women who have participated, it all starts with skin preparation.
The makeup artist began with skin care: toner, moisturizer and face + eye primer. I am used to a full coverage foundation and so he chose that, working outward from the nose. This point was about halfway into my session, and I was only now at the "blank canvas" point. Truthfully, I was thinking I would never complete this many steps in a makeup routine or process. But I was hopeful for what he might recommend for the actual colors and facial highlighting.
Colors and Contours
Missy particularly wanted to focus on the eyes, and the makeup artist suggested she choose among palettes that were cooler than her usual fare.
I opted for a palette with very little shimmer, as I find that to be unflattering. The shimmery and frosty textures seem to settle into creases (even with the use of primers) and sometimes feel like I'm trying too hard.
What did Missy choose, exactly? Were there techniques that seemed especially effective? How did this differ from Missy's usual makeup routine?
We settled on Mon Regard Parisien (114). While applying each shade, the makeup artist made certain to end each sweep of color with an upward stroke. He also used a brow pencil in Natural Blonde. I felt like this was an ideal color to complement my brows, which benefit from greater definition. Another change from my normal routine was the use of a more brown shade of eyeliner instead of my go-to charcoal. He partially lined the outer corner of my lids with the pencil, then used the darkest shade of eye shadow to fully line the eyelid and then smudge it out at bit.

Next, the slightest bit of shimmer was added to the inner corner of my eyes with the lightest shade from the eye color palette. He completed the look with a rich black mascara, carefully applied from the root and layered to add volume.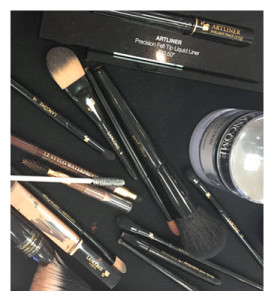 What came next, given Missy's goals?
He added a bit of blush to the apples of my cheeks in a pink rosy shade, then loose powder was brushed over the entire face. After stepping back, my makeup artist felt I needed more color definition and added a bit of bronzer around the perimeter of my face, and lightly under my cheekbones.
What Did You Like? What Did You Learn?
The last step was lips, and Missy was treated to the same lesson that we have heard several times now — emphasize eyes or lips, but not both.
She explains:
He finished my look with a nude / pink lipstick with a bit of frost. As another makeover volunteer shared, the makeup artists strongly promote highlighting either the eyes OR the lips, and I had requested focus on the eyes.
So far, so good. But…
I did not care for this lip treatment. It was lighter than my natural lips and the frosty texture falls into that category of shimmers / frost that I strive to avoid. I feel like it dates my look terribly.
Here is Missy with the completed makeup makeover at the store, and the lipstick she didn't care for.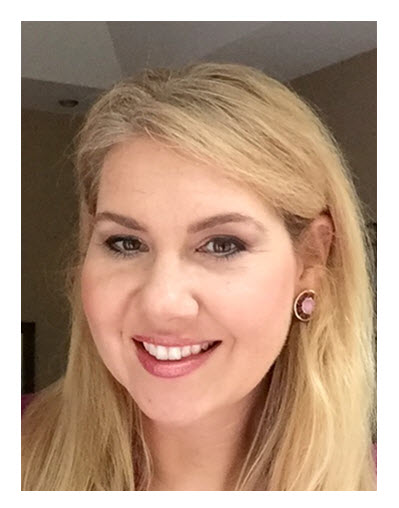 When Missy got home, she replaced the light lip treatment with a deeper shade with a plum tint. Here's a side-by-side of the two "after" looks, with different lipsticks. What do you think?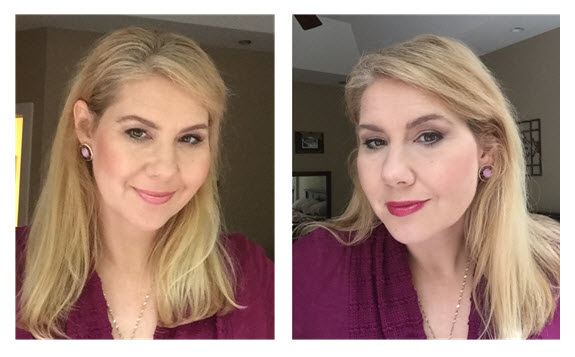 What Did You Buy?
I was pleased with some new ideas for my eyes and purchased the mascara, eye palette, eyeliner and brow pencil. It happened to be a bonus gift season and I also received a cosmetic pouch with skin care items, a lipstick, facial brush, etc. I really liked the brushes that my makeup artist used.
As for the techniques Missy thinks she can incorporate:
Having a makeover was a good experience. I appreciated having a fresh opinion of my look. I would not adopt of all the techniques used, but I feel more confident in several areas including applying eye makeup. I do not like shimmer and I do prefer a well-defined mouth. I will invest in new brushes and clean the ones I have more regularly.
Makeup and Lifestyle
I would like to emphasize the following point, though I imagine some will disagree. I believe that any beauty or fitness routine, in order to be successful, must consider our real world lifestyles. Those considerations include time, money, and even willingness to "fuss" with oneself. Missy seems to be on the same page. She explains:
Regarding the layers of skin care, it is simply not in my schedule to maintain that stringent of a plan. I wash my face and use sunscreen / moisturizer daily. Less often, I take time to exfoliate or use a mask. That's about all I can manage. I am unwilling to spend the amount of time suggested on skin care, but will be more aware of the products available when my routine may become less rushed.

I was especially curious about the primers, and am interested in hearing from others whether they make a difference in the way their makeup looks and feels throughout the day.
Missy's Before and After
Here is Missy's "before and after." Lovely! I think her makeover is very polished, very sophisticated, and suits her beautifully — with either lip treatment.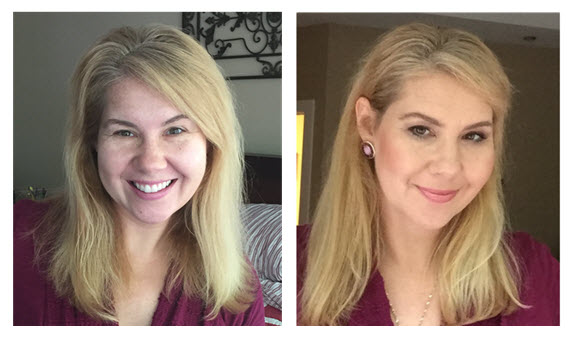 And Mom Makes Two! Clinique
Not only do we have Missy, but her mom, Sharon Hoffman, was willing to join in the fun as well. Although Missy and Sharon were not able to do this at the same time, they were able to enjoy a visit together after, and share the pleasure of their makeup experiences with us in a gorgeous shot of the two of them taken the following week.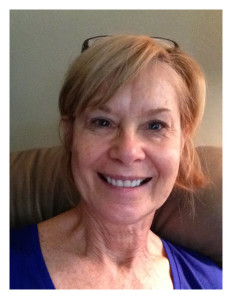 Sharon also decided to check out availability of a makeup artist first, calling ahead to see if they could schedule her. She chose the Clinique counter, where she specifically requested a look that would open and lift her eyes.
She says the makeup artist was both helpful and patient, walking through each step of the process.
Here is Sharon's "before" (to the right).
"Eye Opening" Makeup Techniques
Most of us would like eye-opening techniques, particularly since it seems that our eyes grow smaller as we begin to age. Curious about this effect, I wanted to know if it was real, and what causes it.
In fact, our eyes do not get smaller with age. Rather, the muscles that hold the eyelids up are not as strong, and the eyelids as well as the skin around them become looser and may droop. Apparently, some of us may also lose fat volume in our eye sockets. These factors may give the appearance of our eyes growing smaller, although they do not!
All the more reason to pay attention to these "eye-openers," and you may recall that in her makeup makeover, La Contessa was also given an eye-expanding technique to gorgeous effect.
Sharon's Makeup, Step-by-Step
Sharon tells us:
On the eyes, a light gray base was applied with a dark charcoal "c" around the crease to the edge of the eye, then back across the eyelashes. Then it was blended.
It seems that Sharon was skeptical when the artist dipped into the dark color, because her usual makeup treatment utilizes pale colors only. However, once the color was blended, she liked the effect.
Sharon says:
The artist continued with a dark, true black liner immediately on the lash line, on top and bottom. I learned that I had been going too soft, and the eyes were receding. This treatment was more intense, and called focus to this part of my face. The makeup artist also showed me how to mix concealer with moisturizer for use on under-eye circles and sunspots. This covered everything better than my usual method.
Next came Sharon's lip treatment — lining the lips, then filling in with the liner pencil. (We've heard this before as well! I think we all need to take a lesson.) Rather than a matte finish, Sharon was advised to use a bit of gloss. Not only does it serve to camouflage small lines, but it helps with the dryness that many of us — at any age — may experience.
Here is Sharon's "after." Gorgeous!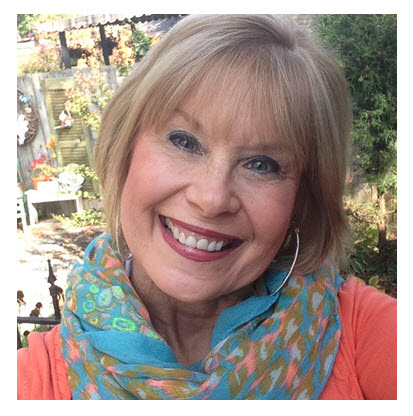 What Did You Buy? What Did You Learn?
Sharon purchased the black pencil liner, and she says she had fun, picked up some tips, and would go back for a makeup artist to do her face on a special occasion. She was worried that she might feel too youthful or 'made up,' but she felt like the makeup artist (who was middle-age) used very appropriate techniques for her season of life.
When asked if she enjoyed the process, Sharon says:
I really did! The makeup artist genuinely listened and gave me good hints and I didn't sense that she approached it from the perspective of a sales pitch. I trusted that she knew her skill and provided up to date tips that worked for me.
Incidentally, one of the pleasures of this series is getting to know so many exceptional women. Sharon is a wonderful example. She has recently retired as a dean at a small religious college, and she is a public speaker and an author. In her sixties, she is the vivacious grandmother of eight, and her hobbies include gardening, writing and doing lunch with friends although grandmothering takes up the majority of her time. Sharon is also known for cruising around in her convertible, so it should be no surprise then that among the books she has written is this, about her adventures as a Grandma: A Carseat in My Convertible? – which you can check out on Amazon.
Sharon, Before and After
Here is Sharon's before and after: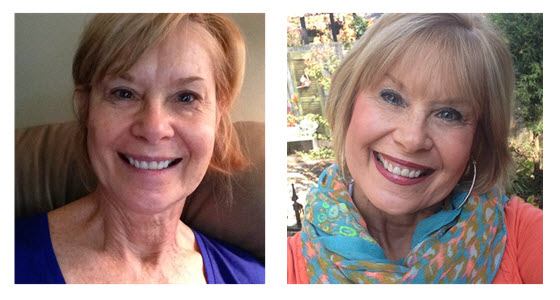 But the image I love most?
This one, of mother and daughter, side by side.
A close-knit family. Is there anything more beautiful?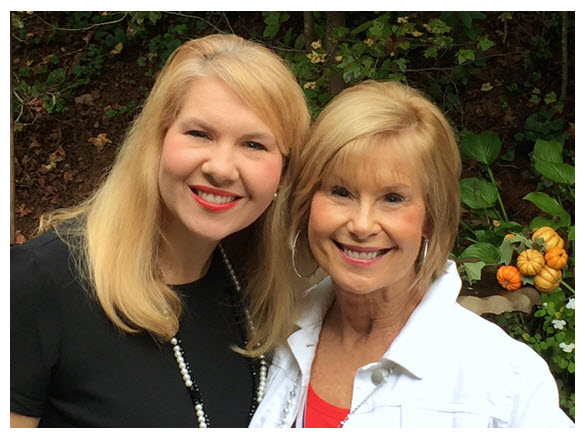 Be sure to visit Missy at Far From Flawless Life as she writes about blended family life and so much more. Follow her on Instagram at MissyJuner.
Read more of the Makeover Series here. Or, if you like, peek at all the makeup makeover posts here.
You May Also Enjoy