Do you like the way you look?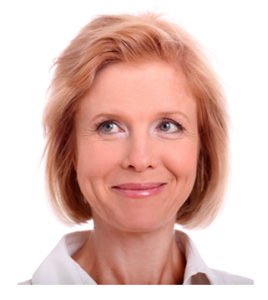 Answer quickly. Don't think.
Is your response an unqualified yes or no? Is it "that depends" or a meandering "I'm okay but…" followed by qualifying expressions of distaste for your nose, your hair, your body shape, the lines beginning to take form on your forehead?
Is there a little voice in your head that's always telling you you're not quite good enough? Does the nagging voice take its origins in your appearance?
Does it sound like "I hate my body, I hate my thighs, I hate my neck?" Are you buying into body hatred? Is it impacting your life choices, though you may not realize it?
Appearance Matters. Let's Face It.
Yesterday afternoon I received an unexpected request – to join a Huff Post Live discussion on women, appearance and body image. After a conversation with one of the producers, I went about finding the best location in my home (where I work) for purposes of lighting and so on.
Then I glanced in the mirror. I saw the fatigue. I also saw the irony in putting on makeup for a discussion on excessive emphasis on appearance, but I am, after all, a product of my culture.
That irony aside, next I prepped. I checked out Jennifer Tress of the You're Not Pretty Enough Movement, whose related work was the focus of the segment. Jennifer is putting her message out there to a surprising number of women who don't feel "pretty enough" in a society that is all about looksism. Certainly, for its women.
This is what I generalize to a broader set of concerns I deem "not good enough," which for many equates to not thin enough, not busty enough, not young enough… You get the drill.
In my prep, I also checked out relationship columnist Amy Chan. Pay close attention to her remarks in the segment.
Beauty, Bias, Behaviors. Big Topic!
With my references nearby, including my own column, "Think Looks Don't Pay?" that addresses salary data based on appearance, not to mention a 2011 Glamour survey that cites 97% of young women as having at least one "I hate my body" moment a day, I sat myself down and joined in.
Naturally, we don't know exactly how these conversations will flow and this was my first time on Huff Post Live. (Incidentally, everyone was professional and pleasant.) Here are some of the points mentioned only briefly or not mentioned due to time, but they're important. Among them are several generalizations, but let me know if you find them untrue.
Do You Feel "Good Enough?"
Now let me ask again. Do you like the way you look? Are you overly critical of your appearance? How many times does the thought "I hate my thighs" or "I hate my nose" cross your mind?
Are you talking to your daughters and praising their looks – prettiness, thinness, dress, mannerisms – more than you're praising their accomplishments, their kindness, their curiosity, their intelligence or their ability to make friends?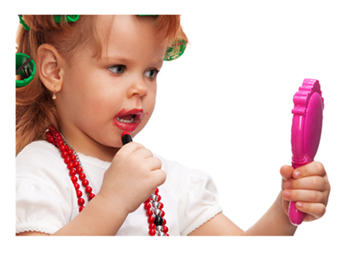 What about your sons? Are you praising them more for their actions, their words, while approving of their rough-and-tumble forays into the world?
Don't think that boys aren't prone to the same imbalance of expectations, or rather, a variant of imbalance. Don't we teach them not to cry or show certain emotions? What about boys who aren't athletic or seemingly tough enough?
Which behaviors and attitudes are we reinforcing that become their critical inner voices, their foundation for insufficient self-esteem?
If we're praising our daughters for their looks and our sons for their achievements and ideas, aren't our future men absorbing these messages that a woman's value is in how she appears? And if we're scrutinizing ourselves head to toe, aren't these behaviors absorbed as "normal" by our children, in contrast to fathers who are not doing the same?
Shouldn't we consider our words and actions, how they differ as we're talking to and about genders, how we set expectations without realizing, which of course reflect cultural values?
The Beauty of Beauty
Naturally, media comes into play and I'm not going to get into that here. It's a huge conversation, and we'll table it for another day.
Suffice it to say – I'm a lover of beauty of all sorts – words, art, music; a child's face, nature. I am as susceptible to Ryan Gosling's six-pack abs and George Clooney's bedroom eyes as the next red-blooded heterosexual woman. And like most women I know, I care about my looks, and criticize myself too easily, and I know – too harshly.
I recognize the warring voices over body image that grew out of my childhood and adolescence, some of which were reinforced during my marriage. I know my own voice to be the most critical.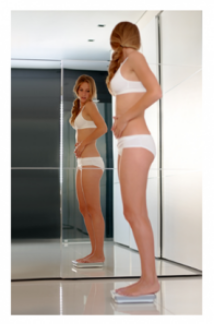 And I did put on the makeup and fix the hair before settling in front of the camera, now didn't I…
But caring is different from obsessing. And there's no question that obsessing over appearance affects:
The Beauty Balance
It's natural to care about the impressions we make. It's human to want to be seen as pleasant looking. But this is only one piece – one small, elusive, deceptive, changeable piece of who we are.
Nor am I saying we shouldn't tell a child they look wonderful. We all want to look good, don't we? There's nothing wrong in that! It's the emphasis that is problematic – on a certain standard of beauty / body shape / height / "look" that becomes the fundamental source of value for us as individuals.
Do we really want our friends, our sisters, our daughters and our mothers choosing so-called beauty over health?
It's the insults, the digs, the backhanded compliments – hurled or slipped in with cagey cattiness: "She's gained weight" or "she's not very cute, why would he want her?" or "he's too short to date" or "she's not so bad… for her age." These are daggers that do damage – and also lead us to miss out on wonderful friendships and relationships as we judge superficially rather than taking our time to know the whole package.
Go To Your Mirror. Now. Please.
Go to your mirror. Look, but do so kindly. Look, as you would look at a friend.
Did you hear that? As you would – a friend.
See your humanness. Experience the features that the world sees. Appreciate your smile that will put others at ease, your eyes that grant you every color in the spectrum, your nose that revels in the sweet scent of an infant sleeping or the aroma of morning coffee in your kitchen.
Can you feel the air on your skin? Will you put your index finger to your lips? Isn't touch miraculous? Isn't the body a source of pleasure?
Look at your best features and your "worst" – and toss them into the pot of who you are. Who you are is so much grander than the bump on your nose or the bony hips you've always hated or your ass that's too big. You are so much more. We are so much more.
Think about it.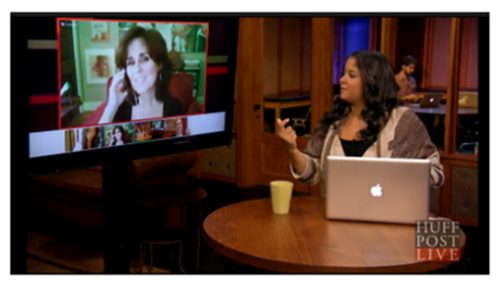 You May Also Enjoy