Capri pants. Full skirts. Three-quarter length sleeves. Suits cinched at the waist. Ah yes, the Dior waist… Fabulous. These are just a few of the style trends from the 1950s that come to mind, and with them, icons like Audrey Hepburn and Marilyn Monroe.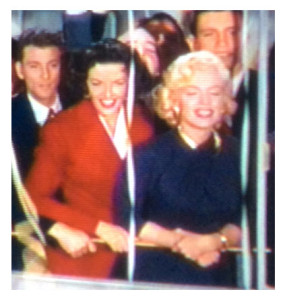 Speaking of Marilyn and fifties fashions, a few nights back, I happened upon Turner Classic Television playing 1953's Gentlemen Prefer Blondes. It was a revelation! While I had seen the film long ago, beyond the one or two wildly famous song-and-dance numbers we all know and love — Care to hum a bar of Diamonds Are a Girl's Best Friend? — I hadn't actually watched the movie start to finish in ages.
All I can say is this: I was wowed by the beauty of the wardrobe, not to mention Marilyn Monroe and Jane Russell.
I couldn't get over the number of details that I loved – colors, necklines, belt details — and how flattering the cuts, fits, lengths and styles could be on many women.
Naturally, most of us don't have bodies like either of these two delicious mid-century talents. But whatever our shapes, don't many of us wish to cover a little here and distract a little there? Don't we know what features we'd like to show off — daring to bare the shoulders or collar bones or for that matter, show off a well-turned ankle?
Not to be too provincial (those who know me realize that label doesn't fit), but wouldn't some of us prefer to cover up a little more than we once did? Oh, not everything of course. And a little mystery goes a long way. But by the time we've hit those "midlife" years, some of us are reckoning with less than perfectly toned arms, abs we haven't seen since our teens, and "assets" we'd like to reduce rather than see expand.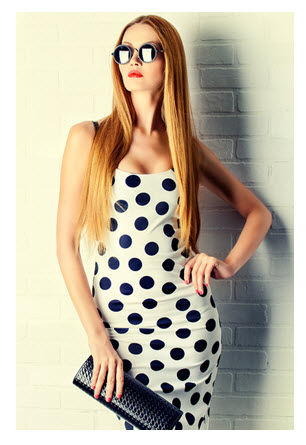 Given that I'm not a willowy model — never was — as elegant as I find many fashions that I see in the magazines, I'm no more able to wear them now than I was 20 years ago. All the more reason that I was drawn to a number of features in the fashions I saw in this classic film — fully appreciative of the fact that the two gorgeous women wearing them had no need to cover anything whatsoever. On the contrary. And yet, I think they looked incredibly sexy and chic with their longer sleeve lengths, layering options of little jackets or swing coats, and the variety in their high collars, scoop necks, bateau necklines and oh, the fabulous folds of fabric that draped and shaped their very fine forms.
Now, I'm not suggesting we all run out to a vintage clothing shop and pick through the racks in search of retro style. What I do want to point out — and I'm reminding myself as well — is that there may be elements of style from decades gone by that we may want to seek out. And perhaps, with a glance back at the the 1950s, our 50s style may take a lesson in how stunning women can be — without having to apologize for their womanly bodies.
One small aside before I lose myself in these great images. The suit. The perfectly fitted suit. It's a classic at any age and any stage and dresses up or down for so many occasions. Women knew that in the 1940s and 1950s. They still knew it in the early 1960s. (We won't even talk about the worst of the polyester period of the 70s.) In the 1990s, I was certainly wearing suits and feeling glorious in them — suits with panache, suits in color, and because I'm tiny, typically simple, streamlined and very fitted.
I'm making a mental note… Rekindle my love of suits!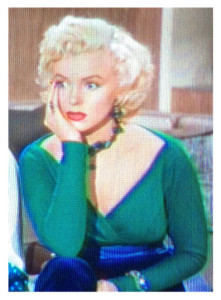 Take a look at these pictures — forgive the quality as I snapped them quickly on my phone while watching the movie.
What about the necklines? The colors? The details? Aren't some of these looks absolutely timeless?
I remember photographs of my mother and grandmother taken in the 1950s in similar styles. They were not thin women, and they looked fantastic. And yes, there were usually some pearls on hand…
Incidentally, I do not want to suggest that 1950s fashions were comprised of a handful of trends as briefly mentioned here. As in any other period, the first year or two of the decade tends toward the previous years. (I was still wearing my 80s perm in 1992… weren't you?) And, as the 50s rolled along, there was tinkering with the female silhouette — isn't there always? — and the mid-late fifties saw more and more women enjoying Chanel's shorter open jackets that remain a classic today.
My real point is this. Shouldn't we look to any and all sources for what makes us feel good? If we can be inspired from the 1950s — or any other period for that matter — if we find elements that suit us, shouldn't we look to incorporate them, adapt them as needed, and enjoy?
Naturally, most of us are neither Hepburn "gamine" or, at the other end of the spectrum, Jane Russell, Marilyn Monroe or for that matter, Christina Hendrick (Joan Harris). We are neither wispy nor the picture of hourglass perfection. But I do love the idea of accentuating what we wish to show off, and not simply what we believe we are expected to.
Speaking of Audrey Hepburn, this image dates to 1954. Note the upturned collar and long sleeves. What can I say. She would be chic in a paper bag.
Look at this silhouette on Marilyn! I realize most of us don't have that luscious figure. However, see how the stripes play to her advantage and just as importantly, the attention to the waist is very fetching. (I'm reminding myself that I needn't have a 24″ waist to draw the eye inward in hourglass fashion. Hmmm… I wonder if my waist measurement has gone down with my efforts to get more fit… Perhaps soon I could resume wearing some of my favorite belts?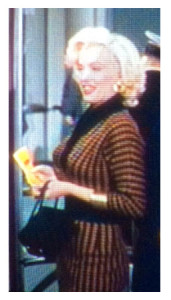 And do note how lovely these long and three quarter length sleeves are. Personally, I adore cuff bracelets as accessories. As a woman of small stature, I can't pull off too much in the adornment area or I'm swallowed up. But a few fabulous bracelets stacked on one wrist? A striking cuff? Fantastic! And all the more noticeable with a three quarter length or long sleeve.
Speaking of belts, note the more subtle touch in this high-necked number. I find it impeccable. And no, I couldn't pull this off, unless I went for uber-smoothing-under-somethings. Perhaps the French Spanx I picked up a few months ago…
What I'm focusing on here are some of these details — details I intend to start paying attention to in my own assembling of outfits.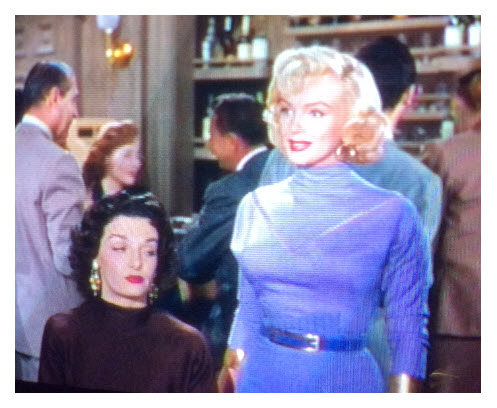 Take a look at this photograph, the stunning Suzy Parker in 1955. How gorgeous is that neckline? Note the detailing at the waist, the full skirt and again, the sleeve length. I'm thinking about the belted look again — either bold or subtle. I find it alternately feminine and surprisingly sassy. Yes, on the sassy score, I'm thinking of Marilyn's color blocks in that green and blue separates number. How fabulous is that brightly colored sash with a hot blouse and simple pants?
I'd wear that in a heartbeat!
What else might I borrow from the 1950s if I could?
Let's see… I'm already a fan of the art of the scarf — almost any which way. (With a nod to all the years spent going back and forth to France.) Fifties women were big on their little scarves tied at the neck.
And the sweater set?
I love it — with a pencil skirt. Or, the very same pencil skirt with a crisp tailored blouse and an impeccable belt.
One more item I wouldn't mind?
I remember my grandmother wearing a jangling charm bracelet when I was a child. I'm sure she had been wearing it for decades, and each charm told a story. It was her signature accessory and I loved seeing it and I knew when she was coming!
And now, for no reason except her breathtaking beauty — who isn't susceptible to beauty? — a photograph of Elizabeth Taylor, 1954. Magic…
Are there style trends from a past era that seem to suit you? Do you feel better when you "bare this, but cover that?" Any fifties trends you wear today or might consider?

Images of Hepburn, Parker, Taylor: Getty Images Free Embed
Enjoy more of the Makeover Series here.
You May Also Enjoy