You could say it started with a string of pearls, though truly the story begins decades before, and is tangled up in yesterday and today.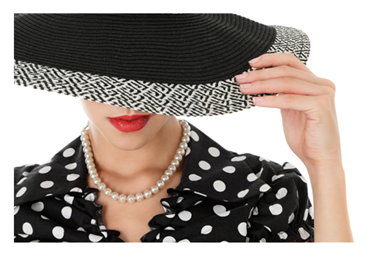 There is a chapter in which I find myself in desperate straits. There is a chapter in which there is a woman's love and a wedding band in gold and pearls, stolen in the 1960s. There is a chapter in which beauty is undeniable, the only makeup consists of deep red lipstick, and a string of pearls is de rigueur.
There is a love of pearls in any form – the real thing or simulated in a bead of plastic. And this, the knotted tale of an opera length strand – the gift a woman gives herself, to say that she is valued.
Mother and Daughter Legacies

Women of a certain age may remember receiving a string of pearls as a girl, or seeing their mothers or aunts in a double strand, or stately grandmothers for that matter, equally at home with lustrous white beads at the collar or bouncing against a bountiful bosom.
My mother wore pearls. My grandmother wore pearls. And of course, when going out, there were gloves, dress shoes, and a matching satin bag.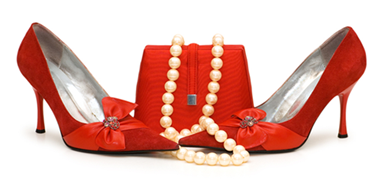 When my mother passed away, there was plenty of junk in her jewelry box – and more pearls than I've ever seen – chunky pearls, clusters of pearls, twists of pearls with elaborate clasps. Most were costume, but there was a single strand of creamy white 5 millimeter opera length pearls – expressly left to me.
I could speak of the other (emotional) legacies left by the once radiant woman who bore me; some of those tales I have told, and others will keep for a rainy day or remain in the silent safe of personal memory. But among her brooches, pins, necklaces and screw-back earrings, I discovered fragments of my childhood, and recollections of the days when women wore outfits and ensembles.
My mother was no different. She loved her charm bracelets, her hats from Hecht's, and most certainly her pearls.
The Significance of a Ring
The significance of a ring, or any other symbol of a bond, a vow, an exchange?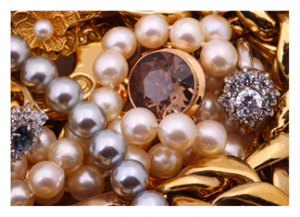 Neither my mother nor my father wore a wedding ring. My father removed his shortly after they married (the story was that it interfered with his golf game). As for my mother, her ring (with pearls) was stolen on a trip to New York in the late 1950s or early 1960s.
She never received a replacement of any sort.
As for the long strand that was now mine, it turns out my mother saved for it and purchased it shortly after the termination of her own 30-year marriage. She needed to buy herself something beautiful, which I never knew until months after she passed away.
She had worn the pearls to my wedding, and I wore them only once just weeks after her death. It was a way to honor her at an occasion that was important to one of my children.
Then I put them away.
Pearls with Everything
Is there any woman who cannot picture Coco Chanel in pearls? Or Grace Kelly? Or Audrey Hepburn? What about Jackie Kennedy?
As a baby or toddler, I was given a tiny necklace of pearls. (I still have them.) In the 1980s, as a young single working woman, I indulged in a single 16″ strand of pearls which I wore daily, like so many others. By the 1990s, juggling career and kids, the only jewelry I wore was my wedding band and engagement ring, both small and simple.
Ten years ago, shortly after my own difficult divorce was official, I marked the event by a symbolic act of reclaiming myself, unaware I was doing precisely what my mother had two decades earlier.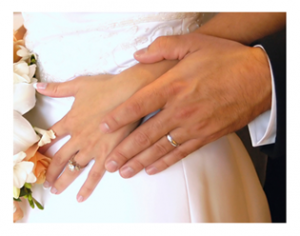 No, not pearls. Nothing so lavish.
But I purchased tiny earrings at an elegant store, and when I wear them I feel special. Only now, recalling this post-divorce "splurge," do I fully understand the meaning of my mother's pearls and the wisdom of that gift to herself that was a statement of herself.
Disappearance, Reappearance
These past years, times have been tough. At one point I was so desperate for money that I placed my mother's pearls in a fine resale shop where, in theory, they might yield a sum sufficient to cover a mortgage payment or at least a dental visit or two. Unfortunately, they appraised at far less than she spent.
I regretted parting with something explicitly left to me, but I trusted the owners and hoped for the best. Sentimentality goes out the window when you're dealing with basics like food and shelter.
About six months ago I thought of the necklace. Obviously it never sold or I would have heard, so I swung by the store to pick it up. But the shop was gone, and though I scoured the Internet when I got home, all I found was the old address and number which led me nowhere.
I was so upset I couldn't even speak of it, swamped at the time with other tasks and admittedly, feeling foolish for investing my trust in the owners, and overwhelmed by guilt that I'd put the pearls up for sale.
Pearls at Breakfast (without Tiffany's)
A few days ago I stopped abruptly at a red light not far from where the resale shop used to be. And there it was, around the corner and one block away from its former location. In the commotion of their move (and with a paper system rather than an electronic one), they hadn't notified everyone of where they were, but hoped their customers would find them.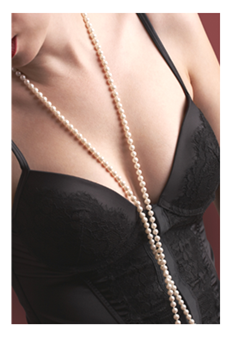 When I walked through the shop's doors, the owners recognized me immediately, and within minutes I had the pearls in my hand and then around my neck. I received profuse apologies for the confusion and felt enormous relief – not only for the returned necklace, but because my trust was not misplaced.
Today, I am wearing my mother's pearls. My pearls, and I'm loving them.
I can double them or triple them, dress them up or dress them down, or simply smile as I enjoy them at my computer or around the house, in particular recalling my grandmother in her apron, her knit top, her pearls in place, and more than anything, feeling connected to her extraordinary grace and strength.
Pearls of Wisdom
Pearls with everything? I just may reclaim the habit, and feel great about it: pearls with jeans and a sweater, pearls with a low-cut top, pearls for a night out, pearls for, well… a night "in."
Oh, the necklace isn't worth very much, financially that is. We all have our treasures from childhood. Some have monetary value and others, more dear, link us to memories and lessons.
To me, the truth of these pearls is in their journey and their stories – of the women in my family with our complicated relationships – women who are deeply loved, women who wait a lifetime to be loved, and women who eventually learn to love themselves.

Big Little Wolf's Daily Plate of Crazy