We pull out of the driveway in his Chevy van, Led Zeppelin pounding through the speakers in the back, his floppy denim hat tossed onto the orange shag, my mother fuming on the front porch, her face a fist.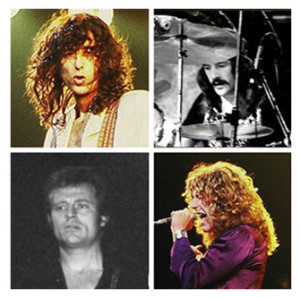 Why can't she see he isn't what she thinks he is? Why doesn't she understand that just because he appears to be a bearded drop-out doesn't mean that he is?
I am no longer under her roof, and college life affords me freedoms she cannot deny.
She should open her eyes and accept the reality that the world is changing, that I am changing, that she ought to be changing, and her refusal to shift her views hurts her more than it does me.
*
Their loopy, neon-colored, cartoon-like petals are a pleasure to those who would wish us all a more playful, peaceful planet. And they're everywhere: on bumpers, on windshields, on blue loose-leaf binders.
The stickers are scattered across bedroom doors, on bulletin boards, on plaid luggage. They pull me in. They perk me up. They promise everything I am not quite old enough to enjoy.
Flower power. Beaded curtains. Owning myself.
*
My mother places each stem just so, not once but twice. This, after giving up on the dark green florist's foam she begins with. She tells me the class in Japanese arranging is going well.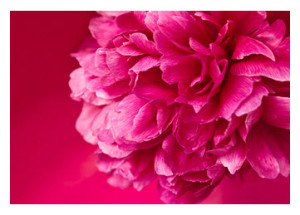 This is artful. This is womanly. This is important. It also seems like a throwback, even for her, being more independent than she lets on, and less wed to conventional domestic routine than one might believe.
What I like most: The way she snips daisies growing wild in the backyard, where she once seeded with abandon. Then she pops them into a pitcher. No muss, no fuss.
My grandmother's style is something else. She is efficient in her cutting and gathering, but quietly content as she pokes through the rock garden and the back beds. Her bouquets are varied and quickly accomplished — grand or simple.
Always true to her natural elegance, in certain moods she prefers a few pink peonies in a small crystal vase.
*
The shift my mother stitches for herself and the shift she stitches for me are both constructed of a Butterick pattern. She chooses kettle cloth in bright colors with tiny blooms and leaves, or geometrics. All the clothing she makes is executed deftly on her grandmother's Singer. To clarify, that's the machine my great-grandmother used, one foot and two hands in a determined dance to fashion, well, fashion.
I am amazed that the contraption functions for at least 80 years. Today, it gathers dust in my attic.
*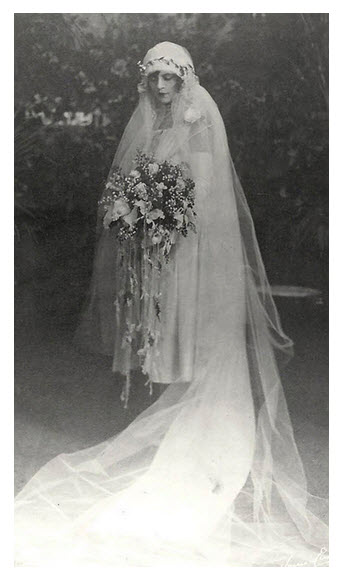 Nancy Sinatra shimmies in her boots and I imagine what that would be like. Couldn't I save up for a pair? My mother tells me I'm too young, I've hemmed the shift too short, and where on earth is my sense of propriety.
*
Fresh flowers are a must: Even in hard times, I find a way now and then. In prosperous times, I choose tulips, lilies, baby's breath.
*
I despise those frigid, spare Japanese arrangements. Beautiful, they are. But so constrained. No wonder their petals weep.
*
For my wedding day, my mother insists I carry a bouquet of mixed flowers that is excessively large, excessively long, and surprisingly heavy. I can't imagine why; it doesn't suit me. But she likes it and I'm feeling magnanimous.
20 years later I find my grandmother's bridal photograph in which she holds a bouquet with long satiny ribbons, an abundance of mixed blooms, and it is far too much for her diminutive stature.
Yes, it is common in her day; I look for other brides from the 1920s and they too wear Juliet caps, crazy long veils, and are posed with oversize bouquets.
Did my mother unconsciously "style" me to resemble my grandmother, whom we both loved deeply? She had passed away the year before.
*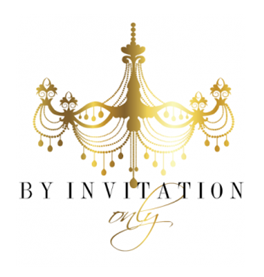 Florals are not my thing: no floral wallpapers, no floral dresses, no floral linens. I possess one gauzy black-on-black silk scarf with a floral motif that I adore.
*
Nancy sings and I want to walk. Maybe into a field of poppies. Maybe into the sunset with a bearded boy. Maybe into my grandmother's yellow kitchen to visit over coffee.
On the sill by the sink are violets, some of which are pink.

Stop by this month's By Invitation Only. It's all about floral fashion, frolic, and fun.

Led Zeppelin image per license CC 3.0, Attribution here.
You May Also Enjoy