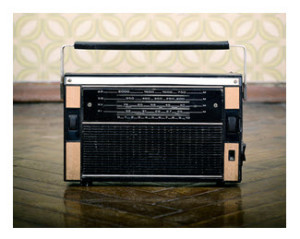 Back then, you could say social media was the radio and our influencers, the broadcasters we relied on. My source was 1080 AM — we all listened to AM in those days — and the man to follow was Bob Steele. He was the one they called when snow packed the schools in so tight there'd be no getting there even with the plows out early, and the principals, one by one, would cancel. We'd stare at the stuff coming down and all hush up, eager and ears close to the speaker, listening for the mention of our town.
"Rocky Hill – no school," Steele would say, and then we knew. If Rocky Hill cancelled we'd cancel too, and Mr. Frank, the principal in Cromwell would have to follow suit, and then Middletown and Higganum would do the same, and so it would go down the shore as far as the signal would reach, beamed out of Hartford.
These days are a lot of the same, maybe in a different form, but it's the little things we listen for, hope for, and on the surface it seems a deep split from then to now and those weather bulletins, but a certain attention to memory can stitch the two together, coherently, and make sense of it.
Bob Steele used to play phone-in word games on his morning show, games such as you'd find in the Old Farmer's Almanac. He'd ask a question and the listening audience would come up with answers. If you were lucky to get through on the line, he might talk to you on air – today he'd tweet you or retweet you I guess – and that'd be your brush with fame. And if you were really good on air, you know, you could imagine you might get your own phone-in morning show one day, maybe syndicated, maybe reaching a million people like Steele did, and that'd be even better than a spot on The Price is Right, but not quite as good as the dream of walking through the curtains to Johnny Carson's couch.
Anyway, one game stuck with me. The task was to come up with the longest, grammatically-correct sentence composed of only two letter words. I can't remember what the winning combination was, but I remember I managed something I was proud of, "he is to be by me," and I remember how disappointed I was when Steele announced that someone came up with a seven word sentence. I was just one word short of the prize.
There goes my regular morning slot, I thought – as though an eight year old's blather would satisfy a demographic that had to stretch from 35 to 105.
Sometimes I think back on these simple thrills and compare my young self to my five-year-old son. He's not so different from me when I was a kid, and if he had a Bob Steele opportunity he'd surely slide into a phone-in radio slot if he could. Such is his confidence.
Sometimes I think back and I can't find the spot, you know the one I mean, that clearing in childhood where we reside for years and don't know any different until we realize it's out of reach. That place where nothing is muddy and everything is possible. Somewhere I lost my kid-like confidence and my kid-like enthusiasm, and maybe we all do and that's just the way it is, but I wish I could touch it again or see it again, even from a distance. If I could, I'd stop there and gather myself back up, and I'd keep phoning in answers and phoning in requests and phoning in contest entries.
Because one day I'll be the winner with the seven words, maybe eight.
Today I didn't walk to the beach. It was a beautiful morning and I missed it. And I've got nobody to blame but myself, because it's not as though Bob Steele hung up on me. He wasn't that kind of man.


© Brian Sorrell

Brian Sorrell has worked as a cook, typist, computer programmer, woodworker, bicycle repairman, and university lecturer. In February 2012, he and his family packed up their house in California and relocated to Auckland, New Zealand, where Brian writes about life as a stay-at-home-dad at "Dadding Full Time" and life as an expat at "Root Beer in New Zealand". Visit Brian at Dadding Full Time on Facebook, Root Beer in New Zealand on Facebook, @DaddingFullTime on Twitter, or connect with him on LinkedIn.
You May Also Enjoy