Dear Hiring Manager,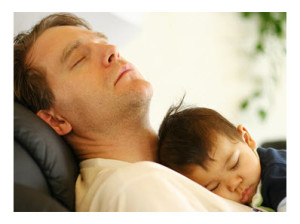 Excuse me if this seems sloppy, but it's been at least five years since I last drafted a cover letter, which I know because I'm about to celebrate the fifth anniversary at my current job. My job as a dad.
They say to play down the stay-at-home-parent thing when you're trying to re-enter the workforce. I've considered that advice, and it seems to me there isn't much point in playing down the way I've spent my time. You're going to figure it out anyway.
It's like this: See that gap in my resume? See those years when I was a "consultant"? See how that follows right after a dozen years of a full-time, respectable job?
If you're really discerning, you'll see I let my pay-to-join memberships lapse, and you'll also notice a precipitous decline in community service involvement and volunteer projects. You'll put it all together and know I either had a kid, or went to prison.
You wouldn't know it to meet me as I am now, but I've aged damned quickly these past few years. I probably look like someone who used to be in good shape and well rested, but I'm past being fussed or shamed by how much I've changed. This me, right here, is who I am. For as tired as I look, you'll be impressed at my resourcefulness and stamina, both mental and physical, developed since February 2010.
At that time, I assembled a five year plan. No surprise (to any stay-at-home parent), it didn't pan out. Once you have a kid you realise plans don't count for as much as you thought. Kids, quite literally, shit on your plans. So you learn to adapt at all costs and in the service of your job, where your job is your kid, full time.
We "professional" parents learn to stop caring so much about what other people think. No, we don't ignore others' thoughts and feelings to the point of sociopathy, but we know we've got a job to do, and it's going to get done no matter whether your shirt is a paisley of vomit and half your hair is covered in peanut butter. It's a special kind of perseverance. I find it difficult to define and quantify this skill for resume purposes, so I'm telling you straight up, right now, I'll go so far as to eat food someone else has chewed if that's what it takes to complete the current task.
I've also cultivated a sort of patience I didn't know existed. Example: you can scream in my ear all morning and I'll still make you lunch, no complaints. And if you promise to give me some slack in the afternoon, I'll afford you the same when you refuse to eat your carrots. Not relevant, you say? I beg to differ. I'm a stalwart SOB at the negotiating table, reading the adversary and standing firm, knowing just when to give and just how much.
Interpersonal relationships are important to a well managed team? Same drill. I've learned the hard way that life is full of give and take, and building strong relationships is a matter of finding the right balance and understanding the role of time.
I know some of this sounds like empty platitudes, and a few years ago I'd have thought the same. But I've been subjected to hundreds of hours of purple sing-song dinosaur jingles and the platitudinous depths to which their writers will sink in the service of attention retention. And yes, the stand-offs over carrots.
I suppose I should trumpet more standard skills and achievements and suggest that I'm the man for your job. But I've got to be honest: I'm not sure about that. A few years ago I thought I'd be trying to "get my life back" at this stage or maybe I should say, to take it back. But right now, I know better. I haven't been on pause.
You see, my boy and I grew up together these past years, and we grew up in ways that business language is ill-equipped to describe and organizational analogies discount as a stretch. I can tell you that it wasn't until I became a father that I really came to peace with my own dad. I get him now. This is an example of seeing the bigger picture and putting myself in his shoes. I could tell you the whole story, and you could tick the box for empathy, if that would help my candidacy.
I can also tell you that I had no idea how many steps it took to transfer food to one's mouth without sloshing it all over the table and smearing it all over your face. I can tell you how difficult it is to carry bags of groceries from a car to a refrigerator when your infant falls asleep before you get home. I can tell you that I had no idea that everything – everything – takes planning, from showering to shitting to sitting still, whether things work as planned or not. So you might say I've had five years experience in the study and implementation of business processes. Tick that box too, please.
Anyway, if you're looking for current computer skills, mine are about five years out of date. But I learn fast.
If you're looking for someone well-versed in pop culture, don't give me a second glance. Not interested.
If you demand someone who is a master at digital phone technologies, that isn't me. And while I hear you can talk in your car and a voice will provide directions, here's what I can do instead: read a child's face, anticipate his needs, guide his emotional and intellectual development, creatively respond to the most perplexing questions, understand boundaries, enforce limits, persevere toward goals and do it all whether I've got strained peas in my socks or dried tears on my collar.
Need things done? I'm your guy.
I suppose I have marketable skills after all, so allow me to sum them up: resourcefulness, stamina, perseverance, adaptability, patience, commitment, negotiation, empathy, interpersonal finesse, planning, problem-solving, and my ability (like my kid) to learn and grow.
I am happy to provide references upon request, including from my current employer. He's a real hoot. You'll like him. Buy him an ice cream and he'll tell you his life story. And wound throughout his highs and lows will be the truth of my greatest accomplishments these past five years, and all the really important things you need to know – about me.
Sincerely,
Brian Sorrell
Stay-At-Home-Dad Looking for His Next Job


© Brian Sorrell

Brian Sorrell has worked as a cook, typist, computer programmer, woodworker, bicycle repairman, and university lecturer. In February 2012, he and his family packed up their house in California and relocated to Auckland, New Zealand, where Brian writes about life as a stay-at-home-dad at "Dadding Full Time" and life as an expat at "Root Beer in New Zealand". Visit Brian at Dadding Full Time on Facebook, Root Beer in New Zealand on Facebook, @DaddingFullTime on Twitter, or connect with him on LinkedIn.
You May Also Enjoy