He spends three of the last seven nights on the sofa as he did more often than not during those final tedious months of high school, asleep in the middle of our tiny home – visible, vulnerable, at the center of the household.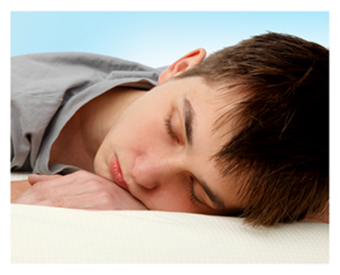 I have my thoroughly defensible theories as to why he sleeps there and he is unlikely to deny them: the space is more open than his cramped bedroom, the kitchen is only a few steps away, he can doze off while chatting on his computer and at the same time, watching television.
I have my theories bred of the mother's sentimental heart: he knows I will see him in the morning as I move silently through my routine; I will look on his sleeping face and experience a younger child and the still sweetness of our connection.
I sense there is complicity in this return to the living room, this removal of walls, this presence tinged with another goodbye.
I decide that it doesn't matter why he is there but I like it, and take it as a kindness just as I do his acquiescing when he requests a gathering of friends and I lay down so many rules that he does not push, and he takes my response as a no.
I am tired, and he sees it.
* * *
I wonder why we push, and push again, and keep on pushing though I know the physics, the biology, the psychology of our universal compulsions to expand and contract, to push and then withdraw, only to resume the cycle.
It isn't only mothers who push, though we are famously defamed for it. Ours is pushing from a place of love, pushing out of harm's way, pushing that is a necessity when a child must learn and less so, as he comes into his own manner of pull – and appropriately, he pushes back.
Yet mothers push and it's the way we bring our children into the world whether they arrive in our arms via documents and journeys, or sliced open by the surgeon's skilled hand, or pushed out as a squalling and impossibly adored creature after a day and night of excitement and anguish and exhaustion and exhilaration.
Birthing our babies is only the beginning. Eventually we push them out of the nest and until that time there is the slow carriage of one hundred fifty-seven thousand two hundred forty-eight hours in between, give or take.
Each moment is a contentment, a story, a heartache.
* * *
What is the reason behind the popularity of push presents? When did this happen? Must we really commercialize even this, insisting we deserve material rewards for the privilege of a life to cherish?
Pushing is for pins into cork board; pushing is for grocery carts through the produce aisle; pushing is for strollers through the covered mall when it rains, and the neighborhood when the sun is shining.
Pushing is not about presents; it is the body's mechanism for expelling the infant, for igniting its independent breathing, for launching him or her into turmoil and sensation, into air and light.
* * *
It is pushing midnight and he is partying on another parent's turf, on another parent's dime, the cause of another parent's headache. I'm plodding through multiple tasks as usual and my neck throbs and my eyes are burning at the cruelty of the hour.
I'm grateful for the silence and waiting to hear his key in the lock. However desirous of sleep, I push on. There are projects to give birth to. There are chapters. There are dreams.
* * *
I am searching for a program on my laptop on the machine my son fiddled with when I first purchased it. I recall him telling me there is a media center and movie maker but these aren't tools that I need; I use whatever is expedient and push on to meet my deadlines.
In my fatigue I click the wrong icon and open a set of windows I've never seen. I find three media files dated April 2010, each with a tiny image of my son.
The first is a clip of ten seconds or so. My teen comedian is contorting his mouth and wiggling his eyebrows, then applying a distortion effect. I have no idea how he managed it and I cannot help but laugh.
The second clip is a short ramble, apparently a test of recording volumes. He looks disheveled, he says little, and I take in the contours of his adolescent face and still see the boy.
There is a third clip, and it is something else altogether.
* * *
It is the week he will travel, the week when his nonchalance will grate on me, the week I will have to bite my tongue because the desire to push will be strong: Do you know who's meeting you, will you give me the phone numbers, what do you mean you change planes in Chicago, do you have any money, where is your passport, what about Euros, where exactly are you working every day for the next months.
The details are sketchy but I do not push. I focus on the hours ahead filled to my own overflowing.
It is the week of the long day before, three loads of dirty laundry which I must goad him into doing, and so he does. It is the week of errands and worries and the night before his departure, instead of staying home to pack he's in my room angling for the car keys and anxious to visit friends, and he pushes and he pushes and I'm too tired to say no.
It is the grueling day of a trip on the train to the airport, long minutes at the ticket counter as he stoops and rifles through his luggage which is two pounds overweight, conversation over a Styrofoam plate of fried rice with sweet and sour chicken; business people in transit, tourists in transit, children in transit and parents wiping their eyes.
It is the afternoon of the quick hug before he steps into the security line, the tears I push off as he disappears from view, the distracted ride home, the hours of busying myself, the text from Chicago, and night's silence as I work and wait for a call from overseas that comes at 5:40 a.m.
He has landed. His aunt and uncle have found him. He begins his next adventure in a country he doesn't remember well, and a language that he doesn't know.
* * *
The third video is something special and in the clip he is barely seventeen and seems so much younger. He is speaking through a fog, his voice is hesitant, his shoulders bent in weariness, and he says:
Hi Mom. So it's the middle of the night and I was working on my history project and thought I'd try this and say hello and tell you I'm going to get some sleep now, and everything is going fine. But how do I get you to play this when you get up in a couple of hours? I know, I'll do this – I'll write "play me" and you'll see it.
He narrows his eyes and purses his lips; he concentrates. I watch his index finger moving toward the screen and painting the words "play me" across the surface as if dipped into a puddle of vermillion. I have no idea how he accomplishes this, but he seems amused by the ability to do so. He finishes this task with a flourish and says:
Well… now you'll know to play this video, except these words appear at the end and I'd have to leave a message to say play, but rewind first. [He laughs.]

OK. Maybe you'll just find this. Anyway, goodnight. And I love you.
* * *
I do not find the video in August 2010 when we are fighting because I can't afford to insure him on the car, so he cannot get a driver's license, so he cannot learn to drive.
I do not find the video in December 2010 when we are up all night side by side on the sofa, as he's filling out nine college applications and I am trying to document our finances and navigate the paperwork process of each individual school.
I do not find the video in January 2011 when I must hide my fear of the future, my worry over money that never lets up, how beaten I feel trying to keep us afloat one more year, one more season, one more month; how tired I am, each and every hour.
I do not find the video when the cute girl with the blonde hair has a crush on him, when the cute girl with the black hair has a crush on him, when he has a crush on an unnamed girl and it doesn't go well and he's sullen and snappish.
I do not find the video when I am so exasperated over another set of lost keys that I lose my cool and yell, and immediately feel guilty. But I am always feeling guilty though I know the emotion is misplaced; I am guilty over the car he can't drive and the money we don't have for college visits. I am guilty over the push, always the push for academic excellence so he may secure a possible future despite the money struggles and my own ungovernable limitations.
I push away the guilt but it persists. I do not push away my son, and I apologize. I am always apologizing and he tells me to stop and when I don't stop I apologize again. For not stopping.
I do not find the video in March 2011 when we're walking on eggshells and waiting to hear from colleges, and he is sleeping on the sofa. I do not find the video as he studies all night in the weeks before graduation, and he is sleeping on the sofa. I do not find the video during the long summer of parties that spill over into the yard through the night, and he – or one of his friends – is sleeping on the sofa.
I do not find the video during the long months he is away at school, or when he calls to ask how I am doing and makes it a point to tell me he likes the man I'm dating. I do not push him for answers in his personal life, though I ask about grades and he's upbeat but non-committal. I worry because I know how hard he's pushing himself.
* * *
The day before the night of overseas travel when I pace but less than I used to, and worry but less than I used to, I restrain myself from pushing so everything is done and nothing is forgotten.
I tell myself the children of my heart have traveled far. I do not need to push; I feel their pull and they invite me to them. This is the day after I find the video that says I love you – not because he feels required to say the words, only because they were there – an unforced gift.
You May Also Enjoy