The premise is as follows: If you're in line queuing for something, it must be something good. Either you're waiting for an item or service of excellent quality, or for a surprisingly friendly price.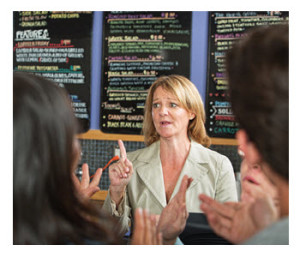 So suggests an article in The Times, proposing that when we're stuck in line, we should think of what we stand to gain.
Good one.
We're "standing" to gain.
At least we hope that's the case, though I doubt that it applies when our flights are delayed and we're clamoring for the attention of an airline representative.
I doubt that's the case when we're queuing for food with a toddler in our arms and a squirmy sibling yanking on our sleeve.
I doubt that's the case in any circumstance when we've been patient and polite, and someone jumps the line.
Waiting: Reactions Vary
Is our reaction to waiting in line about physical comfort? Personality? Expectations?
In his article at The Times's Upshot, Tyler Cowen, professor of economics at George Mason University, writes:
… some queues are actually useful… we see a line at a club, restaurant or movie, we figure something interesting is going on there… lines have become a driver of publicity…
As Cowen expounds on the economic, commercial and consumer behavior angles of waiting for goods and services, he also notes that income inequality results in (older) more affluent buyers who have access to memberships (and their privileges), and reserved seating (rather than waiting). This is in contrast to younger and less well-heeled patrons who may be more than willing to wait.
In his examples — restaurants, movies — perhaps the "expectations" aspect does indeed apply. When you know you don't have a reservation and you anticipate an hour at the bar before an exceptional meal, you adjust accordingly.
Good Things Come to Those Who Wait?
Cowen notes:
There's also evidence that people value some things more if they have to wait for them.
Hello, iPhone 6?
Personally, I've always been a believer in "good things come to those who wait," though I'm not one for passively biding my time as if the good things in life will simply appear out of thin air.
If anything, I consider queuing an experience; I recall four hours in line for Antiques Roadshow with an 18th century child's chair and a 20th century child, then five, understandably impatient at my side. That snaking queue was not what I had expected. Still, the people watching was divine, and my little one and I tested all our mutual limits with storytelling. That incident remains a pleasant memory and surprisingly sticky, even for my now 23-year-old son.
Other examples of worthy waits?
Stories of Waiting, Dating, Mating and Hating
In the example above and those to follow, note that no gadgetry was present to wile away the hours — no Walkmans (remember those?), no cell phones, no assortment of smartphones and tablets. And while I generally carry paper and a pen, I was required to interact or stay silent, like everyone else 10+ years ago.
So I queued for cabbage soup one summer in the USSR (I queued for everything during that trip, and typically for hours). I queued at an airport and dealt with delays one spring in New York, and as a result, met one of my greatest loves. I've had the experience of queuing in cafés for food and drink, for coffee and tea, and occasionally found myself calming others with a shorter fuse than mine. In one Starbucks I recall, I encountered a delightful new client while scoring myself a tall skinny latte.
I am as guilty as the next person of being miffed when I must wait, feeling squeezed by my schedule, and generally resenting a slow-moving line. There are days it's tolerable, days it's pleasant, and days I despise it.
Then again, it demands a degree of humanity — observing, engaging, and frequently enjoying.
News on Queues
As for "some queues are actually useful," I am in total agreement, even without the economic or consumer behavioral context, but with an emphasis on "some."
However, there are those who would argue with Cowen's point of view. In fact, research from Duke and Columbia indicates that waiting in line is bad for business, though again, reactions vary, expectations are important, and the length of the lines involved are a factor.
I dare say the context is key; if you're waiting for lack of proper customer service or sufficient assistance, I see no upside. And I know that both physical (dis)comfort and expectations are significant in everything I experience. So why would queuing be any different?
You May Also Enjoy