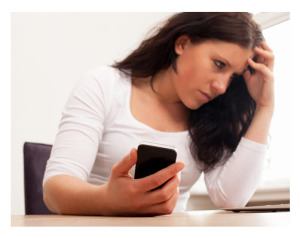 Customer service should be a concept that requires little difficulty to understand, not to mention, to implement. Good customer service should be the norm, not the exception.
I have found this isn't the case.
After many months of problems, attempted phone calls (often disconnected), and various intermittent fixes and no fixes at all, I finally reached my limit with a service provider this weekend. During a call, I found myself passed through four customer service representatives over the course of 43 minutes. I had to repeat identifying information, repeat both summary and details of the issues I was having, and then… my call was dropped.
By that time, I was furious.
Good Customer Service: How Do You Define It?
This article on Forbes explores what constitutes good customer service, using an interesting expression: "operating in the territory of positive sentiment."
I like that phrase. It feels fitting. And my recent (and ongoing) brush (clobbering) by lousy customer service dwells in another territory altogether — resentment, anger, powerlessness.
The Forbes article, provided by SalesForce, reminds us that there may be philosophical differences in what we consider good customer service. That is:
To some, good customer service is as simple as solving problems and offering solutions in an expedient manner. To others it means overall pleasantness and politeness from those who represent the front lines of the company… Others define it as when a company is willing to give their customers anything and everything that they want — you know, the customer is always right…
I would imagine that the customer's expectations have much to do with what is "good" or not, and I will grant that sometimes, expectations may exceed what is reasonable. At a bare minimum, you ought to be able to reach people who can help, don't you think?
Here is what the article does not express and it should:
Even if company representatives are pleasant during an exchange, this is useless if the problem isn't moved along, much less solved.
If customer service reps are not empowered to do anything more than provide lip service — and customers catch on pretty quickly to this — customer service fails.
If customer service reps are poorly trained or poorly skilled — might they also be poorly paid? — again, customer service fails.
If the systems to support customer service are sub-par — communication is disjointed, logistical/technological issues like dropping calls is usual, problem tracking is spotty, procedurally there is no follow-up or accountability — customer service fails.
The result?
Problems are not solved. Solutions are not expedient. Politeness is irrelevant. Customer "demands" are a joke.
My Customer Service Story Continues…
After my call dropped, I was livid. I have been a customer of this company for more than 10 years and I estimate that I have added some $15,000+ to their revenue stream during that time. Moreover, I depend on their service in order to earn my keep. I was so angry I was shaking, but I redialed the number and initiated the process again, dealing with two individuals over the course of another 25 minutes that naturally, involved more waiting and, unfortunately, did not address the problem.
In addition, I could not reach all the departments required, but I was finally able to schedule a technician for later this week.
Incidentally, my experience with their technicians has been all over the map relative to competence — their employees are well-mannered, but frequently only do a partial job and subsequent visits are needed to complete what ought to be a basic task.
Theoretically, I will have to get back on the phone today and try again to complete the necessary process — the 65 minutes in total last night did not yield "resolution" as I have said. Will I spend another 65 minutes on the phone, only to wind up angry and demoralized — and still without a resolution?
And if you wonder why I don't go to a competitor, I've had some experience with the only other competitor in my area, and from stories I've heard about them, they're no prize either. In fact, it's possible that they're worse. Flip a coin.
As you can imagine, I feel utterly insignificant in this process — an ant to be squashed, with little to no power and even fewer options although I enrich the coffers of this corporation like millions of others. Competition provides options, but as I said, for all intents and purposes, there is no competition. At least, not yet.
Can anyone spell Free Market?
The Fix Requires Commitment and Empowerment
Here is what a good company does when a customer has problems over and over, and the customer is upset.
A good company takes care of a critical issue with support systems that work and follow-up. A good company does more than train its phone reps to read from a script and pass a call along. A good company could have taken this issue and dealt with it in five minutes as follows:
"Let me escalate your issue and schedule a technician to come look at your equipment and replace it if necessary. And because you've been such a loyal customer for so long and because we regret the inconvenience to you and to your business, we would like to give you a credit towards your account of $_________ because your customer satisfaction is important to us."
In the above hypothetical scenario, the rep is empowered to do what a company ought to do — beyond politeness, beyond resolving the problem — restoring the relationship to one that "operates in the territory of positive sentiment."
If that had happened last night when I was going through multiple rounds on the telephone with a service provider I do not need to name, one on which I rely in order to perform for my customers each day, I would've said to myself — "All companies have problems and blips, but that's a great example of customer service."
Instead, the reps I spoke with had to put up with my increasing anger and their own inability to help. They are, at least some of them, victims in these broken systems as much as the customers who get what we get and are left with this: frustration, fatigue, fury, and a blistering sense of powerlessness.
In contrast, I will repeat something I have said on social media recently. I experienced superb customer service about a week ago from Best Buy — great knowledge, tremendous patience, an easy and pleasant manner. That included phone calls prior to an in-store service. In the past, I have also received excellent customer service from Hostgator, which for me has been the norm, and not the exception.
Is this a matter of corporate values? Of a better run organizational machine? I repeat: Isn't it also due to lack of competition?
We know that good people do their best in trying situations, and they may be hampered in delivery of good service by factors that we, on the receiving end, are unaware of. But the bottom line is solving a customer's problems and delivering on what we are paying for.
We also know that good customer service is possible. But without competition, where is the impetus to deliver?
You May Also Enjoy