I'm tired of reading about Renée Zellweger's face. Even when I'm not reading about her "transformation," images of then-and-now seem to pop up on my screen, unsolicited.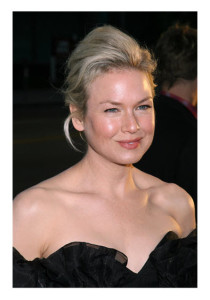 Case in point: Even The Washington Post delivered me an in-my-face set of Zellweger faces, tracing this well-known actress from 1996 up to the present, and leaving me to face it yet again: our lose-lose expectations of women in the public eye.
I've always enjoyed watching Ms. Zellweger on screen – less so in the much ballyhooed Jerry Maguire – cute, but far from my favorite role she has played – my preferences running from Ruby in Cold Mountain to wife of boxer James Braddock in Cinderella Man, not to mention two iterations of that much relatable and lovable mess, Bridget Jones.
Now we know Ms. Zellweger isn't the only celebrity whose tweaks and transitions we can't stop talking about. We did, after all, move from obsession over Meg Ryan's hair to her various and sundry changes that also met with media displeasure.
There, too, I will say: I prefer to discuss performances over procedures, unless of course we are addressing the core issue – female currency, still measured in how we look.
Anti-Aging? Isn't That the Grim Reaper?
On those occasions when I find myself cruising the Chanel, Dior and Bobbi Brown counters at one of my local department stores, I am checking out the faces in the vicinity. There is a little of everything, and as is usually the case, I am most drawn to those women that strike me as interesting and stylish, regardless of age.
Recently, on a jaunt to pick up eyeliner, I sat down for a few minutes and was "painted" by a saleswoman. She was raised in several parts of the world, we spoke together in French, and were quickly discussing social programs and cultural values.
What did not escape me: Not only was the conversation intelligent, but there was no mention of products to make me appear younger – only questions about the sort of look I liked, all the while playfully applying color to my lids and a spirited hint of blush to my cheeks.
Note to self: No dubious mentions of "anti-aging" this and "miraculous lifting" that, all of which returns me to the topic of Ms. Zellweger's face.
Talent Over Tucks?
Might we not compliment Ms. Zellweger on talent? Can we note her accomplishments, which include the following in a career that is 20 years old and ought to be viewed as still young?
From IMDB: 48 nominations and 32 wins, including one Oscar win and three Golden Globe wins, and she is:
… one of 11 actresses to have won the Academy Award, BAFTA Award, Critics' Choice Award, Golden Globe Award and SAG Award for the same performance…
Might we not bemoan the absence of decent roles for women with even slightly lined faces?
Might we not consider that most of us will age – if we're lucky – and we should be damn grateful?
My Face, My Self
Sure, I'm happy that I look a few years younger than I am – largely because of genetics and a face that reflects my energy. That energy remains vitally important to my ability to make a living, certainly in the US. I'm also pleased I am not entirely at the "invisibility" stage, as I enjoy the world of banter and sexual chemistry, and that, too, in this culture, seems to be all about youthful looks.
Do specific signs of aging bother me more than others?
That answer is a definite yes. And while I do not live my life in the public eye (thankfully), I am appalled that we seem to have nothing better to do but muse over the perceived mishaps of the latest surgical touch-ups. Yes, we all want to recognize the shiny countenance of those stars we come to know and love. And yes again, it's only natural that we take notice when a change is not as subtle as we might expect. We may be saddened or outraged by the seeming necessity to take to the knife (or injectable).
But must we really gawk and talk ceaselessly about externals when there is talent and achievement to applaud?
Startling Stats on Screen
I recall the article in Vulture concerning leading men as they grow older, all the while their leading ladies grow younger. Check out the stats – and prepare to shake your head.
If you prefer, take a gander at this recent NPR article on Hollywood's aging "It" Girls. "60 is the new 40" might make a nifty sound bite in pop culture, but apparently 50 is the new 80 when it comes to big screen roles for women.
Shame on us! Surely I am not alone to suggest we alter our thinking. It's time we put on our big girl panties and dispense with dwelling over the "work they had done" and instead focus on the "work they have done."
Better still: Where are the screenwriters and financial backers for great roles with real, adult, maturing women – so we might benefit from the work to come?

Image of Renée Zellweger, BigStockPhoto, Renee Zellweger at the Los Angeles premiere of 'Appaloosa'. Samuel Goldwyn Theatre, Beverly Hills, CA. 09-17-08
You May Also Enjoy