I had this thought over a quickly prepared meal of pasta and chicken. Radical, for me. Radical simplicity, in fact. (Both the meal and the thought.)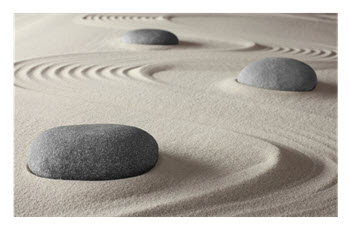 Maybe it was the manner of throwing together dinner: No desire or time to run out for veggies, a make-do approach to whatever was in the fridge and pantry, and a wish – a fervent longing – to simplify. Everything.
My life is not easily simplified.
Choices are not limitless. Constraints abound.
Real World Constraints Make Simplicity Difficult
Real world constraints are many for most of us, and I have my share. But I recognize that I have fewer now than at other stages in life. So I ask myself: Would a radical attack on my own assumptions allow me to see my options differently? Then, could I simplify more successfully? And what exactly do I mean by simplifying? I dare say my interpretation wouldn't be yours.
As for the evening meal, it was exceptionally good and yes, simple. Normally, I would have felt compelled to jump in the car and dash off for that vegetable, or to opt for sandwiches instead. Compromising my standards can be tough for me – even when it comes to good food on the dinner table.
However, after a long day, I yielded to "go with the flow," also tough for me depending on my mood.
Then I realized – light bulb moment here – deciding what constitutes simplicity is essential, albeit contextual and subject to change.
Moreover, just because we plan on simplicity, choose to adopt our version of simplicity, and hope to act in keeping with a simple approach – that doesn't mean we won't encounter obstacles that require us to circumnavigate. But isn't that an integral part of the garden we experience, with such depth of pleasure, with such profound understanding, with its delightful surprises – at least, on occasion?
Process Simplicity
Earlier this week, a seemingly straightforward work process became crazily complicated. You know the sort: Move Part A to Point B, include references to Point C as appropriate; inform Managers D, E, and F. Easy, right?
Not so fast. Assumptions pertaining to "references" were lost in the shuffle, not to mention expectations of Managers D, E, and F. Then there were a few (critical) missing pieces. What was the big picture goal? Who was the Go-To Guy for any clarifications? To make matters more entertaining, Manager D was in Time Zone 1 and Manager E was in Time Zone 2, Manager F was in my time zone, but oh by the way… Point B appeared differently to each of us.
I was suddenly surrounded by unanticipated impediments. No lolling in the Zen Garden for me!
Radical Simplicity. Those are the words that popped into mind. My direct path? A person who would act as True North for everyone involved, and who could assist in coordinating and clarifying. Fortunately, I found just the right person who did exactly that. And I got to end-of-job, though it involved two near all-nighters.
The result?
It appeared clean, comprehensible, and simple.
Simplicity in Relationships: Impossible Dream?
Simplicity in relationships?
Tricky.
Very tricky.
And what exactly might that entail? Does it imply that you are so blissfully sympatico with your partner that you never disagree? Does it mean all domestic tasks are shared with no muss, no fuss, and no hidden resentments? What about both parties "in the mood" on the same schedule?
Don't we wish our boyfriends, girlfriends, lovers, partners, and spouses could read our minds, at least now and then? Don't we wish that men and women communicated in more like fashion? (We know how that goes… you say (and mean) one thing, he hears (and responds to) something else.)
Who among us doesn't dream of a simpler life in all sorts of ways, but in particular when it comes to our relationships?
And when we're trying to resolve sticky emotional obstacles in our path to feeling like a team, everything can seem to spiral out of control as we tell ourselves that relationships ought to be simple. Radically simple, if we had our way.
In other words – easy to manage, no misunderstandings, no complications.
Authenticity and Radical Simplicity
Of course, people aren't simple, though we may profess to wanting "simple things" in our lives, along with "authenticity" in our dealings with others. Authenticity (as we know) remains a very popular buzzword!
To my surprise, when I decided to Google radical simplicity this morning, I found two books and what appears to be a movement. And yes, it's about "authenticity" – much ballyhooed and, should you care to know, defined as the quality of being real, genuine, or verifiable (as in evidence).
Are you feeling real and genuine in how you cozy up to your loved ones? In arriving at a meeting of the minds with your colleagues? In your approach to your surroundings and your daily activities? How is authenticity tied to simplicity?
You tell me. I may consider authenticity as a way to avoid the weight of wearing a mask (that can complicate life, can't it?), however, I consider authenticity and simplicity very different concepts. And speaking of concepts, I will add that I enjoy complexity.
The World is Complex
Is striving for simplicity and enjoying complexity a contradiction?
I don't think so. The world is complex. Both the arts and sciences can involve profoundly complex concepts in the abstract and operationally. Organizations are multifaceted systems that are constantly under pressure, and feel very much alive. Complex?
You bet.
Complexity is real. Complexity is relative. Complexity is fascinating.
Where it becomes a problem is when it interferes with our lives, our comprehension, our creativity, our work product. If what should and could be simple is complicated and thus difficult to understand, to live with, or to communicate, the negative ripple effects can be costly in terms of time, money, feelings and sometimes our sanity, or so it seems.
If I strive for simplicity in my surroundings – and I do – that doesn't mean I strip them down to a minimalist environment. I love my stacks of books and my crazy art. But I don't want to trip over either, feel owned by them (rather than the other way around), or find them preventing enjoyment of my space (clutter) rather than increasing it.
As for behaviors and habits, I thrive on straightforward, efficient and clear processes – not always easy to arrive at, and definitely subjective.
Your thoughts on simplicity? Anything radical to add? Meanwhile, excuse me while I disappear momentarily. I'm due a stroll through my imaginary Zen Garden, with its intriguing path that may not be direct, but is surely an education and a source of pleasure.
You May Also Enjoy