Penning your New Year's resolutions?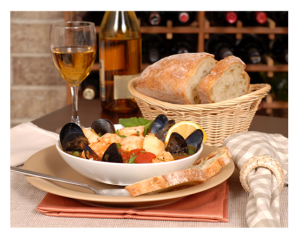 Pas moi.
Contemplating your overindulgent eating behaviors of the past week? Avoiding stepping on the scale?
Once again, pas moi.
Instead, after a few hours of work, I've been enjoying conversation with my sons, sipping tea, popping chocolate kisses, and observing bouillabaisse in process.
The magic taking place in my kitchen is courtesy of a visiting "chef" and his tweaking of this recipe from The Complete Cook Shop.
I am also determined (in my admittedly Type A way) to put into practice my desire to "change one thing." That one thing – this week – reminding myself what really matters.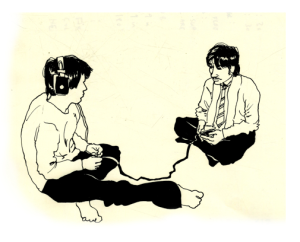 And this week, that's time with my sons, who are home too little except at the holidays. I spent a lovely evening with my younger son last night, as he described his architectural projects of the past semester. My elder has been alternately in and out, likewise his friends, and he was at my side while we engaged in the entertainments of healthcare.gov, as he savored his Belgian beer and I took solace in a martini.
Ah, the rhythms of Empty Nest…
And let's hear it for the pleasures of green olives, rock 'n roll in the background, not to mention a wink to the culinary colleague concocting in the cuisine, who so graciously treated us to a quintessentially French dinner just last week, as this afternoon is devoted to a measure of relaxing.
That means a roundup of writing picks from this past year, and my thanks for the continuing conversation which is always engaging and illuminating for me. I hope it is for you as well.
Naturally, I must recommend fine footwear to be enjoyed with your reading, not to mention the incredible soup I will be tasting as we welcome the new year around Ye Cozy (Messy) Homestead.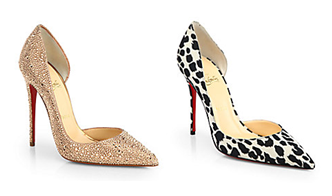 I find myself éblouie – dazzled – by extravagant Louboutin crystal encrusted heels (with a price tag of $3,000+ that I will not comment on), certainly the glamorous (fantasy) choice for a big night or special occasion.
But the graphic printed pattern, also Louboutin? It's more playful, a few grand cheaper, and as I plan on wearing classic (and ever chic) black around the dinner table, it would be a sensational selection as well.
So I leave you with both to consider, as I wonder what plans you've made for your evening, and I extend my most sincere wishes for a safe, sparkling, and splendid new year.
Click Louboutin image to access Saks Fifth Avenue, Louboutin shoes and handbags