What is the essence of a French Christmas Eve celebration? What is quintessentially French – no matter what the occasion?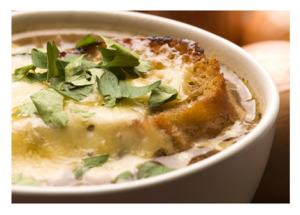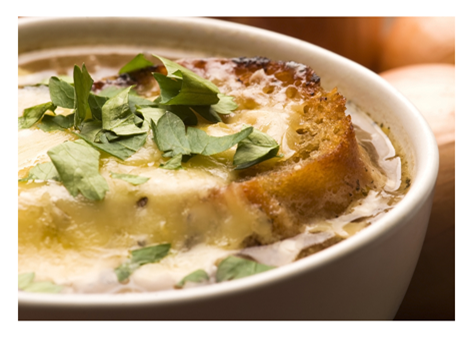 In my experience, the answer to both questions is the same: gracious hosts and guests, lively conversation, and appreciation for whatever may be served when it comes to food or drink.
May I add that quality is generally the name of the game?
It was my good fortune to enjoy the welcome of French friends to a French dinner, complete with laughter over berets for every guest, and hearty, flavorful fare when it comes to the courses served in traditional fashion. My sons couldn't have been more delighted. Moreover, they were able to exercise their French language skills, which were a tad dusty.
I suspect that the berets exerted special effects.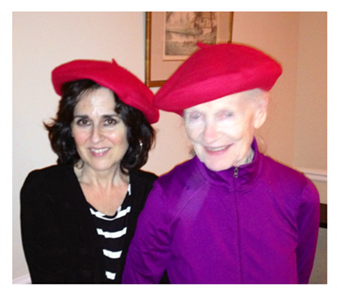 I hope you enjoy my shared images, hastily taken – you will note the blur of an arm at one point – as we were too busy eating, talking, and drinking. (Yours truly was the designated driver and I was quite content with one glass of red wine, thank you.)
First course?
French onion soup – very Julia Child, but somewhat improvised as is often the case when a creative person finds himself (or herself) dans la cuisine. 
Second course?
Coq au vin.
To me, for some reason, coq au vin is comfort food. As it steeps in the wine the flavors are glorious. And the next day – it's even better!  (By the way, one of my sons brought home a small container of leftovers and ate it for breakfast.)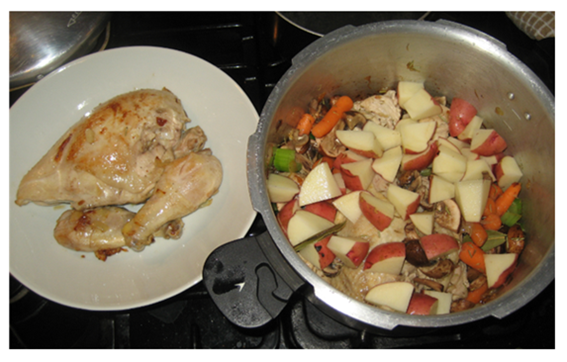 Unfortunately, my picture of the coq au vin on the table was not as lovely as I would like, so enjoy the coq au vin in process – another Julia Child recipe that has been tweaked to be both lighter and faster (pressure cooker). Note that you can cook it with bits of bacon or lardons, which adds a certain "je ne sais quoi," but even for those who prefer it without, it's divine. And not difficult or expensive to make!
And after the main dish?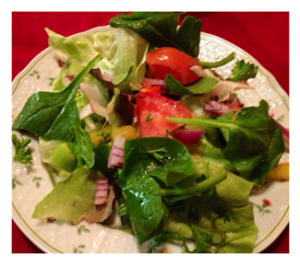 Une salade, bien entendu.
A salad is generally eaten after the main plat – not before or with, as Americans often do.
Possibly my sons' favorite part? The cheese!
And when it comes to fromage – our French host showed no xenophobic tendencies and spared no global spirit. We were treated to taste adventures from six countries: France, Switzerland, Belgium, Norway, Australia, and the U.S.
I must say, the chèvre from Vermont with some sort of pepper and other spices was superb. In fact, the entire cheese platter was heavenly. (That alone could have been a meal, and again, the local international market made this selection both interesting and affordable.)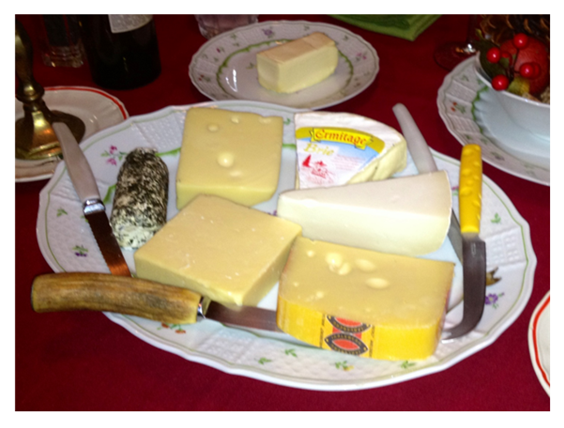 Naturally, there was red wine with the cheese, on wonderful bread from the same international market, and "certain" indulgent (French) individuals spread their bread with butter first, on which the cheese was layered. (Also very "Julia" – n'est-ce-pas?)
Surely those of you who have seen the film, Julie and Julia, are well aware that she was quite the fan of butter, as is one of my French partners-in-crime.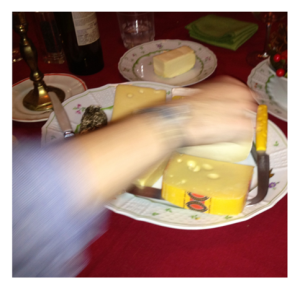 And that mention of the speed with which comestibles were consumed?
Note the blurry arm in a dash for more cheese – ah oui – my offspring.
Dessert? (Though yours truly was only nibbling at this point… )
Une tarte. 
A gorgeous fruit tart. Yes, it tasted as good as it looks.
Naturally, this was followed by espresso and then cognac. Courvoisier. And did I mention there were berets for all à table, and stick-on mustaches as well? I passed on the mustache, personally, but the gentlemen were all quite fetching in theirs!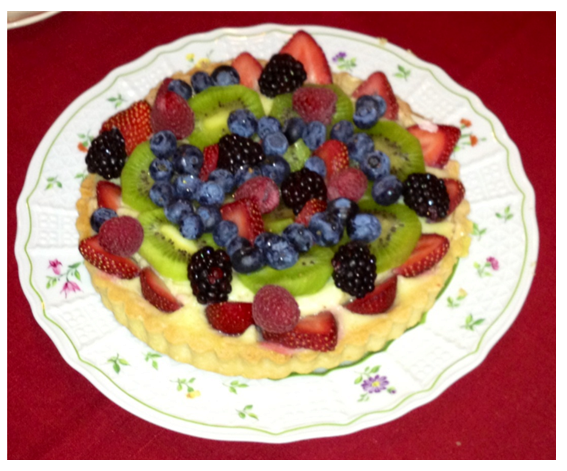 Please note: No Frenchmen were harmed during the making of these photographs. (However, the chef does resemble a certain Docteur LeBrun, expert on French history… Hmmm… Where is Hercule Poirot when you need him? Might he solve this mystery?)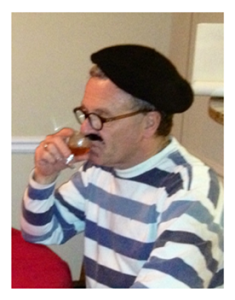 As my ham is baking in the oven and I have yet to prep my yams, set my table, or tend to other domestic duties that await, I have to scurry!
Company will be in and out, shoe selections are yet to be made (so much to do, so little time…), and as I consider what made Christmas Eve so quintessentially enjoyable, I am reminded that it comes down to the company you keep. A PB&J would've been just as much fun with this crowd!
I wish you a lovely day, however you are spending it.
You May Also Enjoy