Ready for a fashion show?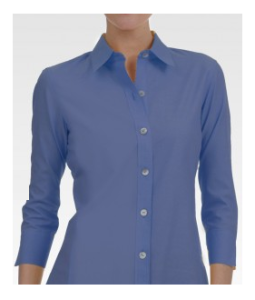 One shirt. Three looks. Four images.
Allow me to explain.
In more than four years of daily writing, I have received countless requests from individuals and companies to sponsor a product or a service. Never – until now – did I feel that the product or service was a good fit for me – or for you.
And here I am, at last, delighted to say that this is a sponsored post for an item I couldn't be more pleased to have tried. And yes, I get to keep the product and I am receiving compensation to honestly review it.
This little wolf is going foxy. Foxcroft that is – in a classic, no-iron button down shirt. And classic is key in my world – but you know that already. It's a matter of my lifestyle that is casual but hectic, an insistence on quality, and the extra challenges that come when you're of diminutive stature.
You know what I mean – if you're short and not skinny as a rail. Proper proportion, style, and fit are essential to all of us, but even more so if you're on the far ends of the height spectrum.
So let's cut to the chase.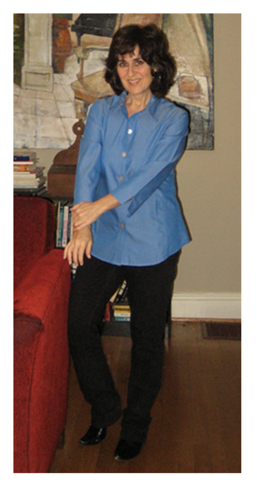 Foxcroft was kind enough to send me the no-iron shirt of my choice. And when it arrived, I dropped everything, I slipped into it, and I played dress up.
(Now, now. You would, too.)
I tried on the shirt with my skinny black jeans. I tried it on with a black jacket. I paired it with two of my favorite camisoles and wore the shirt open on top. I tried it with pearls. I accessorized with a scarf. I switched things up with funkier jewelry. I tried it with pumps and slouchy mid-heel boots.
It all works!
Note the photographic evidence scattered here and there, and kindly pretend the DIY photo shoot took place before our Thanksgiving indulgences, not to mention my recent absence of exercise. (Who says you can't hop around with a sprained ankle and enjoy a little fashion fun?)
As for what I'm wearing, this is a Foxcroft Petite No-Iron 3/4 Sleeve Fitted blouse in China Blue. It's one of many versatile options that Foxcroft offers, and not only for petites.
As to size and fit, I'm wearing an 8 petite, which is perfect on my not quite 5'0″ frame. I also tried a 6 petite that was an equally good fit, though it was snug in the chest as I am, well… rather amply endowed, which frequently makes finding button down shirts of any sort virtually impossible.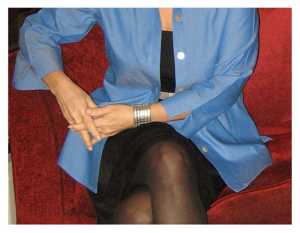 I was extremely happy with the cut of this blouse – I love a 3/4 length sleeve, and this style has a notch that adds a little "je ne sais quoi" that is quite fetching. If you click on the image to the left, you can enlarge it and see the quality of these details as well as the fabric.
The lengths were all just right (not always the case with petites), the shoulders fit properly (also never a given), and I love, love, love this shirt.
As for the pictures, forgive the absence of variety in poses or locations. Not only did I need the chair nearby lest I topple over (balanced on one leg), but… I needed to do something with my hands, thus the smartphone. How do models make themselves look so natural? There's nothing especially easy about "casually" posing yourself in front of a tripod, so my hat is off to those of you who do this on a frequent basis.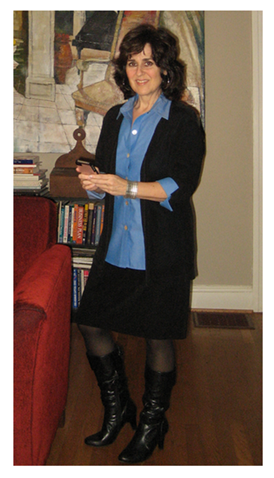 On a practical note, this is a no-iron shirt. Hooray!
On a whimsical note – shouldn't we dabble in whimsy more often? – while I don't have any immediate plans for travel, I'm nonetheless crossing my fingers that I will manage to get to Europe in the Spring. It's been much too long and I'm in a serious state of France-withdrawal.
Besides, there is a remote possibility of a business-related trip next year, and should I be so fortunate, you can bet that a classic no-iron button down blouse will be part of my go-to wardrobe.
Incidentally, I had a tough time choosing among the colors, although I narrowed my selection to white and china blue. White is crisp, elegant, and timeless. But I found this blue irresistible, so I went with it.
Now that I see how well the Foxcroft petites fit my body, I'm already finding myself cruising the Foxcroft site. I've got my eye on a soft denim shirt and a cotton cardigan. I just may need to write Santa, or perhaps one of his elves.
And Foxcroft, thank you. You've been lovely to deal with in every way.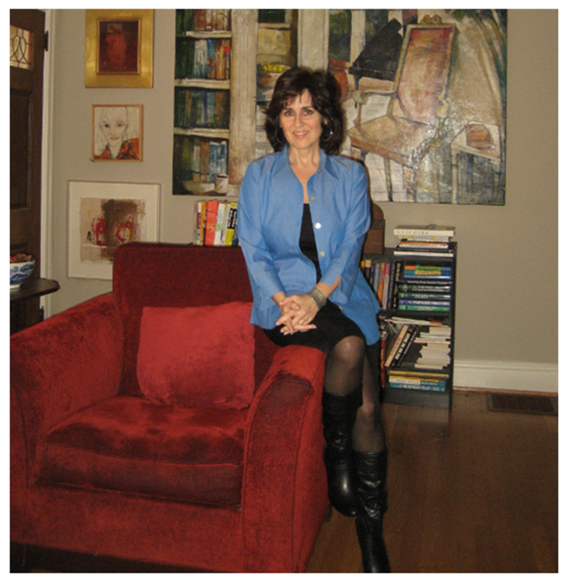 You May Also Enjoy