It's Monday. If you're going to have a Bad Hair Day, I suppose you might as well get it over with the beginning of the week.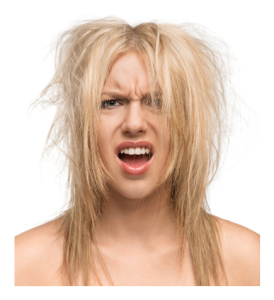 But here's the thing. I had a Bad Hair Day yesterday, too, when I started in on the work week at 6:30 a.m., merrily zipping along and expecting to catch up on a number of items and… drum roll please… to get a tiny bit ahead!
Ah, but the gremlins of technology were not in agreement.
As I felt the knots in my stomach (and likewise in my hair as I was pulling it out), with my Internet up and down, my Brilliant Weekend Work Plan was bogged down in unexpected snafus. Yours truly remained stubbornly resolved to address them, as a gorgeous autumn day appeared and then disappeared.
I was crestfallen.
On a side note… what a fantabulous word. I've always wanted to say I was "crestfallen." But I have no crest. Must I add designing one to my list of to-do's?
The fact is, I lost about two hours yesterday due to techno-snarls here and there, but it felt like oh-so-much more as it occurred interruptively and because I wanted to read my newspaper, take a walk, eat gooey and emotionally satisfying foods (there were none in the house), and in general, I did not want to spend the day working.
Run-on sentence, I know.
Bad Hair Day, remember?
I'm thinking I need to reinstate Complaint Department Monday. Oh, I haven't anything serious to kvetch about, but I do resent the accumulation of details that tends to weigh heavily on our shoulders and darken the doorstep of what is theoretically to be a breather, also known as the weekend… and some stumble over into Monday.
Run-on sentence number Two. 'Nuff said.
And I still want gooey not-good-for-me food. However, as I haven't budged from my laptop in some 30+ hours (except to grab a few zzzzs), there are still no soul-soothing, palate-pleasing goodies in the house.
(I'm crestfallen, and I can't get up?)
Consequently, in order to fight the Bad Hair Day Doldrums that I do not wish to overtake my week, I am going to make myself an enormous (and strong) pot of French Roast, in order to assuage the universal powers of provocation and find peace in my dose of caffeine and another glorious, crisp day that awaits.
Is anyone else having a Bad Hair Day? A Bad Hair Month? Any complaints you'd care to share? (The DPOC Complaint Department does not judge.)
You May Also Enjoy