Come on. Admit it. You're happy for the opportunity to vent. Freely. To bitch a little. Or maybe a lot. To know it's okay.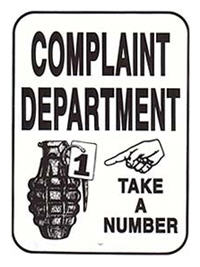 But first, a digression.
I was wondering about those who complain frequently. I pondered the moaning-groaning personality type – if it's a personality issue – and what it takes to reinforce the complaint tendency, or to chase it away in favor of more constructive means of expression.
Something less bothersome to others. Because the issue with a complainer is we can't stand listening, right?
Is complaining nature or nurture?
My mother was a complainer. Not a whiner – a complainer. She bitched about the service she received almost anywhere. Nothing was ever good enough. I was never good enough – and whatever I did for her, she'd twist her remarks on the matter and make me feel badly about it.
There were complaints about how she was feeling, complaints about my father, complaints about her workplace. At every age, and every stage, I remember her tendency to complain. Loud and clear.
While I'm guilty of potentially complaining as much as the next guy, I suspect I choose not to be a complainer – at least in part because my mother was, and I realized how disagreeable it is to be around. So was that her nature? Or somewhere along the line, was it learned behavior – just as I learned not to do it by growing up around her?
My son, my son
My sons couldn't be more different. At least, in terms of personality. Or so it has been for years. My elder is gregarious, an extrovert, a born tinkerer, and very aware of everything around him. When he was younger, if he thought it – he said it. Frankly, that made parenting easier. I knew what was on his mind. He also complained. Not excessively, but definitely more than his brother.
My younger son is more laid back. Quieter. More introverted. Constantly drawing or making something. He never complained. About anything.
In the past year or two – as teens – my sons have matured, of course. My talkative son knows when to listen. My silent son knows when to talk. My younger still doesn't complain, though he voices disagreement. My elder has ceased complaining, and yes – he also offers his opinion.
So how did this happen? And how did I get so lucky?
We now return you to our regularly scheduled programming –
And I do have some venting to do this morning! Remember. This is a free zone. (And no one can hear you. It's just you and me.)
Here goes!
I miss my Mad Men! Yes, I'm going through Mad Men withdrawal already. Sunday nights won't be the same. Until Season 5 begins, of course.
A mouse in the house! Yes, they're at it again. Dammit. Scampering creatures in the kitchen. Two weeks ago. My intrepid teen caught one in a waste basket, and released it outside. Another one? Let's just say after I jumped on the couch and screamed (really), the kid put out some traps. Yep. I'll say no more.
I'm hungry for a handy man. Now, now. Stop that. I have some holes that need plugging. Where the mice are coming in. There's one just under the roof, and another behind the stove. Anyone have referrals? Perhaps I could arrange an exchange of services? For cookies? Wait. If I give a handyman a cookie…
I'm seriously sleep deprived. Again. I seem to recall (fuzzily) at least a decade when I took care of little ones, worked a corporate job, cooked, cared for the house, and all on three hours a night. I'm getting five – and can't keep up! Sure. I manage to get things done. A great deal. But I'm dragging. I need sleep! Real sleep! (Or the 30-hour day.)
It's 6 am Monday morning. It's pouring rain. We have a large art project in process to get to the high school this morning. This will call for creative problem solving so it doesn't get wet. On more sleep, creative problem solving comes much easier. (Garbage bags to the rescue?)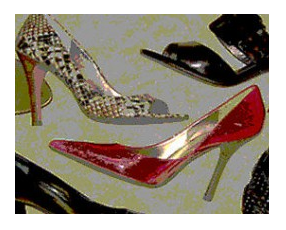 Last but not least, I am experiencing palpitating pangs of high heel heartbreak. I haven't worn a pair of hot shoes in weeks. No. Make that months. Dare I concede that's the sign of a sorry social life? Must I really begin sitting at Starbucks in stylish stilettos, on the days I take a few hours to write there, rather than my jammed little home office? Where's that handy man?
Your turn
Your cock-eyed conundrums? Caustic kvetching?
Remember. No problem too small. And no judgment…
Big Little Wolf's Daily Plate of Crazy