No one would accuse me of being timid. Nerve? Sheer nerve? I've got it in spades, when required. Sheer anything else – as in barely there fabric skimming across my thighs? Unless we're talking about lingerie, non merci.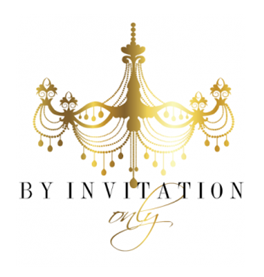 Flowers?
You bet.
Who doesn't love flowers? I'm blissful when I receive them, I admire them growing in a garden, I'm fond of placing them around my home, and I take pleasure in giving them to others. In fact, a lovely man was kind enough to arrive chez moi recently with an armful – a gesture that makes my heart sing. (Wouldn't yours?)
But florals? Loopy leaves and patterns of pastel petals scattered across my chest and hips? Would anyone expect a "sheer nerve" woman to yearn for a wardrobe that whispers rosebuds and innocence?
Sheers and florals are two of several trends seen for Spring 2014. And I can't say I'm a fan.
By Invitation… Fashion Fancy
Eh voilà. Welcome to another "By Invitation Only," in which a number of writers share their thoughts on a particular topic. This month the subject for the day is fashion – what we've seen lately that we love, and where we might wear it. Similarly, we are to identify a look we dislike.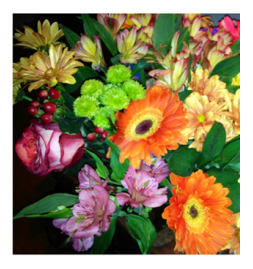 While the weather has turned deliciously cool and the mornings are crisp in one of my favorite seasons, I thought I'd consider the recent doings of New York Fashion Week for inspiration. Focused on ready-to-wear for Spring 2014, though it pains me to say it, I saw little that I could love, much less find a use for.
Despite considering fashion to be art and runway to be entertainment, I can't say that I care for many of the upcoming trends – sheer where it makes little sense, structure more complicated than expert origami, florals that make me want to head for the (barren) hills, and crop tops that are interesting but largely unwearable by most of us.
A Look I Love… Okay, Like…
Giving it the old college try – and with a gracious thank you to ELLE for their glorious slide shows online – I poured through images and video clips of some of my favorite designers.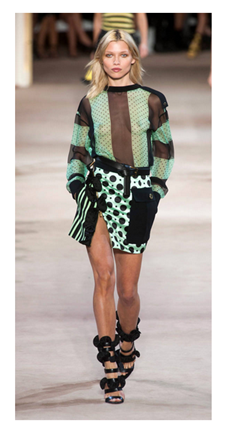 They include Elie Tahari, Elie Saab, Christian Dior, Derek Lam, DKNY, Emanuel Ungaro, Badgley Mischka, Vera Wang…
I love sculptural designs, but everything strikes me as so overcomplicated! Even on the willowy models there's too much going on!  Nor did I find anything flattering in most of the shapes. In fact, I may stick to skipping any purchases or even consideration of purchases when it comes to spring clothes. (Naturally, shoes don't count…)
Here's an example from Ungaro. His collection is witty and playful, with stripes, spots, and ruffles that are great fun – just too much! Where is the eye to land? Still, I enjoyed the Ungaro collection far more than many others, and while I'm not wild about this ultra-sheer blouse with the skirt, I think the skirt is adorable! On its own with something simpler I'd love it – and wear it. And no, not that short, but the sexy slit? Oh yes! Je l'adore! 
And to properly wear it, I dare say I'd have to be dining out in Paris, a cozy little bistro would be my style, followed by a vernissage – an opening. Mid-century or outsider art, and preferably in the Marais. Surely this sassy skirt qualifies as art itself, and would encourage me to wear it and delight in it in a creative environment.
Now about the footwear with ruffles… (You know I have to comment on the shoes…) I find this spirited take on making the most of a long leg entirely in keeping with the Ungaro collection. While I couldn't pull it off (I'm much too short), I love the wit and cheek of it.
By the way, a naked body can be beautiful indeed. But nipples in a scheme of dots, dashes, and stripes – far too distracting.
A Look I Dislike… Eeeek!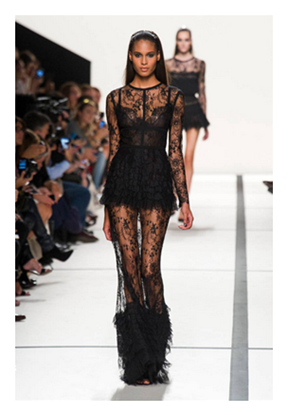 I studied slide after slide, designer after designer, many of whom I generally like. I was dismayed at some very unwearable looks – and I say as much fully aware that runway is one thing and translation to "real women" quite another.
Nonetheless, here is an example of a designer that it pains me to say offers little in the collection that appeals to me. Elie Saab's 2014 Spring Collection showed a coral color that is unflattering to many – ambiguous color in mood as well. The embellishment that I consider interesting was not compelling on shapes that were, again, unflattering.
As for swaths of sheer fabric in undesirable locations? Creative? I suppose. But ridiculous, even on the models. And I say that noting that sheer can be elegant, seductive, delicate, and divine – at a neckline, on the arms or back, and accomplished without competing for attention elsewhere. These obvious attempts at tension (and attention) are over the top (even on the bottom), and not in a good way.
In fact, I'm reminded that just because something is trendy or new, that doesn't make it good!
Fall Fashion Classics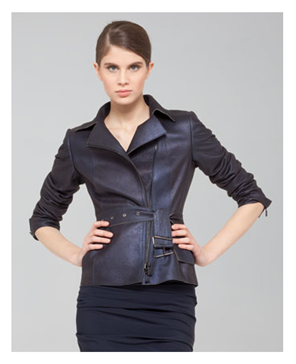 I need to clarify that I saw several gorgeous gowns when viewing Badgley Mischka, which isn't a surprise. But not only do I not have a "gown" life, none of them could be worn by Little (Young) Me. 
Will anyone design a properly pared down formal line for the petite woman and those of us with a rack, and something other than a Sofia Vergara va-va-voom look?
It's dynamite on her, but don't most of us prefer a bit more mystery?
Incidentally, I saw many lovely, wearable items on the Eileen Fisher site, and I particularly like that more of them are body conscious, without making the woman feel self-conscious in her body. I also made a visit to the Neiman Marcus site, where I found more than a few objects of desire. So apparently I'll have nothing to wear in Spring, even in my imaginary world in which Sheer Nerve Rules and Floral Drools. But for autumn? It seems I'm set…
This leather jacket, for example, the Akris Shimmer Suede Moto Jacket – Love! And the fact that it has a waist (so do I), and thus takes advantage of curves without exploiting them, seems just right to me. I love the details like the asymmetrical zippers that add pizzazz but are nonetheless restrained.
Rock It!
Clothes shouldn't overpower the woman – all the more critical if you're petite.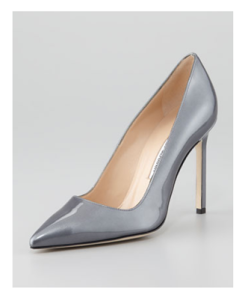 Now, as to the leather jacket and pencil skirt, I'd rock it! Either with tights and a kicky high-heeled bootie, or I just might need to pair them with these glorious and classic Manolos. His BB pointed toe pump is stunning, and having slipped my petits pieds into this style on several occasions, I find them surprisingly comfortable. I might prefer a 3.5″ heel or even 4″ to the 4.25″ as shown, but I can manage to walk in them reasonably well – and wouldn't this color work for any season?
Returning to the issue of florals, as I realize that women are expected to like them, let me say that I don't care for them in my interiors either, though I certainly appreciate them in the right setting, and in tiny prints on the right woman.
Otherwise, I'll stick to enjoying flowers I receive (and give), with a loving merci to the good man who appreciates my sheer nerve… and more classic sense of style.

Click Emanuel Ungaro and Elie Saab images to access slides at ELLE.com. Click Akris Moto Jacket and Manolo pumps to access NeimanMarcus.com


Read more on fashion likes and dislikes at Splenderosa – and have fun!
You May Also Enjoy