Hello, 1980s? Are you there?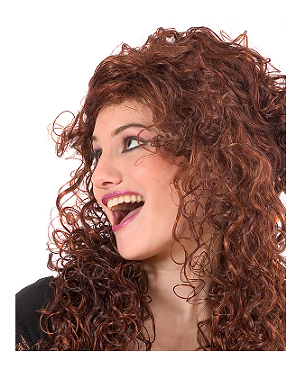 I suspect you're just around the bend corner, since Larry Hagman and Dallas are all the talk, and apparently returning to my local idiot box station, so surely the 80s aren't a generation ago, and I can beg my Hair Guru for permed locks once again.
Natch, I'll be digging through the back of my closet to select a wide-shouldered horror beauty among my fave 25-year old blouses!
I do not miss the neon-colored skin tight fitness wear and god awful perky headbands, but my curls! Those carefree crimps! Those dizzying twists! Girls in curls – for some of us – what could be more unnatural?
Apparently, curls on girls have not gone the way of Shirley Temple dolls, or photographs we're embarrassed to reveal from the days when we actually had photographs, which we carefully tucked under transparent pages in monogrammed albums.
Oh. And the Big Hair we were so proud of at the time.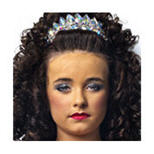 It seems that curls remain the Style du Jour in certain circles – among them, Irish dance competitions, as wigs and jigs are covered in this weekend's New York Times Magazine. The photographs feature 10 and 11-year old girls in startling hair with mega-watt lipstick and eye shadows. We won't even mention the glitzy, gaudy costumes and accessories, or the costs associated.
I admit, seeing these little girls who gather from around the world to compete isn't as worrisome as the infamous shots of 10-year old Thylane Blondeau of last year's Vogue Mini-Models controversy, but I can't say I care for these images.
They seem vaguely sad, and worse – unsettling.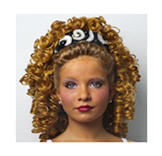 Having given birth to two male devils angels, the closest I ever came to dolling up my boys was Tumbling Turtles when they were two and three years old. I have a vague recollection of one of them in a silver suit resembling the Tin Man, non-stop complaining (and giggling), along with stumbling about on a stage with other powdered, primped, and tulled tots similarly captive to some obligatory maternal thrall with "cute" which, fortunately, was shed shortly thereafter.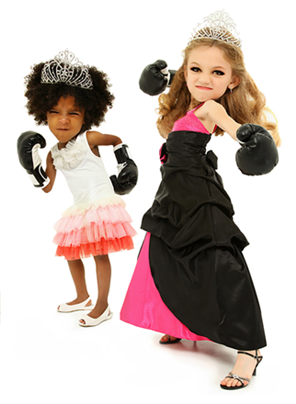 I have no personal experience with the toddler pageant scene or the years that may follow – pugilistic pretty girls taught to compete against each other, while slathered with paint, and going for the coveted tiara.
So I'm interested to know what both mothers and fathers think of these pageants and competitions, and specifically, the styling that makes our children appear many years older.
What do you think of these rosy cheeked, overly coiffed, and heavily painted 10 and 11-year old girls?
Since this is performance associated with competitive dance, does it bother you less than the mini-model outcry, or for that matter, tots in tiaras?
Is there something disturbingly anachronistic – or simply disturbing – about parading our little girls in this adult, borderline sexual fashion?
What are we teaching our daughters in these theatrical and competitive displays – not about talent – but about how we judge women? What constitutes beauty, much less their value?

Dress up? Of course!
I played dress up as a child – raiding my mother's costume jewelry drawer, grabbing for the permissible items that routinely included a pair of heels, a pretty satin slip, one or two dresses that would drag across the floor, and a variety of scarves and gloves. Why not?
It was about emulating role models, playing at being grown-up. It was about play.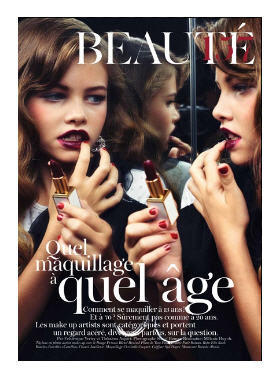 And there was no allowance made for going overboard – and that was before the promotion of our Warholian 15-minutes of fame, stretched into permanence by the Internet.
Girls in curls – in their late teens, their twenties, their 90s if they like?
Any woman in whatever attire she deems chic, unique, and preferably appropriate to the occasion?
No problem.
This?
I'm wildly mildly uncomfortable.


Click thumbnails of Irish Dance contestants, photographed by Kenneth O Halloran, to access originals at NYTimes Magazine. Click Thylane Blondeau Vogue to access fashion spread at ABCNewsGo.com.


Big Little Wolf's Daily Plate of Crazy