Sleep-away camp? It was something beyond an occasional afternoon with friends around a carefully tended fire or seated at a picnic bench in a state park, assisted by adults as we melted chocolate on graham crackers for smores or toasted weenies on sticks.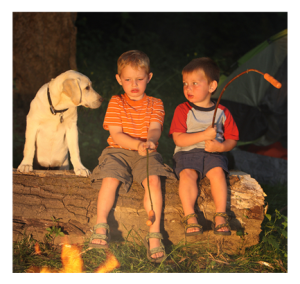 Or better yet, marshmallows in all their golden, gooey splendor.
Sleep-away camp was for those with a fondness for a state of nature I never desired – diving off a pier, hiking through the woods, surviving nights in a bunk-bed battleground of warring pre-teens taking pleasure in food fights and pranks.
At least, that's how I saw it, with no desire for kayaking or canoeing, or any variation of facing the elements. Day camp for two weeks each summer sufficed, and was comfortable.
There were laps (in a pool). There were art projects (in neat classrooms). A well-groomed field was the site for volleyball and archery. There were games and songs and snacks, followed by a short bus ride home in the afternoon.
Camp Cool It… for Digital Dependents?
I never felt deprived for lack of an overnight experience, though apparently the get-away, the retreat, the camp for grownups is being popularized these days. And I'm not talking the health and fitness variety, nor the creative seclusion that writers, poets, and artists may seek to commune with their own better angels.
We now have the the digital disconnect, the forced friending of the self sans the cell, the tablet, the iPhone, the notebook – or any other social media or digital means of communication. And it's done cold turkey, which sounds more like rehab than recreation if you ask me.
In "A Trip to Camp to Break a Tech Addiction," The New York Times paints a pretty (harsh?) picture of the latest in our pursuit of mindfulness – away from our obsessions to communicate through technology, describing an "adults only summer camp" dedicated to disarming the digitally driven.
Relating his experience, Matt Haber writes:
A little more than 300 people had gathered there for three days of color wars, talent shows, flag-raisings and other soothingly regressive activities organized by Digital Detox… teaching technology-addled (or technology-addicted) people to, in the words of its literature, "disconnect to reconnect."
"F" for Free Play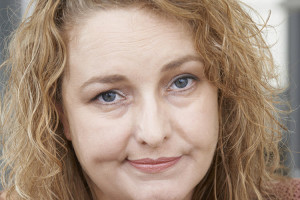 Mr. Haber expresses the initial discomfort at being separated from his iPhone, which most of us understand. While I find myself nostalgic as he mentions rifle ranges transformed into (old-fashioned) typewriter banks (for the writers in attendance), I wonder how I would fare deprived of my devices. I doubt it would be pretty.
Theoretically, I took a few days off not long ago, but the reality? You would have found me composing copy on a smart phone, stretched out on a sandy shore.
As I did in fact put away my technology for chunks of time, I'd give myself a D for disconnect, rather than an F, but had I been able to detach more completely, I would have done so with enormous satisfaction.
How many other adults would give themselves an F for going with the flow, for spontaneity, for being able to leave behind their worries (and their gadgets)… even for a short time?
In another example of camping life, Huff Post Parents features an interesting take on the summer experience we purchase for our children. Written by Dr. Peggy Drexler, "The Case Against Summer Camp" focuses on our American tendency to crowd our kids' lives with activities, even in their months off from school. Gone are the once lazy days of summer.
Dr. Drexler writes:
… what if the best thing for a child is to spend a summer doing absolutely — nothing?

The tendency to overschedule children's time is a hard habit to break, and camp quite nicely fits into patterns most American parents establish during the typical overbooked school year. But in many instances, a summer spent at camp deprives a child of important "free play" time that those months have historically provided.
Cultural Contradictions, Absent Alternatives
Personally, I couldn't agree more. However, the dual career couples I have always known – themselves overworked, overtired, and wed to grueling schedules to pay their bills – use summer camp as a substitute for school. In other words, camp serves partially as a means to provide children an experience of outdoor sports, arts and crafts, and (no doubt) computer activities, but at least as much as a babysitting service though children are no longer babies.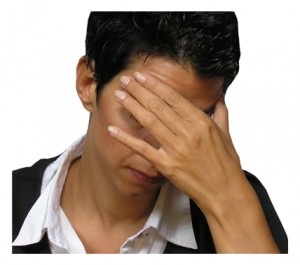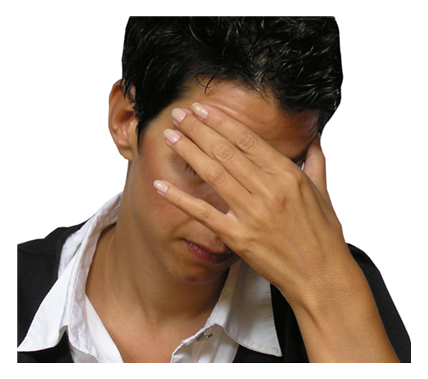 Camp may be the only means parents have to continue working, as the days of Mom At Home and allowing kids to run free are generally speaking a thing of the past – if not the former, surely the latter.
Moreover, even if we have the bucks to get away for a week or two, we may not have the vacation time.
So we have infrastructure issues when it comes to families, in terms of time off (let's not forget you must "accrue" it each time you change employers. And we have inadequate options for childcare when kids aren't in school and parents are working. Summer camp becomes a difficult to budget (but necessary) fact of life for many – at the very least, day camp.
We Know the (Work-Family Life) Problems. And the Solutions?
I find the juxtaposition of these two views into "camp life" to be indicative of where we are as a culture, two sides of the same coin revealing our contradictory values.
Both grownup digital detox and "mindfulness" get-aways for adults, and activity-jammed camps for kids say a good deal about the haves and the have nots (money enough to foot the bill), but also reflect the treadmill we can't seem to jump off. We are going, going, and only "gone" long enough to briefly recharge (if possible), in order to, well… keep going.
The fact is, the sort of "free play" that Dr. Drexler mentions would do us all a world of good, especially the adults. But that free play isn't free at all. First, we must pay for a social infrastructure that allows us to be "off" when we need to reconnect with ourselves and our families, and far more often than two or three weeks a year.
You May Also Enjoy