We talk about what fits when it comes to our jackets and our jeans, to our neighborhoods and personal style, and to our relationships in the land of love.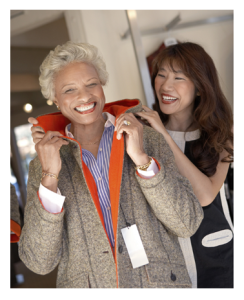 I think of behavior – the unsolicited opinion offered among friends (without negative consequence) which, if let slip at a formal gathering or a business conference, may not only be unfitting – but potentially damaging.
When I hear the word "fit," I also picture dress fittings, and one of my favorite expressions, "if the shoe fits."
But do we consider work and family as they do or don't "fit?" Do we consider each of these alone, for each of us involved, as well as in the necessary combinations? Do we stop and assess when situations change?
How do we determine what requires tweaking?
Common Customizations, Tweaking Our Terminology
In a thoughtful essay in which he eschews the overused expression "work-life balance," organizational philosopher Greg Marcus takes on work-life fit, persuasive in support of this more appropriate terminology.
The notion of fit over balance feels better – certainly to me. It speaks of "bespoke," of careful customization, of tailoring to individualize in a way that makes sense.
Fit suits… another amusing usage that suggests tailoring.
Noting that Mr. Marcus plucks the concept from Cali Williams Yost's book, Tweak It, his greater ease with this term mirrors my own. Unlike balance, "fit" doesn't leave us dangling on a seesaw, legs in the air, trapped in some binary game of rise and fall in which I can't help but picture all involved as lacking grounding.
Fit is more conducive to the reality that what we're trying to fit – our bodies, our relationships, our ideas, our responsibilities, our values.
Workplace Flexibility: Good Business or Privilege?
Combing through Ms. Yost's book, we're privy to a story that dates back to the author's earliest awareness of workplace inflexibility around fathers, mothers, and newborn babies. Recognizing the necessity of accommodating changing schedules, her desire to do so in an organizational framework was met with resistance. She also mentions a senior executive whose position on the subject initially surprised her. He informed her that allowing professionals to work from home yields positive results, implying that flexibility ought to be an element of business as usual.
He says:
You may think I'm flexible because I'm a nice guy. No, the reason I give my people some flexibility is because they stay with me forever. It's good business.
What I find disconcerting, some two decades later, is how little progress we've made, despite flexibility being "good business." This is especially disconcerting as many job functions are more conducive than ever to suppleness of schedule or location.
Digressing for a moment, the tailored suit is a luxury for most. We buy off the rack and the retail floor. Think about it. How many of us can have our clothing custom-made? For that matter, how many of us get to pick and choose which domestic tasks we'll split with a cleaning service or a housekeeper? Aren't these options available only to those with the bucks to afford them?
Is "fit" a matter of exception and privilege, and more complicated than business as usual or "good business?"
Non-Standard as Standard
Ah, you may say. It's a matter of priorities.
Here, I will raise my eyebrows and respond with a hearty "yes, but…" as I immediately reflect on the position of (negotiating) power required in order to acquire "tweaks," or the funds to essentially purchase flexibility.
Then I factor in some variables. If you're a non-standard size, for example – a diminutive 4'11", a towering 6'5″, 88 pounds or 288 pounds – then, if you wish to be dressed properly for work or socializing, you may have no choice but the special shop, the trip to the tailor, or acquiring the skills yourself to accommodate your non-standard stature.
If you're afraid of heights, you may not be comfortable in an office environment on the 20th floor. If you live with back pain, you may require a special chair or heating pad while you work. Yes, these are priorities, and largely because they aren't options.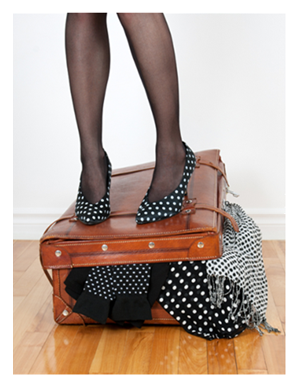 What fits is variable. What fits will change. The importance of fit – or flexibility – is not static. Perhaps the non-standard should become the standard.
Too Much of Too Much
I can't help but note (in my 8+ years of consulting / freelancing), that often the challenge stems from management that is unable to apportion work in a less "traditional" way, and more so – unable to manage or assess the people involved – preferring to make assessments based on Time In Cubicle.
Or, the workload is simply more than one person can handle in a reasonable amount of time. While I'm an advocate of "the more you do the more you CAN do", I'm easily carried away with over-doing.
I liken this tendency to my packing habits, as I struggle to overstuff my luggage – folding and refolding – convinced there's a way to fit too much, only to eventually accept that finite capacity is, well… finite capacity.
There are ways to fit, ways in which fit is impossible, and always, eventually, finite capacity.
I find myself wondering how many other adults forget that simple reality, whether cramming too much into the family side of the equation, or likewise into the working realm. I wonder how many of you have found yourselves at odds with insufficient resources – time, money, or helping hands. I wonder how many have asked for flexibility in the workplace and been refused, or nudged out of roles as a result of changing family status.
Tweaking our Workplace Infrastructure
In Tweak It, Ms. Yost apparently puts tools in our hands when it comes to transforming our mindsets as well as behaviors. Certainly, we need to re-prioritize as life tosses us its countless challenges. "Fit" is never achieved by a single hand; it is implicitly a matter of collaboration.
Happily, Ms. Yost does not ignore the critical role of employers and government, as she states:
… Employers have to create work environments that truly support and encourage conversations about mutually beneficial, flexible work-life solutions.

The government needs to update public policies that are woefully suited to modern times…
The author goes on to cite policies dealing with taxing, overtime regulations, and penalties once drawing Social Security benefits. She follows up these remarks by addressing the home life side of the equation – our need to be active and aware as we accommodate new babies, raising children, caring for aging elders, or working during retirement.
Part of the appeal of these concepts is that they don't explicitly ignore the realities of the independent worker who knows no protections whatsoever when it comes to overtime, disability, or for that matter, unemployment. Ms. Yost's approach to "fit" is less exclusive than most discussions I've read, and with millions of independent workers in a rugged economy and likewise, millions of single parent households, that sort of inclusion is worthy of a nod.
You May Also Enjoy