Multi-tasking as you read this? Checking your cell, a few apps, maybe chatting with your mate and glancing at the paper? Think it's a good thing?
Long long ago in a culture far away, people spoke these words and felt no stigma: "I can't walk and chew gum at the same time."
Now? If it's true?
You'd better not admit as much, because multi-tasking mania is the new black, the millennial "classic," the assumed mode of operation for pretty much anything. At least that's what pop culture would have us believe, and likely our bosses as well if it gets us working nights and weekends.
And what about our teenagers and young adults? What about our kids in elementary school, enthusiastically equipped with their own assorted cells and gadgets?
Convenient or Crazy?
I just saw an ad for a new phone that left me speechless. At first blush, it seems innocuous enough: children sitting in a classroom with a friendly adult, as he asks which is better – doing two things at once or one. All the children insist, enthusiastically, that two is always better.
Because it is, right?
No? Not always?
Isn't this what they see from their parents day in and day out?
By the way, the commercial highlights a feature that allows for simultaneously talking on the phone and surfing the web, facilitating the ability to split your already fragmented level of attention.
Multi-Tasking to the Max
And so I imagine the following: our teenagers and young adults standing in line with friends or God forbid behind the wheel, not only chatting or texting, but also attempting to check their favorite sites.
Then again, maybe you are stuck in traffic on your long commute, or possibly watching the kids and checking your manager's latest directive – all while stirring spaghetti, skimming texts, and considering multi-tasking Good, Necessary, and No Big Deal.
Incidentally, I don't recall the model or maker of the phone (bad ad?), but what I do note is the sour taste left in my mouth.
I'm flummoxed. I'm bothered. This is an appalling message.
And a mirror.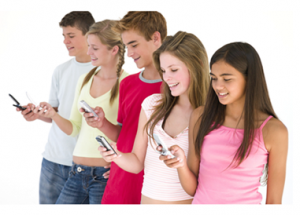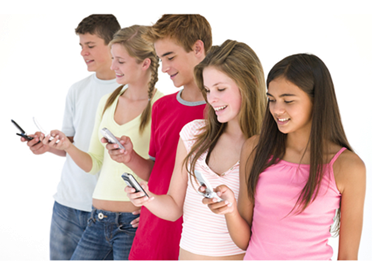 Don't get me wrong. Multi-tasking is important, and I consider myself Queen of the Five-Things-At-Once Realm on a good day, and an adept juggler of three on the bad. But I'm trying to juggle less, to focus on quality, and only divide my attention when absolutely necessary. Moreover, I'm trying to reduce Five-Things-At-Once to a more reasonable three or four; I'm certainly not looking to up my multi-tasking mastery by the addition of "technology conveniences."
Is Multi-Tasking Good?
Here are my concerns.
Aren't we overwrought with a sense of doing too much at once? Is the message that multi-tasking is always better counterproductive – or worse?
How often do we skim rather than read? Doesn't surfing and talking or any similar "convenience" strain our already abbreviated attention span?
Shouldn't we be teaching that multi-tasking has its time and place, as does focusing not only for optimal concentration and effectiveness, but enjoyment?
Don't our children model what they see? Isn't this assumption of multi-tasking as a cultural value an element of our constant stress?
Are we heightening our frantic pace, our crazed expectations, the incredible pressures on our kids, and our own need for the quick fix mood enhancer and the ADD calming med?
Paradigm; Losing Time
I'm not talking about the juggling mom or dad, or the over-scheduled business person with deadlines looming. I'm troubled by a paradigm shift we aren't adequately acknowledging – a paradigm shift influencing everything, potentially including the way we think.
And it isn't one for the better.
It doesn't necessarily buy us time; it may cost us in the long-run due to lack of attention where it ought to be paid.
At what point do we say "enough" to the do more with less, or do more just because someone is telling us we can?
You May Also Enjoy