And here I thought the Finns were known to think outside the box… Indeed they do (in my opinion), though a recent news item makes that claim seem counter-intuitive.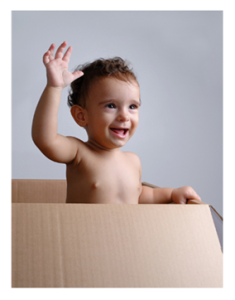 Apparently, Finnish babies begin their lives in a cardboard box, when it comes to sleeping that is. Not just any cardboard box, mind you, but a maternity package that is a gift from the government to all expectant mothers. This practice has a long history as a helpful tradition, and dates to 1938 for low-income families and 1947 for all new mothers, regardless of income.
Anyone else care to fess up to the fear factor in giving birth? How do you spell "relief?" How about a box filled with everything needed for your infant's start in life?
Beyond the emotional reassurance, there is time savings in not having to guess at what is required, worry about price comparisons if budget is an issue, not to mention actually doing the shopping. Think of it – whatever your income level and wherever you reside, whether this is your first child or your fourth, this option is yours to exercise – in Finland.
Best Gift Ever for a New Mom?
What's in the box?
According to an article that appears on the BBC News Magazine, the following items are among those included:
Mattress, mattress cover, undersheet, duvet cover, blanket, sleeping bag/quilt
Box itself doubles as a crib
Snowsuit, hat, insulated mittens and booties
Light hooded suit and knitted overalls
Hooded bath towel, nail scissors, hairbrush, toothbrush, bath thermometer, nappy cream, wash cloth
Picture book and teething toy
Bra pads, condoms
And more!
The article further notes that the maternity box is considered
… a symbol of equality and the importance of children.
Mother's Helper: Peace of Mind?
Even though I was in my thirties when I had my first child, amply stocked with baby books by way of preparation, I was basically clueless and quasi-terrified. I found myself healing from a C-section, startled to be back home some 48 hours after giving birth, and staring at a squalling infant along with an equally uninformed spouse.
I would have given plenty for a large box delivered prior to my newborn's delivery – not only to save time and money, but for the peace of mind it would have afforded. Imagine if everything you need to feed, bathe, clothe and care for your infant arrived as reassurance? And for those mothers who have no insurance, no access to medical care, and no means to purchase these items even if they knew what they were? (Must I really note that 1 out of 5 children in the US lives in poverty?*)
The article continues:
With the mattress in the bottom, the box becomes a baby's first bed. Many children, from all social backgrounds, have their first naps within the safety of the box's four cardboard walls.
Early Childhood Education Comparisons – Prepare the Viking Ship!
Looking at OECD data, I'm thinking we could all do with a tour through the fjords! Care to see some comparisons that may shine a light on how we're doing next to other developed nations, when it comes to childcare and early childhood education?
In the OECD report on Childcare, Starting Strong, as a percentage of GDP, the U.S. spends less than one half of one percent (.5) of GDP on Early Childhood Education and Care services (for children 0 to 6 years old).
In comparison, Finland ranks #4 out of 20 industrialized countries spending 1.3%, Norway at #3 spends 1.7%, Sweden at #2 spends roughly 1.7% and Denmark ranks #1 spending 2% of gross domestic product on these expenditures. (The US ranks #9.)
By way of providing a little perspective, let's compare Early Childhood Education and Care to, say… military defense, with a 2013 US figure sitting at $682 billion** which is roughly 4.4% of GDP. This is in comparison to the .5% of GDP the US spends on childcare/education in these early years.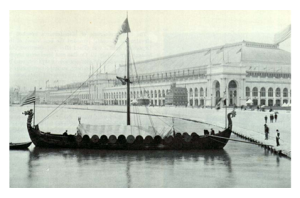 Another country-specific example, if you will allow: France is ranked #5 out of 20 (after Finland) on early childhood education and care, spending roughly 1% of GDP, and their military spending accounts for 2.3% of GDP.**
As a percentage of GDP, we spend approximately nine times as much (900%) on military spending than on care for our children ages 0 to 6. In contrast, France spends 2.3% of GDP on military, Denmark's military spending is 1.4% of GDP, and Finland's military spending is 1.5% of GDP which is roughly equivalent to what they spend on their nation's children ages 0 to 6.
And that's before they enter the national education system.
Are We "Fin(n)ish(ed)" Yet?
A few more facts and figures on Finnish education, both early childhood and in the later years:
Like most developed countries, there are national standards of education
Per student expenditure is $7,500 per year, 16% less than the US
That is not a good statistics for the US; more money is not necessarily better quality
To put those expenditures in perspective, according to the OECD, Finland ranks #2 in science (the US ranks #23); Finland is #6 in Math (the US ranks #31); Finland ranks #3 in reading (the US ranks #17)***
Preschool is free in Finland, with emphasis on self-reliance, social skills, and self-reflection in the first 7 years of life
Teaching is considered a prestigious profession; 100% of teachers come from the top 25% of their class as opposed to 14 to 23% of teachers in the US come from the top 25% of their class
Education policy emphasizes flexibility, broad knowledge and culture of trust in teachers' professionalism****
From an OECD report on the Finnish education system:
While there is a national core curriculum in Finland, over the past 20 years it has become much less detailed and prescriptive. It functions more as a framework, leaving education providers and teachers latitude to decide what they will teach and how… The teachers select their own textbooks and other instructional materials, for example. Because the only external testing in comprehensive schools is done on a sampling basis and is designed to provide information on the functioning of the system as a whole, assessment in Finnish schools is a classroom responsibility…

… a major focus in Finnish classrooms is also on helping students learn how to assess their own learning…
I repeat: Time for the Fjord Tour of Schools via Viking ship?
Is anyone else in favor of a cardboard box starter program in order to foster greater thinking outside the box in later years? A show of hands for keeping the needs of our most vulnerable and precious citizens in mind as we pick and choose our budgetary battles, and more importantly, look at how we're spending those early childhood education dollars? What about providing the best possible start for all our children during their most critical developmental years?


*Source – OECD (Organization for Economic Cooperation and Development): Better Policies for Better Lives
** Wiki: List of Countries by Military Expenditures
*** Programme for International Assessment (PISA), OECD Better Policies for Better Lives
**** Data gathered from a variety of OECD sources including OECD PISA (2006) The Finnish Education System and articles at The Daily Riff: The Finland Phenomenon.


OECD: Excellent Resource on History and Structure of Finnish Educational System: PISA
Replica of Viking Ship, Wiki, Public Domain
You May Also Enjoy