Can't help it. Don't feel guilty. Watched the Beverly Hills Housewives Reunion… twice.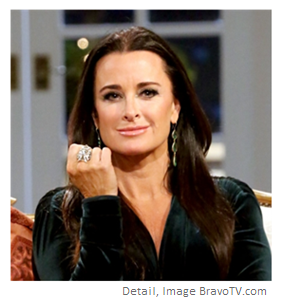 They're fighting. They're fuming. They're fussing. And that was just Part 1. But what do I notice?
Their foreheads don't move.
Now, I will say that Andy Cohen raises his brows and there's interest, there's curiosity, there's expression. It's fantastic!
It's real. Real real!
Likewise, to a small degree, there's a glimmer of movement on Kyle Richards and ditto, Brandi Glanville.
And hey, I get it! I'm a woman in a culture that worships youth and beauty by increasingly narrow standards. I can't imagine how I'd feel or what I'd do if I was constantly in the limelight – not to mention the subject of criticism as to my every, um… move.
Then again, these women chose the spotlight – or more precisely – the magnifying glass. Does that spur them to excesses that I can't imagine, in a Land of Excess that I also can't imagine?
Guilty No More About Housewife Habits
As it is, I'm content to have Psychology Today's refreshing justification to not feel guilty while watching this show – more on that in a moment. I nonetheless find that my ogling factor has gone into overdrive.
Was there a Botox Bonanza on Mojitos and Manhattans just before filming the Reunion Round 1?
Are you raising an eyebrow at that? And while doing so, can you feel the muscles move?
Brow Beaten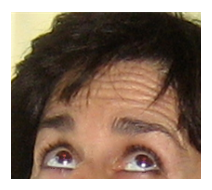 Listen. I'm all for taking care of ourselves, and that includes men and women. I'm all for deciding what level of care is involved, understanding our limitations (and expectations) vary with health, lifestyle, budget, career, even marital status. Ultimately we each have to live with ourselves, and theoretically, those who live with us have to, well… live with us.
But really – is this so bad? Seeing a look of surprise that looks like surprise? A forehead filled with fury, fun, or furtive fancy?
Thank You, Psychology Today
That Good Psychology Seal of Approval I allude to? It's this, by Dr. Melanie Greenberg: "Why We Can't Stop Watching 'The Real Housewives'" – and happily, Dr. Greenberg gives us permission – by way of explanation – for our lurid fascination with these women in particular and the Housewives in general, as she recognizes redemption in our reality TV titillation.
Would the superficial shenanigans of these privileged, Botoxed divas kill brain neurons or lead me to be ostracized by my Ph.D. peers? Therefore,  I was surprised (and secretly, delighted) to find out that  I'm not alone among my intellectual counterparts in watching this pink, frilly eye candy.
Phew!
Peeking Through The Window
Dr. Greenberg chalks it up to voyeurism, envy, celebrity worship. Then there's sex, there's revenge, and there's so much more…
There's the narcissism of conspicuous consumption and wanting to be in the spotlight. And there's the fact that what you see is a manufactured reality, carefully edited and spliced together around themes scripted by the producers.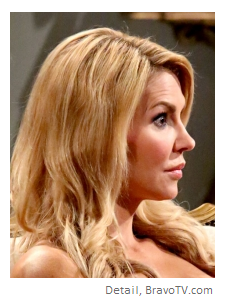 What else? It's entertainment!
Still, those foreheads. They're disturbing.
And no – this isn't about picking on women over looks – in fact, on the contrary. I'd like us focused on women's accomplishments, women living more fully, and axing the aging angst altogether – if possible.
Tripping the Plastic Fantastic?
But I would like not to be distracted by plasticity. I for one would enjoy the engagement of the players' emotions with more than a jaw drop or a raised voice. You know. Actual action above the brow.
And there's plenty to provoke the furrowing, the frowning, the flabbergasted floundering of the sort many of us can relate to – despite the disparity in surroundings and bank accounts.
Concerns for kids (or sisters).
Relationship rumors (and exiting spouses).
Surprises. Temptations. Celebrations.
Laugh Lines, Worry Lines
Brandi's fine lines, able to be seen by the television viewer?
Big relief. Makes me like her!
The less than lifelike alternatives, and the culture that somehow expects this – or conditions us to be less than happy with even the tiniest twinges of an expressive face?
How did we get here? Why do we think this is okay?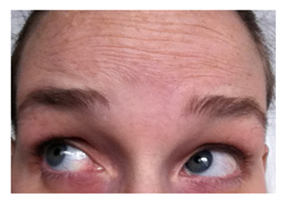 And I like seeing Andy's face move – the mischief, the approval, the befuddlement, the concentration.
Real Foreheads! Let's Start a "Movement!"
So here are a few foreheads. Aren't they fabulous – even for those of you who don't say "fabulous?"
I think they're cool. I think they're beautiful. I think they're human and inviting and intriguing.
What if we allowed ourselves to focus on what we say and do, expressing our emotions – as is natural – and enjoying each moment? Wouldn't that be something?
Is that a yes? A no?
As Andy Cohen would say – Tweet me! (At @RealForeheads!)
Real Housewives, Real Lives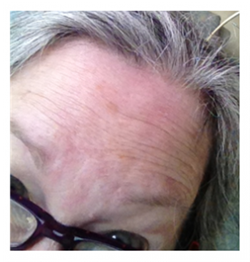 The thing is – I kind of like these women we see on television. No, not all of them. And yes, I know it's scripted-shaped-edited-torqued-faked-finessed and all to keep us watching.
But aren't most lives filled with stories we can relate to, or at least learn from? Aren't human beings fascinating? Wouldn't we love to truly understand the quality and longevity of the Vanderpump-Todd marriage – 30 years strong and still going?
Beneath the Fashioned For Television Consumption version of what we see, behind the Observation Factor, the Narcissism Epidemic, the complexities of family life that we can all comprehend – I'll bet there are lessons – ones we could learn from.
And lessons leave traces.
Movement… Forward
I'd love for us to embrace our movement, and our movement forward. I grant it's been a week of contemplating my own mortality, staring myself down in the mirror, digging deep for my feelings on growing older, and reflecting on myself in many ways – certainly not the sole dominion of the physical I see in the glass.
Isn't life a gift? Not without bumps and bruises, but a gift all the same?
As for those immovable spans of skin?
Sure. I'll still watch Beverly Hills, and Orange Country, and even Atlanta. But my forehead moves, and I'm glad.
Faces Tell Our Stories
Our faces and bodies tell our stories. My forehead surely shows the signs of a few of mine.
And so does Kristen's. (Thank you, Kristen. Pop by and visit her amazing blog here.) And so does Walker's. (Thank you, Walker. Visit her fantastic blog here.)
Listen. I fully understand the discomfort as we see signs of youth departing. But when did the pressure become so great that we as women feel like so much "less" as a result?
What about you? Does your face recount your stories? Do the crinkles at the corners of your eyes speak of laughter? How do you feel about a lined forehead? How do we make it "okay" for women to "be" at any age without feeling compelled to submit to the needle or the knife?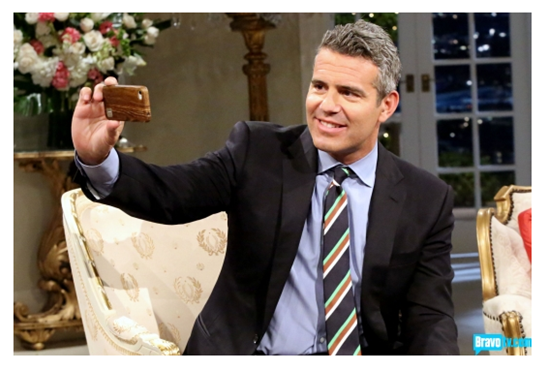 Kyle Richards and Brandi Glanville images, Details, BravoTV.com – click here for originals.
Andy Cohen, BravoTV.com – click here for original.

You May Also Enjoy

Big Little Wolf's Daily Plate of Crazy