Makeup monstrosities? Oh yeah. I'm talking collagen and cosmetics. Lipstick overdose. Botox buried in blush. Excess is the word du jour.
Tartini excess at the beauty bar?
Nothing makes a woman look older than too much makeup. But we all know it, right?
Nothing makes a Real Housewife of Orange County look trashier and older than too much makeup. Yes. The obvious. But very annoying when you finally drop off in the wee hours, hoping to stroll Tahitian beaches (or at least Miami) in the scrawny shreds of REM sleep, and instead, you wake to violent visions of pancake foundation meets Girls Gone Wild, three-pound lashes, and arguing face-lifted mamas duking it out with their surly girly teens. So much for a good night's sleep.
No Real Housewives before sleeping
Clearly, I need to turn OFF the television earlier, and institute a "No Housewives before Sleep Attempt" rule. When they pervade my dreams (and no, this isn't the first time), is it any wonder I don't sleep for long??
While I will cop to having had my share of exasperating encounters with aggravating adolescents, they don't come close to the scenes between Housewife Lynne and her 17-year old (troubled or typical?) teen, Alexa.
But now I'm dreaming their arguments in my turbulent tossing and turning, and each of them slathered in near gory amounts of overpriced eyeliner and mega-layered lip gloss. Perhaps this dream slides alarmingly close to nightmare? And the worst nightmare – the fact that teenage daughters both compete with and emulate their mothers?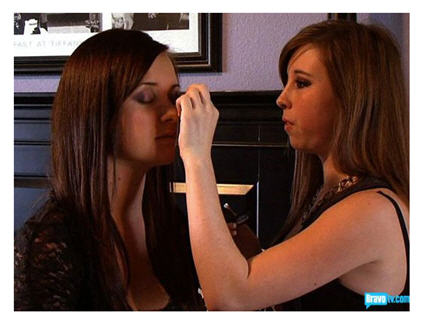 And in land of material rules instead of House Rules? Where if the fake lashes get any longer or thicker, and the inflated mouths any puffier or slicker, we have no doubt why hours of "hair maintenance, face maintenance, nail maintenance, and body maintenance" take priority over conversation with children and cracking (I do mean cracking) a real smile?
Cosmetic surgery
I've been hit over the head repeatedly this week (though still conscious) with cosmetic surgery overload and our society's odd view of what is ideal in a woman. Is it beauty Hollywood style or the Beast, instead?
As a femme d'un certain âge (a women gracefully admitting to forty plus), I won't say that I don't miss the dewy skin of my lustrous youth. But the stretched and distorted reconstructions thanks to plastic surgery and assorted procedures do become the stuff of nightmare when taken to extreme, and undertaken too young. And then compounded with makeup overkill on what may be a lovely face?
Yes, I wonder about the women beneath the mask, about our need to wear so many masks. And the metaphor for our national preoccupation with the inauthentic, at the very least.
Real Gretchen? UnReal Alexis?
Gretchen is apparently 31 (?) and whatever else you may say about her, she's certainly energetic and entertaining! But working on a makeup line? How about an unmakeup line to look younger?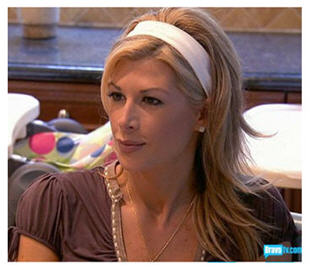 As for (32-year old) Alexis, the newest specimen of image-obsession and odd priorities, her first-thing-in-the-morning face was as bizarre to me as her behavior at a Tupperware party. (Yep, Tupperware with drama. Vive la Reality TV!)
So are these makeup excesses only the stuff of my nightmares? Women, is this really what you want for yourselves or your daughters?
Men – is this what you seek in a woman??
Beauty
Makeup as a women's issue? Excess makeup (beyond the teen years) as cause for pause? I think so! Just a matter of personal choice, or laughable, or something more? Still the Barbie Doll standards for women? Still our body-image and need-to-please insecurities?
Care to nip, tuck, lipo, laser, lift or undertake any other procedure you can eke out (dare I say eek out) of a bank account? Have at it! But must you then paint so much powder, line, color and other cakey crap onto your face that you're virtually unrecognizable?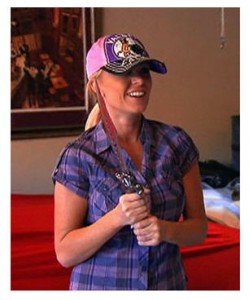 Perhaps that's the point. We'd never know a Real Housewife at Walmart. . . or in the Whole Foods aisle. Not that I'm likely to encounter any (West Coast) women in my harried mornings; I'm an East Coast girl, and not without an eye for the pleasure of Christian Dior, Laura Mercier, or the appeal of a gently enhanced je ne sais quoi.
Personally, I'd love to watch all these women undergo a makeover à la Heartland of America, and I'm guessing that Tamra under that clean-the-garage cap (sans makeup?) looked lovelier than we've ever seen her.
Even better than a Midwestern makeup makeover? How about a touch of Parisian style? The art of subtle enhancement. Less stuff. More stunning. A face that lights up (and we can see it!)  when you share a joyful moment, laugh lines around laughing eyes. And yes, consternation if they wake after nightmares of overdoses of over-the-counter (even the Saks counter) makeup. And oh, yes. Teenage tantrums.
Natural beauty?

The thing is – I suspect all the OC Housewives would be more beautiful, their lives lightened, and we would still watch if they wiped a bit of the (fake) smile off their lips and let us peek at a bit more of the real reality of their over-the-top unreal lives.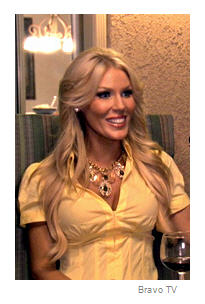 Yes, I'm stubbornly holding out for those makeup makeovers. (Elle or Oprah – won't you step in??) While we may have started watching for their outrageous and sumptuous lifestyles, and editing captures anything but their finest selves, we've been treated to a glimpse of good hearts in each. But the theatrical makeup? It ages them and seals the stereotypes. It speaks volumes of our society. An archaeological excavation would be required to unearth a comely grin, or a sympathetic parental furrowed brow.
And no, that's not a dig, because I sense that beneath all the artificiality, the real in each of these Real Housewives reflects visible beauty. And I'd like to see that shine, and hearten all of us as we go through our hard times, as they struggle through theirs. With a little less makeup mess and makeup mask, and beauty we could recognize.

Images courtesy Bravo TV.


© D. A. Wolf

Big Little Wolf's Daily Plate of Crazy