Sickbed. Really. Sickbed salmon recipe. Really. Right here, right now, with my favorite garnish – dill.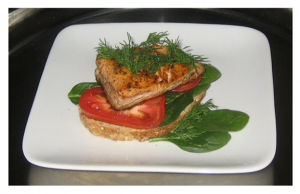 Of course, I wanted something healthy and hardy; I created a brunch-like open face sandwich, with a thick grainy bread, baby spinach, and tomato.
It was prepared in a jiffy, served on a silver platter, and dished up with a saucy side of pretty pumps. What more could you need – besides a couple of dollars and 15 minutes?
I haven't been eating well, no doubt adding to accumulated fatigue and a nasty cold. But I was craving exactly this, and devoured it as an afternoon breakfast in bed.
Sumptuous Sickbed Salmon – Ingredients
This little recipe isn't difficult. Not even close. In fact, you could get one of your kids to master it (and love it)!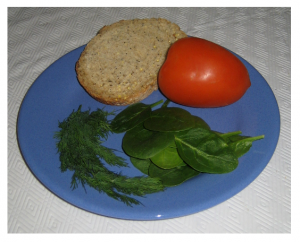 1 portion of fresh salmon
1 slice of good grainy bread
1 tomato
A handful of baby spinach leaves
Dill (glorious dill) for garnish
Lemon juice (optional)
Black pepper (optional)
Dijon mustard (optional)
Olive oil, butter, or margarine for cooking
Directions
Sauté your salmon in a small pat of butter, margarine, or light olive oil (I used butter this time). Add pepper and lemon juice to your taste. My salmon portion size is about 3 ounces, sometimes 4. Use high heat if you like a nice sear (I do); this takes no time at all.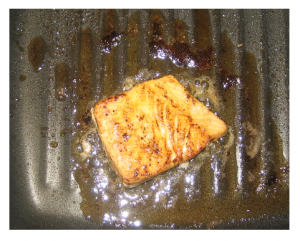 Your salmon is done in 5 or 6 minutes (max), so toast your bread as you're finishing it up.
Take the bread out of the toaster. Create yourself an open-face sandwich by layering on spinach leaves and tomato slices.
Place the salmon on top, and garnish with dill. Add more fresh ground pepper if you like, and I also added a dollop of Dijon mustard. (Delish.)
Approximate cost? Salmon: $3, slice of bread, tomato, a few spinach leaves, a sprig of dill – about another $1.50. Quite a yummy meal, all organic (Whole Foods), under $5.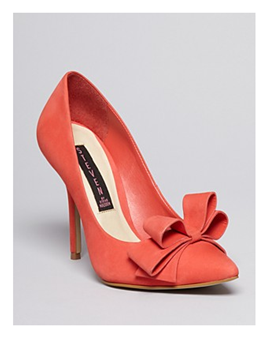 Eh voilà – That's it!
Silver Platter Service
As I was feeling lousy, I really did put my plate on a faux silver platter and climb back in bed to eat. The New York Times was kind enough to keep me company. When I was finished licking my lips (and feeling a bit better), I naturally felt obliged to go in search of fabulous footwear for this quick-and-easy recipe.
Why not the feel of a Steve by Steve Madden pointed toe pump – in a lovely coral?
Too wobbly for a 4″ heel, or just not your thing for sumptuous salmon? Poke around online (and in your favorite "real" department stores) – you'll find shades of watermelon, coral, and salmon in wedges, sandals, as well as pumps.
A few more pictures? More reading? Already watching the Oscars? The Red Carpet? Did anyone else notice the lovely salmon (and red) tones at the Golden Globes?