You know those days when some nut job runs a light at the worst intersection in the neighborhood? And it's a near miss? You see red, don't you?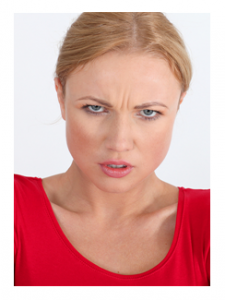 What about the weekends when you finally think you'll have a few hours off, and the sitter cancels at the last minute? Do you see red again?
And the laptop that shut downs as you're rushing to finish a presentation? The faucet you've had repaired twice that springs a leak? The plumber who won't answer your calls?
Then what? Do you see red, throw up your hands, or do both – then seek an alternate solution?
Red Zone
We all have days that spiral out of control and we try to stop the downward spin before Things Gone Wrong become Utter Disasters. If we're smart, we know when we're approaching the "red" zone, and we take steps to back away from the intensity of our emotions.
Then, we can think. Or, we can choose to emote – within reason – and get on with the business of solving our problems.
Bred for Red
Personally, I adore red. I imagine I was bred for red and always will be. I love artwork that flaunts its ruby and its vermillion. I love fashion that flirts with fire engine red, moving into deep, bloodier tones that feel regal and elegant. I'm crazy for red interiors, red cars, red flowers in clear vases.
Red is the color of passion, of heat, of energy – at least to me. I even find it soothing – and I sleep peacefully enveloped in red.
Origin of Seeing Red
Seeing red? Sounds good to me!
In searching for the origin of the expression, may we channel the Torero, please? According to The Phrase Finder:
It is widely thought that 'see red' derives from the sport of bull-fighting and the toreador's use of a red cape to deceive the bull… That proposed derivation is backed up by the existence of the earlier phrase – 'like a red rag to a bull'.
Strangely, the same source indicates that bulls can't actually perceive color. It seems they respond to the waving of the flag!
Changing Things Up
Recently, I was out in the cold and rain tending to tedious tasks – the bank, the post office, the gas station. You know the drill. But I caught a glimpse of a woman wearing bright colors (and a bright smile), and the effect was immediate, infectious, and perked up my mood.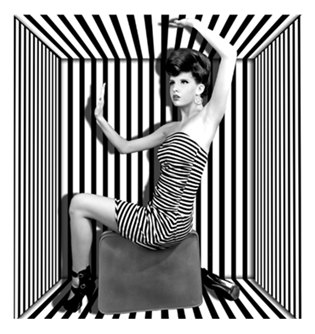 She was sporting a short deep pink trench, gray leggings, and black boots that appeared to have hot pink trim. When she turned around, I caught a flash of a multicolored sweater of horizontal stripes – heavy on the pink and red.
With a 60s fashion vibe and brilliant hues, this thirty-something woman was the perfect antidote to an otherwise dreary day.
Red – Color of Passion… And?
The combination of vibrant color and unexpected stripes worked a particular magic, exuding confidence, playfulness, individuality, and whimsy.
I was reminded how much I love stripes, how flattering they can be, and the visual va-va-voom they inject into any outfit. Overdo and they'll give your eyes a run for their money, but you can't deny they're wildly energizing!
I also realized that while "seeing red" may be the first response to a frustrating situation – or in my case, my "feel-good" color – I haven't worn red in awhile, and I think I need to submerge myself! I'm also planning on mixing in fuchsia, raspberry, and purple. Color is a definite mood-enhancer, and change is both good and necessary. Sometimes we choose change; sometimes it chooses us.
Healthy Anger
There are times we sit on anger because it's in our own best interest. There are times we vent to friends, allowing us to express our emotions safely.
There are times we confront the source of our indignation – we stand up for ourselves with the guy who slips into our parking space, who cuts in and out of line in treacherous traffic, or that plumber who guaranteed his work, then pulls a no-show!
We may see red. We may lose our cool. We hope we can take a breath and use the energy of anger to speak our minds – appropriately, of course – in a way that is empowering, reasonable, and healthy.
Audacity: Be Yourself!
During the long, dismal days and nights of winter?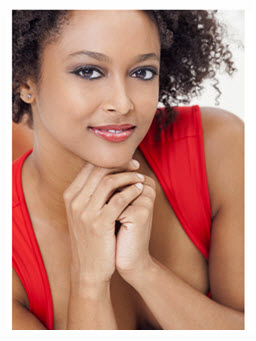 I say wear it, dare it, and own it!
You love red? Go for it.
Care to mix things up with wild stripes or other patterns?
Why not?
The woman I saw was radiant. I can only imagine feeling good in her clothes is part of that picture. Isn't confidence a factor in owning our style? Isn't confidence boosted when we own who we are?
Your Colors or Your Life?
Seen red lately? What did it?
Worn red lately? Does it amp up your mood?
Switching up your style for the buzz you get from change?
Changing your life in a significant way – to mix things up a little?
You May Also Enjoy