Sometimes they were hunky – my type as defined in my twenties and thirties. A real man. A good man. Maybe, a future "boyfriend."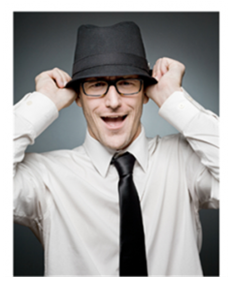 Not handsome, but expressive. Not tall, but Crazy Tall.
That, I confess, was to compensate for my excessive tininess.
Dark hair was a must. Dark eyes, delicious. A twinkle in those eyes, regardless of color?
Bingo! That could be the all-important sign of a playful sense of humor – as critical to my vision of the Classic Man as his intelligence, mischief-making, and touch of edge.
Naturally, along with the occasional smoldering gaze, he would be affectionate, kind, giving, and non-judgmental.
Everything to do with appearance? Frankly, negotiable. Readily nudged aside for wit, smarts, and what I perceived as a "heart in the right place."
As for the adage that it's just as easy to fall in love with a rich man as a poor one, I've found that to be untrue. I prefer not to make sweeping statements – (oh dear, have I already done so?) – but for me it's easier to fall in love with a man who shares my values and understands my conflicts.
That is less likely in the case of a rich man, though certainly not impossible.
Man Friends
Of course, I'm a little more "mature" now. I can look back and say (with relish) that my man friends have consisted of a fantastic array of personalities: a bouquet of poking, prodding, winsome, wily, mysterious and marvelous creatures. Yes, there have been a few creeps. Apparently, into every life a little Creepdom must fall – especially if it's raining men – and older men at that!
Strangest and most wondrous of all is the evolution of a friend into something more.
A man who becomes a confidante, a lover, a resident of the partitioned and expansive heart. A man friend who becomes a boyfriend.
But here's the rub. Don't women bemoan the fact that men regress in relationships? They become boys as they take us for granted? We then resent the "boyish charm" and nights out with the guys? (Note to self: Explore further. Fact or fiction? Do we cease to treat them as men, thus encouraging behavior as boys?)
More sweeping statements? Why use language that reduces men to boys as they take up the role of committed partner? Is "girlfriend" as petulant a puzzle? And as we hit middle age, have we no alternatives?
How on earth do we say "boyfriend" or "girlfriend" with a straight face? Couldn't we devise more appropriate terms for the stalwart fellows in our beds and our heads, and the wonderful women in our lives – not wives?
Unmarried Couples, Couples Nonetheless
This weekend's New York Times offers a few contrasting terms in an article that is all about the committed cohabiting who choose not to legally marry. In "Unmarried Spouses Have a Way With Words," Elizabeth Weil discusses the definitional dilemmas for those who live together, share children, and eschew the traditional stroll down the aisle.
Our culture is increasingly comfortable with the fact of these families – or perhaps I'm kidding myself and marital status remains as defining as ever. Yet we lack labels for cohabiting couples, and apparently the relationship partners themselves tiptoe through terms (of endearment?) to use for one another.
According to the Times, it seems there was a phrase devised by the U.S. Census Bureau in the 1980s:
"person of opposite sex sharing living quarters," abbreviated to POSSLQ and pronounced "possle cue."
POSSLQ. Go figure!
Other terminology mentioned in the article – and, I might add, described as comic or cold – fusband (for fake husband), consort, paramour, baby daddy (this last, best offered in a sarcastic tone).
Padding phrases are also useful – I've relied on a few of these myself along the lines of "the person I'm in a relationship with" – (dreadful for the dangling preposition alone) or "the man I'm seeing" which rolls off the tongue with greater ease. Still, it's simultaneously inexact and amorously ambiguous.
Sex and the City: Boyfriend to Man Friend?
As I can't seem to bring myself to say "boyfriend" at this stage in my life, I fall back on a scene from Sex and the City (The Movie), with Carrie and Big. She's in her forties, and he's in his fifties. They're in the process of purchasing an apartment together. She refers to him as her boyfriend, to which he responds "Aren't I a little old to be your boyfriend?" and her reply is something to the effect of "Alright then – Man Friend."
As for Yours Truly, for now I'll take Man Friend and consider it good fortune, adequate etiquette, and in French, a reasonable "etiquette" or label.
Significant Other?
Too sterile.
The Man in my Life?
Not bad, though I rather like the simplicity of "My Man," and find no objections in My Man's referral to me as "My Woman."
But I ask you, as I ask myself: Why do we struggle so with language at times, even as it reflects our cultural contradictions? If you're "involved" and not married, what do you call the Object of Your Desire, or the Companion at Your Breakfast Table? Boyfriend? Girlfriend? Faux Spouse About the House?
You May Also Enjoy