I never thought much about the fact that I was single.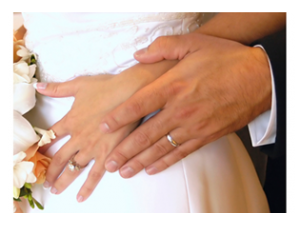 I was me. Marital status had nothing whatsoever to do with who I was: my passions, my beliefs, my friendships, how I conducted my life.
I might even go so far as to say that marital status had little to do with my dreams. I knew what I wanted – to write, to learn, to travel, to become knowledgeable and respected in subjects I found interesting. I wanted to distinguish myself.
I wanted to love. I wanted to be loved.
Children? I couldn't imagine myself a mother.
Surprise, surprise. Well into my thirties I experienced that great privilege, and I have adored the job of parenting my two children. As for marriage and its necessity?
The Title of Mrs.
I didn't dream of being a "Mrs." I didn't plan for it, or think of it, or worry about it whatsoever – until I reached an age when family members, co-workers, even strangers began asking why I wasn't married. Not being married was somehow a stigma, though most of my closest friends, like me, were single at the time.
I was asked by relatives if I was gay. I was asked if I had something against marriage. When I would travel to France, no one asked me about marital status and it was a relief – like many other aspects of French culture, at least, for me.
And when I did marry – older – I felt that I had just been accepted into some exclusive club that I never knew existed. I was invited into a broader circle. I was welcomed in a different manner.
And I was surprised. Stunned, really. This was 1990, not 1960!
Women, Marriage, Name Change, and Identity
When it was time to do the deed, I didn't want to change my name, though my soon-to-be-husband wanted exactly that, and we both agreed it would be easier if there were children.
I was known in my profession by my given name, and I was reluctant to shed it. I also liked my name. I inhabited it; it suited me. But I opted for pleasing my husband and agreed to his request.
Many years later, during divorce, despite the confusion I knew it would cause (and still does), I was hungry to slip back into my "old" name – my real name, as quickly as possible. I was reclaiming a vital part of myself.
My name.
My identity.
Does Your Marital Status Define Your Life?
While I would never had said that my marital status defined me or my life, I faced divorcing dilemmas I couldn't have imagined. For example, it took me months to remove the wedding ring from my finger, far longer to surrender the possibility that I could save my family unit, and more years than I care to admit that I have struggled with accepting that I will never know precisely why my marriage ended, and why "we" didn't work, though looking back, I certainly have more insights than I once did.
At the time, I focused on the fact that we made beautiful kids. I still focus on the fact that we made beautiful kids, and likewise, on everything I've learned in the past 20 years.
The stigma of divorce? I didn't consider it. I was dealing with the death of dreams. I was preoccupied with the emotional withdrawal of one child and the anger of the other. I was fighting growing legal debt and loss of our home. I was determined to get us through; marital status was irrelevant.
The Marital Status Trap
Over the many years I've dated since divorce, any time I've seen someone for a few months, I heard the inevitable question – "Do you think you'll get married?"
Still dealing with contentious issues of support, visitation, and more – remarriage has been the farthest thing from my mind.
I'm currently enjoying a good relationship. To my amazement (and discomfort), the questions have started again as if confirmation that even for a woman at midlife "remarried" is superior to "divorced," and if not remarried, then cohabiting is superior to living alone.
Why?
Judgment and Assumptions by Marital Status
I begin to understand the value of the indefinite engagement as a means to silence the voices who doubt your commitment, while respecting your own awareness that insists on caution.
I recognize the very real financial and logistical advantages to being married rather than single – including rights to spousal benefits (health care, for example). May we agree that this is no small matter as we grow older, and in our troubled economy when many are without jobs or, have no "rights" to health care through non-employee status?
Likewise, there is no doubt in my mind that society at large is more comfortable with those who are married, especially women, though I still can't quite figure out why.
If you're divorced and not remarried, is the assumption that you're unattractive or unlovable?
Many men don't wear wedding bands; we rarely inquire if they are married. Why?
When we do find out that someone is not married, we automatically assume there is something "wrong" with them. Why?
Hierarchy of Marital Status
Personally, I have noted a hierarchy of marital status "acceptability" in this country. Married is superior to Unmarried; Widowed is superior to Divorced; Divorced is superior to Never Married. Why?
When asked my marital status, most of the time I simply say I'm single.
Yes, I am a divorced woman with a complex story. Yes, I am a single mother or solo mother, depending upon your definition. Yet to me, marital status remains largely irrelevant to who I am, what I love, what I contribute, and how I define myself as a person and as a woman.
We learn from our stories, we live our stories, and we present a face to the world through our stories. Mine include marriage, motherhood, divorce, and these 10 trying and remarkable years that have followed.
But I am more than my stories. More than these stories. And I am certainly more than my marital status.
What about you?
You May Also Enjoy