Wandering from city to city – sometimes in my dreams – not unlike my own travels when I was younger.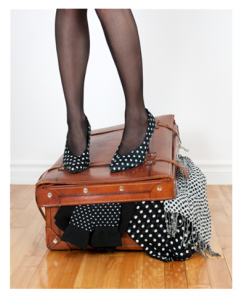 I changed locations more easily then. There was no baggage except for the most literal. I was responsible for myself, I owned little, and I could pick up and go – on one bag – easily.
Well, after a little artful packing of course.
Even in the thirties I did my share of exploring new places, though more typically on business trips. (Hello? World? Business trips are not glamorous! They become a blur of airports and conference rooms and rental car counters… Jet lag and meeting prep, and hoping to get home for clean laundry.)
My more recent travels, generally to France, have slowed considerably in frequency. (Real life. Alas.) But the excitement of seeing my sons discover the world?
Absolutely delightful. Especially when it's part of a university program or for an internship. (I don't have to foot the bill.)
As for me?
One of the countries I've yet to explore is Canada, beyond a few business trips. Are you shocked? I am, when I consider how close I lived for many years (drivable), yet I tended to head south to anywhere warm and by the ocean.
But a discussion of poutine recently (a very specific "delicacy" in Quebec) sparked the idea of returning soon – if possible!
Travel for Adventure or R & R?
I may no longer wish to do some of the more adventurous journeys I sought once upon a time; I find that room service at a seaside resort or endless hours in a bustling European city hold far more appeal. And then of course, the time and inspiration to write.
So much of the world remains to be discovered. Better yet, to me, spending a month or two in a new place would suite perfectly – able to unwind, and to soak in the experience more fully.
Are you feeling "the itch" to get on a plane and go? Are there specific countries you dream of visiting?  Have you reached a stage at which the best "vacation" would be to stay home and do nothing? To go away – and do nothing?

Travel Tales Redux

Big Little Wolf's Daily Plate of Crazy