Who remembers that great Seinfeld episode on re-gifting? Who wants chic, fashionable, affordable gifts for the upcoming season that will not find their way into unknown hands, the result of the Perniciously-Persistent-Pass-It-Along present process?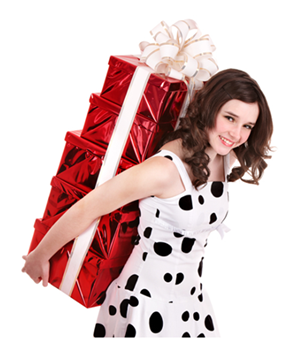 Hoping for a light bulb moment? It's here!
After paging through catalogs both real and virtual, I've compiled my own Unlikely To Be Re-gifted Top 10 Gift Ideas Under $100.
Once you hear my top ten (or twelve?), I'd love to hear yours – the best gift ideas you've had, the best gifts you received, and of course I'm curious to know if you've been the recipient of re-gifting, or… cue the villainous music… the perpetrator.
As I will admit that theoretically women can be a little tricky to choose for, do you mind if I focus especially on the women?
Last year I went specifically for the virtual va-va-voom – and who can blame me? – I dare say there are many gender neutral ideas here as well, along with a good deal of practical giving. (Not to worry, a little va-va-voom awaits.)
Gifts under $100 for Women Who Love Museums
I love a great museum. And I love perusing museum catalogs as well as their stores if I'm lucky enough to be near one. The Museum of Modern Art's online store offers gorgeous design with everything from stocking stuffers to large items with equally large price tags.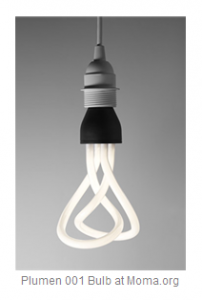 However, there's plenty for less than $100, and even less than $50.
What about an energy saving bulb like the Plumen 001? I think it's incredibly cool, it lasts eight times longer than a regular incandescent, and it's only $30. Need stocking stuffers? MoMA offers plenty of small items that are under $10 each. And while we're mentioning museums and energy savings, might I offer two suggestions?
Think green! Look around for environmentally friendly behavior changers not to mention products. They're out there! And also, think culture. A year's membership at a fabulous museum is way below the $100 mark and would be a welcome gift in my household, certainly.
Girly Gifts for Women Under $100
If you're shopping for a girly girl (or girly woman), you might consider a pretty and functional cosmetic pouch or travel bag.
Desperate for designer doings?
Here's a delicious bag from Kate Spade. It's a little pricey for some of us, but, in the designer realm, it's a reasonable $70 and was well reviewed at Nordstrom.com where I happened upon it. (Now, if you really adore that woman you're considering this little bag for, perhaps you should peek at the Kate Spade polka dot shoes. Stunning. And I have the tootsies to tell you that they're quite comfortable for a woman who is happy in heels. But they definitely exceed the $100 limit.)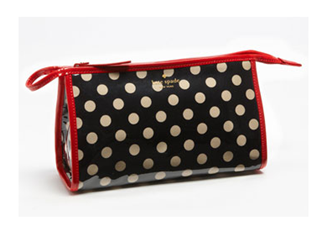 Understandably interested in seeking other options at a more palpable price?
Believe it or not you can find any number of pretty patterned zipper bags in a variety of sizes at your local drugstores and department stores. Ann Taylor's online catalog offers several makeup bags in the $20 to $30 range that are adorable.
And by the way, I use these bags to carry my camera, batteries and chargers, thumb drives – any number of odds and ends – and yes, makeup, too. They're practical for travel of course, and also keep items organized in my briefcase.
More feminine fun?
How about a funky fantasy key ring, a retro costume jewelry brooch, mini-versions of powdery products that are typically only on sale at the holidays? (Great lipsticks and glosses in little pouches – ideal for girlfriends, for teenage girls, and those of us who still cling to our teen tendencies whatever our age. Allez! Go check them out!)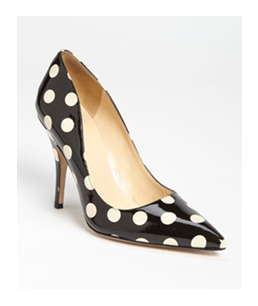 And yes, there's still luscious lingerie of all sorts – and for a variety of shapes, sizes, and tastes when it comes to the Girls Just Wanna Have Fun department. (Oh, for the Paris Tour of Lingerie Boutiques where women of any age including women of a certain age could find exquisite underthings to suit their fancy!)
Fun and Old-Fashioned Gifts We Love
When's the last time you cruised a five-and-ten?
I may be an adult, but I still like wind-up toys of tin, and challenging puzzles you lay out on a table and spend weeks putting together piece by piece.
Might you have a snow globe lover in the house? A board game enthusiast?
What about electric trains? (Women love them, too.) While we know good train sets can run big bucks, perhaps you can add an element to an existing collection or find a small scale train that fits the bill for a price you can afford. I saw one set at Toys R Us for $79.99. And may I add that I have wonderful memories as a child of a playroom in my grandparents' basement. It contained a table with Lionel trains from the 1940s best I can recall, which we watched in awe in the 1960s and 70s.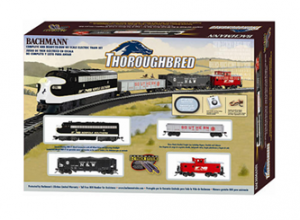 What else?
Gift cards are always welcome. $20 to $50 at your favorite real or online bookstore can be just what the Delighted-with-a-Dictionary Doctor ordered. (Books, books, books and I'm in heaven, hoping for that exile to a desert island with my Reading List.)
Practical, Personal, Collectible
What makes a gift special is that the thought you put into it. (Guys, no offense, but are you listening?)
A thermos for the car or work? Yes, it's useful. But if you find a thermos that will make your loved one laugh, or covered with a pattern that reflects his or her personal interest, that is very sweetly received indeed.
Maybe your gift recipient has a fancy for thimbles, a penchant for paper whites, a mania for model cars… Google it! You could find something fantastic on eBay, the local hobby store, your nearest garden center.
I once received a small butter knife with a high heel handle. I know it was inexpensive and I adore it. Likewise, I've received shoe-imprinted bookmarks, and recently, a beautiful scarf with elegant high heels scattered across its silky surface. (I'm wearing it now. Love, love, love.)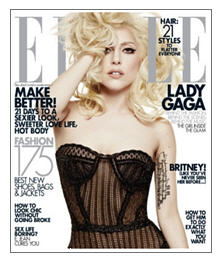 I still adore my magazine subscriptions – real, print magazines, mind you – art, design, decorating, and fashion. But that's not all I read. News magazines and literary magazines are equally enjoyable. Many subscriptions cost well under $20/year. Case in point: Elle Magazine which I read is currently offering a roughly 42 cents per issue subscription rate. Impressive, no? In fact, a number of Hearst magazines are on holiday special for $5/year!
Speaking of subscriptions, what about Netflix if you've got a movie fan on your list? They offer one-month, two-month, three-month, six-month, and year-long subscriptions. The 12-month offer I saw was $95.88.
Gals Like Gadget Gifts, Too
In the gadgetry department, don't think women are disinterested. You can go high-tech, but then you're springing for hundreds and even thousands of dollars depending on what you're after. But keep in mind that those gadgets need cases of ll sorts, whether they're tablets or phones and those will come in a variety of styles and far under the $100 mark.
Other gadgets?
Kitchen gadgets that are sleek design and practical are always welcome.
Prowl your local Ross or Home Goods or even the supermarket for the best possible buys – something as simple as a top-of-stove Espresso maker can be nabbed for less than $20. And speaking of coffee, don't forget about gift cards in any amount from most large retailers, including Starbucks. (I'm always happy to see a Starbucks gift card.)
Naturally, for the "app savvy" crowd, you can find a little of anything and everything. So get creative in that domain as well. (Allô ? Shoe shopping or Paris touring apps?)
What NOT to Give the Woman in Your Life
A fantastic blender?
Fine.
A dust buster or other cleaning products?
Not so much.
A year of fresh fruit courtesy of a quality mail order house?
Excellent!
Year-long pest control service?
Nyet.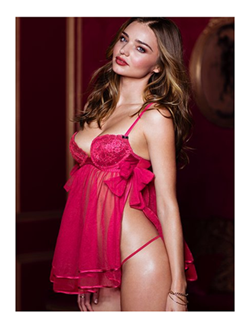 A fine California Cabernet?
Romantic!
A six-pack of beer?
Absolutely not.
Crest Whitening Strips?
Another no.
Diet books?
Care to take your best guess?
Granny panties?
Must you really ask?
Naughty nighty? A whole other matter! Even hot (flashing) 50+ grandmothers would beam if opening an adorable Baby Doll from Victoria's Secret! Lingerie does, after all, come with cup sizes, and negligés offer coverage for the Once-Upon-a-Time-I-Carried-Babies belly we need to accept and love. Why not one with red bows as if she herself is gift wrapped?
The above baby doll is priced at $68. Believe it or not, Victoria's Secret offers great sales and some very pretty underthings that work on real women's bodies.
Holidays on a Budget – Absolutely
Did you  notice how many of those gifts were less than $50? For that matter, $25 or less? It is indeed feasible to holiday shop on a budget.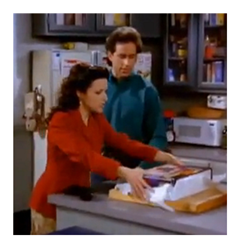 Make a list. For real. Don't impulse shop. (Those last minute "grabs" are the most likely to be re-gifted.)
It does take planning. Figure out your budget. Know your priorities. If you can ask a few questions about what is needed or wanted, do. Then, write it down.
It also helps if you start a few months ahead, but if you haven't, all you need is a little online shopping expertise. Some of the best gifts I've ever received haven't been expensive. They have been thoughtful.
Use all the principles above. Be creative! Think interests, humor, function; think edible or drinkable. And I remind you – plenty of us don't have a $100 per gift limit. Far from it. We make gifts, we bake gifts, we find fun and functional gadgets at the Dollar Store. We give to worthy causes in someone's name or memory.
I don't have to tell you that giving is the best possible cure for not having, or even feeling as though you don't have the life you want. May we remember the Red Cross could use our dollars to help victims of Hurricane Sandy in the New York-New Jersey area?
So please consider giving your time if you can. Giving your skills. Giving the gift of a donation in the names of your tween or teen children. If possible, find an organization that will take matching funds from your employer.
More Suggestions, Do We Dare? Gift Ideas Everywhere!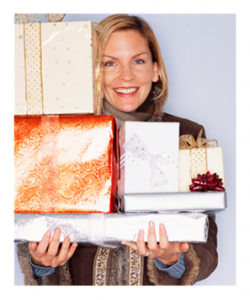 Looking for more ideas? I'm already over my Top 10 limit! There's plenty around the web to inspire you, but summing up, consider these options:
Museum memberships and gift shops
Classics: Books, Interest-related gifts
Think Green!
Small bags and containers that have multiple purposes
Toys! Puzzles, games, trains
Subscriptions (magazines, movies)
Kitchen gadgets
Make, bake, take – food and other handmade gifts of love
Give: your time, your skills, a donation to a cause or organization you care about.
Want more? You can always pop by the Huffington Post Gift Guide.
In the meantime, if you'd care to revisit a little Classic Seinfeld, courtesy of Youtube, enjoy!


Click images to access products at original sites if applicable. Please note: I was not compensated in any way for this content. (Just having fun!)


© D. A. Wolf

Big Little Wolf's Daily Plate of Crazy