Corsets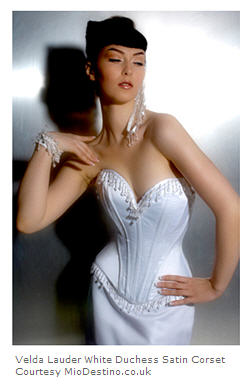 The satiny fabric. The slow and careful snap of the hooks against soft flesh. The touches of trim or lace. Strong boning that tightens my waist and accentuates my natural curves.
Corsets.
I love them.
For some, corsets may seem the very antithesis of what today's woman might consider acceptable, much less enjoy. Yet I do. I find elegant, sexy, and stylish lingerie to be more than capable of turning up the heat on the chilliest afternoon. And I deem exquisite underthings to be a gift to myself and my femininity, as well as to any man whose company I am keeping.
While I am certainly not a nubile young thing, I am a woman who loves men, who loves play, who loves lovemaking, playfully.
Lust lingers when you stir the embers with a smile, a petulant pout, delights revealed with a touch of naughty surprise, and the challenge of just a bit more work to reach the prize. After all – must every encounter sing in the same register?
Isn't variety the spice of life, and isn't a little spice for your love life just the thing?
Audacity
The impudence and cockiness of the corset lies in all its fine detail, its bawdy to innocent array of selections, with something for every appetite. Of course it conjures the wench in her bodice, woman as constrained and confined, cinched and pinched in ways we may consider conflicting with contemporary consciousness.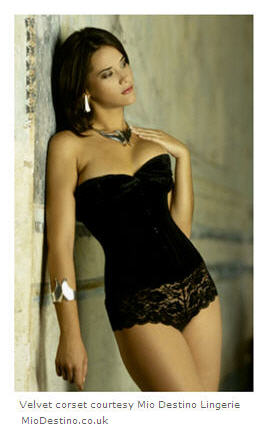 And yet… When it comes to our sexual fantasies, who hasn't had a fleeting thought of simmering scenarios of which, perhaps, we dare not speak?
What woman doesn't want to be desired – fiercely, fancifully, tenderly?
What man or woman hasn't fantasized about the stranger on the train, the piercing eyes whose gaze from across the room causes capricious and carnal climate change?
Who hasn't wanted to be the damsel, innocent and sweet in white, and then again – the vixen, offering her voracious enthusiasm to her lover, bewitched by her spell of audacity?
Intimate Interludes
Who says that the profound exchange of lust or love cannot be whipped into a feral frenzy with the aid of a silky slip of fabric adorning a woman's skin?
Who says a husband, or lover, or whomever you choose (safely please) cannot partake in the intoxication of sexy lingerie? Excitement, for both parties?
My most heated interludes have been with, yes… French men. I find them irresistible. And I have been most fortunate to have loved one or two who delight in amour with intensity, with finesse, with laughter, with role play. Shouldn't merging of flesh and feeling allow for engagement of all the senses, including fantasy, prolonging the pleasure of whatever consenting adults may find mutually and precociously playful?
I have come to appreciate the energizing effects of luscious lingerie – designer lingerie if possible.
(Thank you, Monsieur Eiffel, for the engineering skills which apparently trickle down to the construction efforts of my personal wares. A matter of national pride, peut-être?)
Hidden Pleasures of Fine Lingerie

My own fine lingerie includes a few classic items purchased in Paris, as well as one in the US. These are not inelegant or uncomfortable to wear; on the contrary. They resemble what you see here. And most audaciously hidden – when no one might imagine – beneath the beige business attire, the proper white blouse and fitted flannel skirt, the perfect pair of pumps, even the worn jeans.
No one need know; I do this for me. I feel feminine, flirty, and powerful when I allow myself this aspect of sensual self-esteem. And of course, many corsets are designed as underwear or outerwear. Very chic. Very cheeky.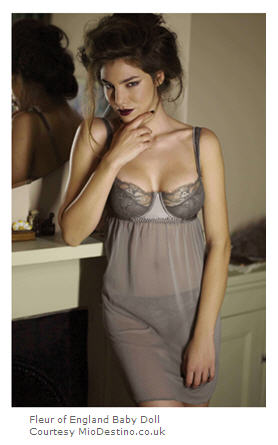 May I also say that as a woman of ample contours, I find corsets to be much more than alluring? They provide excellent support, and who couldn't use a little support in everyday life, as well as in the joys of seduction?
The Baby Doll, Camisole, Stockings…

Shall we expand our hedonistic horizons further? My own preference for a coquettish corset does not mean I don't equally enjoy the bodacious baby doll, the curve-conforming camisole, or sheer stockings (with provocative pumps, naturellement).
You have only to stroll the Internet (in your dewy and humid private moments), and you will find everything from trash-and-flash to my personal favorites – elegant pieces that often work chez moi or as part of street wear. So dare! Indulge your pleasure (and that of your loved one), and put a secret smile on your own lovely lips. Nothing better at the end of a long day of working hard and coming home to little ones who may need you – until a bigger one may desire you.
And if you are a man, and reading – what woman wouldn't smile paging through fine lingerie alongside you – online or in a catalog? What intimate delights await in the mere discussion of what you might select for amorous adventures?
Feminism and Femininity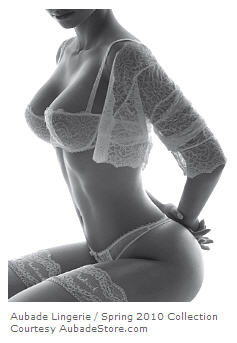 Must feminism and femininity be mutually exclusive? Must they clash head-on? (Last time I saw an image of Gloria Steinem, she'd long since abandoned her trademark glasses and no makeup look. I dare say, the answer to those two questions is a resounding no.)
A staunch belief in equal opportunities for women and a, dare I say it… infrastructure to support us, can surely coexist with full appreciation of men. I love our inherent differences, don't you? And the satisfactions to be tasted in recognizing – and celebrating – our unique, very personal give and take?
The Male Form
Would it surprise you to know that many (most?) women are aroused by other women – whether we wish to engage with them or not? Perhaps we imagine ourselves in their supple limbs, their younger, sleeker, or more voluptuous dimensions. Women find other women beautiful. We find the nude to be an art form.
This has no bearing on a woman's desire (and attraction) when it comes to the male in all his glory. Lest you think I am not shedding enough luster and light when it comes to his impact on our libidos, may I wax on the many regions of individual inspiration available?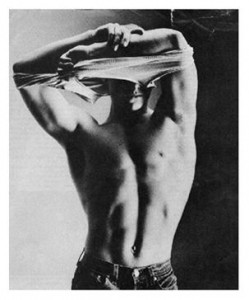 Women do indeed observe men with great gusto. We simply keep more of that to ourselves – drawn to smiles, to eyes that do not turn away from ours, to fine fingers (we imagine at work), to torsos that make us weak in the knees. We are drawn to the tight ass, the long legs, strong thighs, and yes – those batons bound to make their music as they wave smartly to the beat. Sufficiently euphemistic?
We may catch our breath at the simplest gesture over dinner, as we imagine being close, closer, pressed one against the other as the mere movement of fingers, so slight, at the right moment and clutching a coffee or glass of wine is enough to fill this woman to the point of brimming over with a wash of wistful wantonness… I lust, you lust, we lust…  so gentlemen who may be reading, kindly do undress slowly so we may savor the view, the aroma, the flavor of what's to come.
Accessories and Necessities
I may adore my perfume, my signature French accessories, my tremulous touches of eyeliner and gloss for my softened lips, in anticipation… Yes, I hunger for fashionable ensembles when I am in the mood – for  my sexy stilettos, my scandalous scanties that someone special may be privy to… the slow and undulating landscapes of form and fever. I have journeyed many years to ownership of sensuality, and sexuality.
As for femininity?
For me, it is far more than my style or clothing, but a matter of voice and expression, of caring and approach, and a genuine appreciation of all things flirtatious and friendly between myself and members of the opposite sex.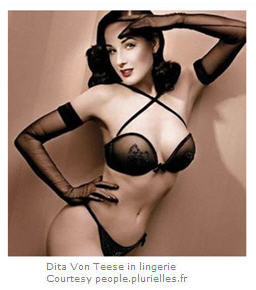 Femininity is no accessory; for me it is necessity, it is identity, and femininity will manifest itself in a thousand ways – your ways different from mine, but no less you, and no less sublime.
My right as a woman exercising her rights – at any age, of any body type?
The finest lingerie I have purchased over the years. The lust it kindles in me, the smoldering effects, the rapturous recollections. And when joined in lovemaking with a partner who treasures me, savors me, ignites me, I offer the same, freely, for his most enduring and precious pleasure.



Select images to access the originals and retail sites if applicable.

Group writing challenge, Momalom.com, topic: lust.

© D A Wolf