You know those dreadful jokes men used to make… about putting a bag over a woman's head? You know how we worry about that first date, how he'll look, how we'll look – especially if we only have an image or two exchanged online?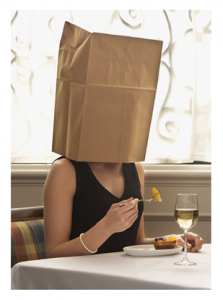 You know how we judge a book by its cover? Come on. We all do it.
A beautiful woman I know is beginning to see the signs of age, very slight, and she's having difficulty facing it. She's feeling insecure. She's sensing an element of power slipping away. Worse, when she looks in the mirror, she doesn't fully recognize the person who returns her gaze. Sound familiar?
I get it. I've been there. I'll be there in stages for the rest of my life. After the age of 40, can't we all say the same?
Personally, the sadness of it to affects me more or less – depending on how full and busy my life is at the time. That bag over my head?
Some days I want it for myself. Most of the time, that isn't the case. But there are a few circumstances in which it might be helpful.
Aging and the Dating Market
Many women feel at odds with their appearance when other aspects of daily life are unstable. Or, if in the dating market, we may feel increasingly shut out by men our own age – especially when online dating seems like the only option and we're left to decide whether or not to lie about how old we really are.
When I recall my years of Internet encounters, there were some wonderful dates, a few friendships made in the process, one or two lovely relationships that were relatively short-lived, and plenty of funny stories. I eventually came to the conclusion that Match and its alternatives were no longer a viable means for me to meet men. Not in this country, anyway. And not men I might be interested in – of my own age or younger.
And yes, I'm "for" dating and relationships with younger men. For me, that meant five years, eight years, possibly ten. If you want to and you can, why not? If they're a better fit in terms of energy, libido, stage of life and pursuing common interests, I say go for it – whatever works, whatever you find mutually sexy, whatever is mutually satisfying.
Online Dating – Scary Proposition?
In general, dating at midlife can be daunting. Dating at any age is, yet it's harder to dive back in after going it solo for years, after a marriage has ended, and when we're rediscovering ourselves – including the aging process. It's a scary proposition.
Is online dating scarier than a fix-up?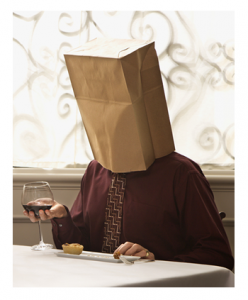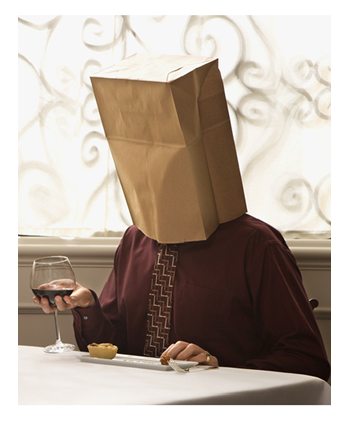 I'd say it's a toss up.
And if you tell the truth about your age (as a woman), once you pass 45, online dating in this country is more challenging. Demographics shift; 45 year old men seem to want 30-year-old women, not women their age. You're likely to be approached by men 10+ years your senior – which may be problematic when you consider the differences in stage and energy between 50 and 60, just as an example.
Of course, it helps if you know what you really want in a relationship.
And if you don't?
Figure it out. Not by checklist! Think about character traits and values and common interests. And do you truly plan on rock climbing and rollerblading? Do you seriously require someone 6′ tall or with a particular eye color and in a specific profession?
No, this isn't another testament to the Nerdy Guy. But it's a reminder to get real – about good people and yourself.
First Date Planning
If I had to offer advice for first date planning, purely from my own experience? If you're interested in the possibility of a relationship and not just sex?
Talk first! Really talk! If the talking ain't easy, forget it.
Pick a spot together – one that's comfortable for you both. And safe.
Note the exits in case of need to beat a hasty (albeit polite) retreat.
Don't agree to an activity you know you'll dislike.
DO go for coffee, a drink, a quick bite at a familiar eatery where you're relaxed and no one's dropping a bundle in the process.
Consider a walkable spot near a bookstore or other interest-adjacent locations to encourage dialog and learn about the other person in the process.
Don't get drunk! Not even close!
No matching tattoos on the first date. Ditto, the second.
No discussion of marriage, divorce, death, illnesses, bad exes, or felony arrests.
Get all that out of the way before meeting – facts only – and brief.
My Best First Date Ever
And then there was my own best first date ever… It was an old style fix-up, and not the result of any online preliminaries. I was able to Google the gentleman in question and I found little but a picture of him dressed as, well… an elf. My conclusion?
Any adult man who had the humor and confidence for that get-up was worth meeting.
The circumstances leading up to the fix-up were strangely ironic. I'd call it serendipity. And before we met, we had a long, meandering conversation by phone. It turns out we had a great deal in common, and I was genuinely looking forward to our first date.
That doesn't mean I wasn't nervous. I was.
That doesn't mean I didn't glance in the mirror and fret over the deepening lines and more than anything, the fatigue that is harder to wipe away or camouflage as the years stack up. And then I imagined how wonderful it would be if we could dispense with the worry over appearance – the softening neck, the extra 10 pounds, the muffin top, the strands of gray.
What if we focused on words, scent, tone of voice, even touch – rather than allowing sight to rule?
What if all first dates came with "Bags Optional," as a means to get to know someone for who they are?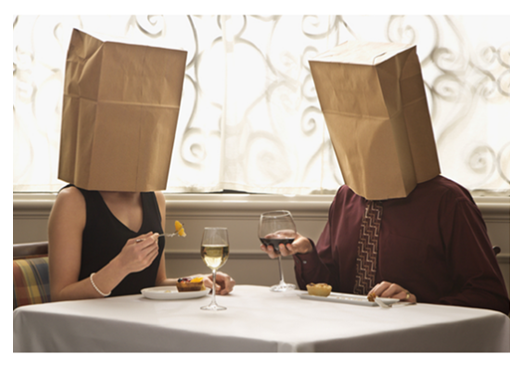 No, I'm not suggesting you put a bag over your head for your next first date, or require it of your companion. But I love the idea as a means to remind us where our focus should be if we're interested in a relationship.
As for my date, the plan for a quick drink turned into seven hours of wine tasting and tapas and conversation in two languages. Yes, I said seven hours. The connection was uncanny, exhilarating, and delicious. I felt seen – inside – by a man capable of experiencing another person fully.
Now that's sexy.
And no bags required.


You May Also Enjoy