It isn't one of my favorite colors. In fact, orange is a neglected color in this household. At least, it used to be. But I recognize a growing affinity for a palette with pumpkin, terra cotta, or burnt sienna.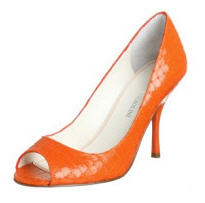 In a sweater here, an accessory there.
I could trace this emerging tendency to my younger son's attendance at a college bearing orange in its school colors. But a funky pair of kitten heels in tangerine – purchased at least four years ago – have convinced me otherwise, as I literally stumbled over them searching through my closet.
Then there are the bolder orange peep-toe pumps I covet. Enzo, I think. And the orange bag buried somewhere in a pile, not to mention an orange cardigan, an orange foulard, and growing pleasure at the muse in these hues as I ask myself – what on earth is the reason for this? I've always been a "neutrals" or "red" woman at heart. And I still am.
Yesterday, despite a somewhat subdued mood or perhaps because of it, I gave myself to orange and found that it boosted my spirits. Was it my imagination, or is something more at play?
Meaning of the Color Orange
The psychology of color is fascinating! It turns out that the color orange is associated with Lady Luck. It's also associated with endurance as well as vital life force and healing.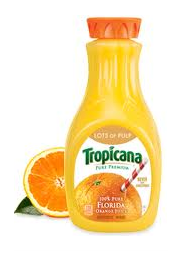 When it comes to personality and emotions, some sources indicate that orange is all about extroversion and flamboyance. According to Squidoo's Color Expert, you either love orange or hate it, and the color orange:
* Stimulates activity
* Stimulates appetite
* Encourages socialization
I did wear a vibrant orange scarf yesterday.
I did feel lightened and brightened.
I did socialize at a client site as well as participate in meetings in energetic fashion. While I'm generally not in-your-face when it comes to style, it was fun feeling a little less like my usual self, and in a way more like my usual self.
Change – For No Particular Reason
Do you ever need a dramatic switch in your usual comfortable (and satisfying) routines? In your colors? In your personal style?
What about your behavior? Do you recognize a need to change now and then – to urge yourself to view the world a little differently? Perhaps to encourage your willingness to speak up for yourself?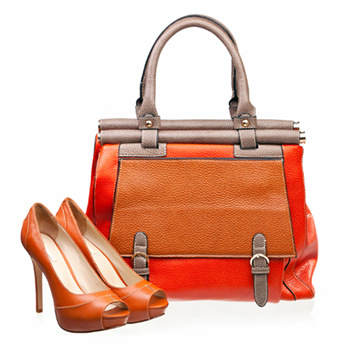 Maybe you're looking for ways to tone things down – if more calm and quiet are essential. Maybe you – like me – require external stimulus from time to time, simply to get out of your own head.
We all know that change thrust upon us is unsettling. But change we undertake for purposeful objectives is another matter entirely.
We're in control. We're experimenting. We can engage in change in bite-size amounts, measure progress, and adjust accordingly.
Staring Into the Face of Change?
There are times we mold ourselves to accommodate others in ways that are unhealthy. You know what I mean. The Female Chameleon Syndrome – always transforming to meet the needs of others, all too often ignoring our own needs. Now there's a good reason to change! Remembering the extent to which we also need care and feeding of our spirits and our bodies.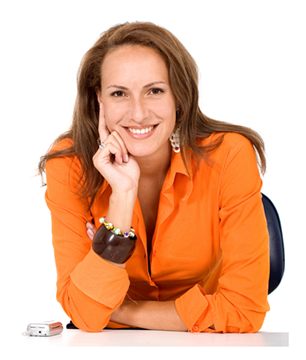 Sometimes, we initiate change simply to shake things up and see what happens. Small changes can be effective without being frightening.
Exit the pumpkins, but enter my new flirtation with orange in all its variations – to perk up my mood, raise my energy level, and see myself in a new light. I'm using color as my personal change agent. It's a virtually free, and knowing myself to be visual, I think it can pack some punch.
Might I add that while I'm at it, I'm pouring myself a glass of Vitamin D enriched O.J. so I'm working that health and vitality from the inside as well.
Now if only I had that bag and those shoes in the illustration above. But no worries. I've got those kitten heels in my closet, a delicious scarf, a lovely cardigan…
Have you ever used color to change your mood?
Do externals affect your behavior and energy levels?
You May Also Enjoy