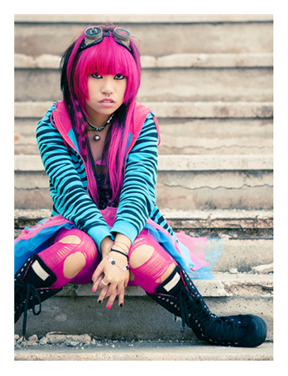 I like different.
I like innovative.
I'm a fan of the quirky, the eccentric, the expression of individuality.
In Your Face?
Not so much, but at certain stages in life we all have identity issues, something to prove to ourselves (or others), and we assert our individuality in various ways – occasionally more stridently than we realize.
We dress outrageously. We pierce, we tattoo, we shred, we embellish.
We speak in ways intended to obfuscate or outright confuse. We speak in ways intended to deflect. Sometimes we speak rudely – and I find nothing admirable in that, though recognize we may unintentionally get "in your face" when we feel passionately or indignantly about a subject.
Individual Expression, Teenage Style

I marvel at the diversity of ways in which our preteens and adolescents celebrate their burgeoning individuality via attire. By way of example, one of my sons went through a suspender phase and a tie-dye phase.
And how could I forget the argyle phase which endeared him to me forever, bringing back memories of my very own dapper dad?
My quirky kid (now 20) is the first to admit he still likes (and wears) tie-dye, but you're more apt to see him in jeans and a t-shirt or sweater these days.
My younger has recently taken to wearing a souvenir cap. I admit, it's very cute on him and he associates it with an adventurous (albeit muddy) music festival abroad. He is, in his own way, expressing his individuality.
In your face? Hardly. But then even if it were, it would be typical teen testing behavior, wouldn't it?
Midlife Fashion Statements, Single Style
In the first few years following divorce, newly single, I was rediscovering myself in a variety of ways. Clothing played a role, particularly when the Divorce Diet dropped me to a startling (and unhealthy) size zero!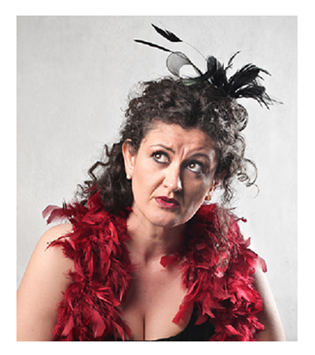 I eventually gained back a few pounds (much better!), but I nonetheless found myself with more options and a pressing need to feel good about myself and how I looked – as a single woman.
Naturally, there was French lingerie involved. (You didn't really expect Fruit of the Loom, did you?)
And yes, a few shoes.
I admit to style selections that were wilder, brighter, and more audacious than during marriage. And I loved every minute of it!
Of course, I didn't stray too far afield, as adult common sense generally prevails, and one doesn't want to scare off any potential paramours! But now? A decade later? A different story?
I still adore fashion, I indulge when I can (and according to my budget), I dress as I please (regardless of age bias), and as appropriate to the situation. I have no need for anything that is "in your face" – because of comfort with who I am.
Your approach to individuality?
Your wilder fashion moments?
Your tolerance for In Your Face behaviors and styles?
You May Also Enjoy