I wish it were as easy as a martini or glass of wine at the end of the work day. Or a cigar. Well, to chomp on for effect, even if you don't inhale.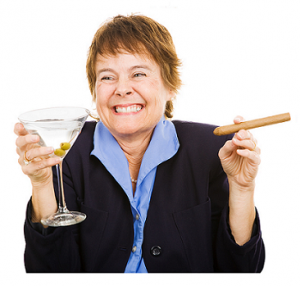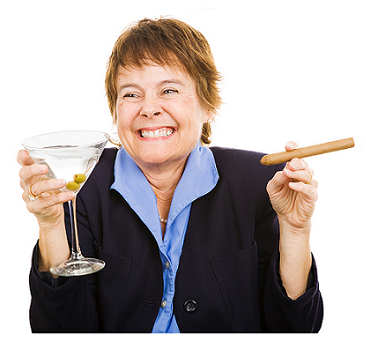 I wish it were as easy as a little shopping therapy, followed by a session of deep tissue massage to work the knotted muscles of the neck and upper back.
I wish it were so simple to undo the accumulated stresses of "hanging in" – whatever that may mean to you (or me) – the dating-go-round, marriage with its ups and downs, parenting through yet another challenging stage, managing to keep the boss happy another month, another down quarter, another year until your kids finish college.
But stress is more insidious. Hanging in is harder than we imagine. Our bodies rebel.
Dressed for success? Try stressed for success.
The problem is – we don't feel very successful when we're always working, always worrying, never feeling safe. Even a "win," however we define it, is short-lived; we're only as secure as our most current achievement. Last week's accomplishment? It's likely already forgotten.
Do I sound cynical? I'm not feeling cynical – only reflective.
Hey Sugar, What's Up?
A friend of mine recently found out she has Type 2 diabetes. She joins 25 million other Americans with the disease. And while we could trace some of the culprits in her story to any number of tangible factors – the food she eats, a somewhat sedentary lifestyle – my interpretation is a bit broader. But more on that in a minute.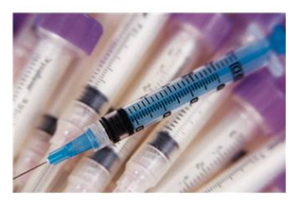 25 million.
It's a staggering statistic, isn't it? I'm thinking of my musing on the health issues of overweight and eating habits. I'm also thinking of the crazy way so many of us live.
Like me, my friend is an independent worker. Like me, her income is variable. Like me, she spends long hours at the computer, has little time for exercise, and juggles ongoing projects and work with a constant eye to generating leads, and acquiring new business.
It's a lot to manage. It's a great deal of pressure. I might also fall back on the only phrase I can think of next: It is what it is.
The Price of Food
Unlike me, my friend has less access to high quality, healthy, and affordable food – a matter of geographic location.
Over the past few years she's put on weight. Working into the night or powering through a tough deadline, she grabs whatever is handy from the fridge or pantry and carries on – to get the job done – just like me.
Unlike me, my friend has no medical insurance. While I do, it costs a significant portion of my income, purchased as an individual, and in an age group where rates are very "unfriendly." It also comes with hefty co-pays and deductibles, making the entire undertaking an extremely expensive arrangement.
But I'm afraid of being without medical insurance, even if it means a lopsided and challenging budget.
Lifestyle Change? How's That?
When my friend sees a physician, she's paying every dollar out of pocket for every service and test. Naturally, that adds to her financial stress. Hundreds of dollars disappear for something routine – often for a partial solution to an issue, or none at all.
Still, this disclosure of diabetes will prompt whatever lifestyle changes she can possibly make, within the very real constraints of her pocket book.
She made a comment to me following the diagnosis, which I had to jot down. In a nutshell, she captured her experience and my own, including her frustration that a lifestyle brought on by years of financial struggle has finally caught up with her. And her health.
She said:
We are all sick with controllable issues. We either can't afford health care or can't find decent health care. If we aren't struggling from lack of money, we're struggling from lack of good care.
Might I add – she's been a single mother for many years, with a problematic child support situation, adding significantly to her financial strain. Enough said.
Is There a (Good) Doctor in the House?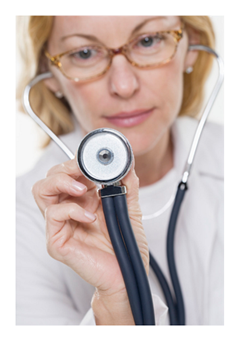 I consider my own experiences with the medical establishment over the past two decades – the good, the bad, and the non-existent. I've had a few exceptional doctors in those years, but they were the exception.
More often, I've had Physicians Assistants or Nurse Practitioners who were both kind and pragmatic, but the physicians? The process? The absence of process?
Mostly, I resent the years of being passed from one generalist to another, one specialist to another, each time a co-pay, high-priced tests (only some covered by insurance), rarely a reliable solution, always the preference for the quick fix, and a gradual loss of faith in ever scoring adequate care. It's been a crap shoot, and I've paid for it – in thousands of dollars out of pocket over recent years, in lost income, in lost quality of life, and at various points in time, lost hope.
I think about the pain – complications from an injury – that I've come to accept as "normal."
Busy? Smiling? Dropping into Bed at Night?
I'm busy. I'm smiling. I like what I do most of the time. I feel lucky. At the moment.
But I also drop into bed at night, slip into sleep, and the race to get things done starts all over again upon waking. The worries, too. My friend? It's the same story.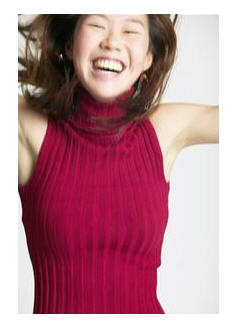 So smile-for-the-public aside, I worry for her, for my kids, and for myself. I'm angry at the loss of doctor-patient relationship, doctor-patient dialog, or even watching out for a neighbor who looks like he or she is struggling and needs a hand.
Our success-driven society?
That's what I worry about most. The origins that are controllable, as my friend says, but in this case I'm talking about the human systems, the value systems, the greed we may have glorified in the 1980s which still ripples through our culture now.
I'm talking about pushing ourselves and our bodies to their limits for no good reason except that we're caught on the merry-go-round and it isn't very merry, but we can't seem to jump off. I'm talking about that merry-go-round when it's a matter of survival, not luxuries.
Is the damage worth it?
Stress Management – Can We Get Serious About Causes?
You may not feel it in your twenties or your thirties. But by your forties or your fifties?
Eventually, something gives. Or everything gives.
I think about a stranger on an airplane, and a few hours of a remarkable gift. I wonder what it would be like to feel that well again, for my friend to feel that well, for any of us to be able to seek health solutions that make sense in their early stages, or better yet, to live a lifestyle that is not bubbling over with stress – just to "hang in" – whatever that means to you.
No, I'm not cynical. I'm observing, I'm commenting, I'm recognizing that one event may lead to another, and another, and my friend's story (like my own) is more complex than I've just related.
Of course.
I'm also recognizing that this is my world, though it may not be yours, and relative to others it is in a good place. But that place is fueled on a potentially toxic level of stress. Until something gives.
Someone, please pass me a cigar.

Big Little Wolf's Daily Plate of Crazy