My weight is up. Five pounds.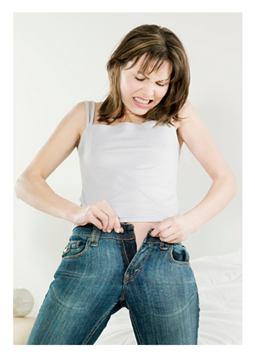 It's not the first time, and it won't be the last. And it isn't the end of the world (I tell myself).
But when my jeans are tight, I don't feel sexy. Worse, the gain is indicative of other things going on – an accumulation of insufficient sleep, erratic exercise, and eating later than usual in slightly larger quantities.
While I may eat organic as a general rule, that doesn't undo the damage of an unforgiving schedule and unrelenting stress, both of which I have come to regard as the "new normal."
And it's certainly not just mine.
On the upside, "my man," if I may call him that, couldn't care less about the extra pounds. When it comes to women, he's one of those remarkable souls who genuinely appreciates the whole package. And I consider myself a lucky gal.
Weight and Sex Appeal
But the topic does lead me to contemplate the effect that weight has on sex appeal, overall attractiveness, who approaches us, who loves us, who stays to love us, and how we carry the burdens of our physical excess into our social lives.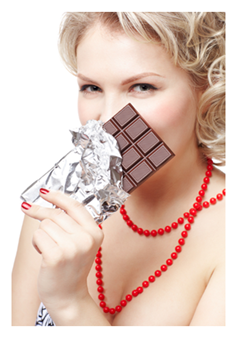 I also ask myself what distinctions we should make between a disparaging self-image – remember the fat fake-out? – and how we may project it onto someone else.
In other words, if I don't feel good about myself, do I imagine I'm not attractive, when it isn't the case?
When I'm feeling confident (and rested), when I'm passionately pursuing a project (or topic of conversation), I give off a certain je ne sais quoi.
Don't we all?
When we're hungry for life and attack it with gusto, aren't we sexier – regardless of size?
America's Obese Future

Why this topic today, other than my utterly unzippable jeans?
This morning I ran across two items in the media that caught my attention. One is this Time Healthland article, "Most Americans May Be Obese by 2030," which says:
About two-thirds of Americans are overweight now. That includes those who are obese, a group that accounts for about 36 percent.
The same Healthland article references a recently released report by Trust for America's Health, explaining:
Trust for America projects that by 2030, 13 states would have adult obesity rates above 60 percent, 39 states might have rates above 50 percent, and every state would have rates above 44 percent…. Even in the thinnest state — Colorado, where about one-fifth of residents are obese — 45 percent would be obese by 2030.
Naturally, the most pressing problems stemming from obesity involve disease – type 2 diabetes, coronary heart disease, hypertension, and more, as well as the massive associated health care costs estimated at between $147 billion to nearly $210 billion per year.*
"Beautiful at Any Size"
So how do we integrate legitimate obesity concerns with a desire to feel good about ourselves at any weight? Is that the right goal after all, or does it depend on the extent of the weight "challenge" we're facing?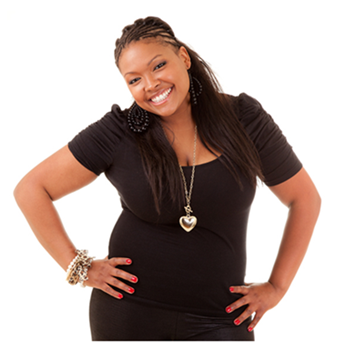 I'm a proponent of a return to common sense when it comes to women's bodies. If we're Rubenesque, can't we still feel worthy, deserving of love, confident?
But what if we're obese, or sufficiently overweight to run the risk of… say, diabetes?
Check out this little find on Yahoo, "How Weight Impacts Your Love Life," a video discussion in which Niecy Nash dishes on weight and dating with a group of women. One of the participants, a large woman, says "I can be beautiful at any size."
Another woman points out "I do value myself… I would rather be by myself for a year than have a revolving door of losers come through…"
Conflict of (Self) Interest?
I remember my own heavier days. My self-confidence was dreadful. I was grateful when a man found me attractive, because I didn't value myself enough to insist on someone truly suitable. Including a more suitable self.
It's one thing to fret over the skinny jeans, or finally surrender to an extra five or ten pounds for the next, well… possibly, forever. It's another thing to risk serious disease.
While Niecy Nash says "Loving yourself is the important part, because that's the kind of energy you draw to yourself," that doesn't address the very real health hazards that come with obesity.
And somewhere in all of this resides a resounding conflict – between getting off the I-Need-To-Be-Thinner Go-Round, and saying NO to harming our health.
But where is that balance?
You Are What You Eat
Though she ate in a healthy fashion, my mother was obese for most of her adult life. Eventually, obesity killed her.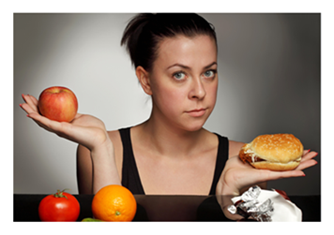 As I grow older, I find it increasingly important to remind myself that I am what I eat. I may joke about my jeans, but it's really about how I feel.
I do what I can to consume reasonable portions of nutritious foods. But stress, fatigue, and a demanding schedule certainly impact my eating, my weight, and at the very least, my view of my sex appeal.
As for the Yahoo clip and its confident women, I'm delighted to see media encourage us to love ourselves whatever our size. But the obesity projections present a potentially devastating future with monumental consequences. How do we get real, can the shaming and blaming, and successfully fight back?
I ask again: Where is the balance?


*Source: Trust for America's Health, How Obesity Threatens America's Future 2012
You May Also Enjoy