A magazine cover.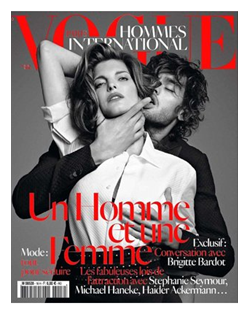 A controversial pose.
Or is it?
Apparently, certain women's groups are up in arms over this French Men's Vogue International cover, according to a short piece I read in Yahoo Shine's Daily Shot.
Several domestic violence organizations are claiming that the male model appears to be choking the female model, the gorgeous Stephanie Seymour, and this associates violence against women with sex, not to mention fashion.
What do you think?
I have to admit, given the present popularity of Fifty Shades of Gray (which I have not read), this particular form of embrace – and that's what it looks like to me – is something I wouldn't have considered bothersome.
How many men reach around from behind to kiss a woman in, granted, a physically "possessive" manner? And how many women absolutely adore it?
What Women Find Sexy
A woman's definition of sexy? I imagine we'd find a wide variation – and not solely based on demographics, or elements of life experience and cultural upbringing. And of course, there's what a woman finds sexy in a man, and what a woman finds sexy in herself. In either case, one woman's "irresistible" is another woman's "no thank you."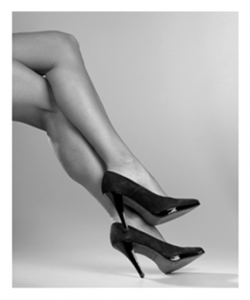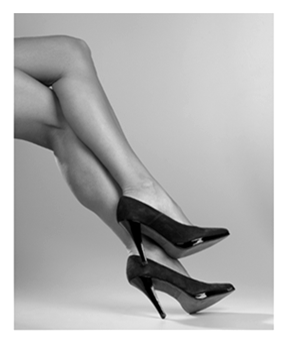 How do we explain these differences in sexual chemistry? Are they innate? Are they learned? How closely linked are they to a woman's psychological makeup?
I love my sexy shoes. I love when a man loves my sexy shoes and, well… we'll leave it at that.
But don't many of us find pleasure in mixing up the menu? Don't we enjoy a diversity of moods – and styles, to keep our relationships fresh and exciting?
Who else recalls the episode of Sex and the City in which Miranda is dating an obnoxious character whose overbearing personality drives her crazy? Yet she confides in the other girls that the sex is great, and she says something to the effect of: "Why is it that what I hate in life I love in bed?"
Stir Love, Not War
Is the image above simply a posed prelude to passion?
The Autumn-Winter 2012-2013 issue of Men's Vogue International dishes up "Un Homme et Une Femme," (a man and a woman), featuring a bit of blurring of male-female boundaries and a piece on Brigitte Bardot, among others.
However, The New York Daily News refers to Ms. Seymour as being "choked and groped."
Seriously?
Let me be clear. I abhor violence, period. And reading the New York Daily News article, it sounds like the photographer who took the picture walks a fine line, to say the least. But I will add that I don't find this male model attractive, I don't see his hands as attacking or "groping," and frankly, I would've passed this cover by without a second glance.
Still, as much as I'm enamored of fashion (and all the glorious magazines I've loved since childhood), we do seem to be on a perpetual quest to push the envelope. Sometimes the results are "art" or at least intriguing. Other times, not so much.
Adult Men, Adult Women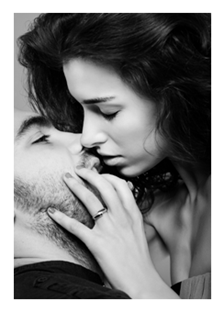 Don't we all draw a line – somewhere – at what we consider appropriate behavior?
Adult men and women enjoying their mutual pleasure? Seems reasonable to me.
But the line we draw changes as we go through life – becoming more restrictive or less. And I, personally, draw a line at anything to do with children.
While I realize we could debate the age at which a woman ought to be considered an adult, especially for media purposes, surely we can likely agree that 13 or under is a child.
For example, the use of 10-year old French Vogue mini-models in the summer of 2011, posed provocatively, is a different story.
The fact that children are employed to sell adult products with an ample dose of sex appeal? That barely pubescent bodies model clothing to "ordinary" women, adding to the struggle with body image and self-esteem? I find something wrong in that picture, just as I was appalled at marketing bras to very little girls, another issue that made the media rounds last year. 
As for the image of Stephanie Seymour above, it is not offensive – to me.
And the cover controversy? I'd say the so-called stir sells magazines and page views, but it doesn't sell violence against women.