This issue came to my attention via Twitter and a link to The Illusionists, with this article on marketing bras to little girls, aged 4 and up – some of the bras, padded.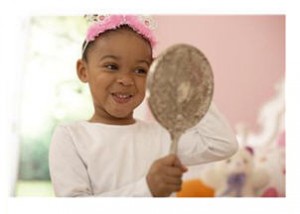 And no, you won't find these worrisome wares at your local Macy's, but you will find them in a number of French department stores, as well as on their online pages.
When you add this tidbit to the poor taste (to say the least) in using 10-year models for a sexy French Vogue spread a few months back, this France-loving maman is none too impressed.
Sexualize a 10-year old? Dreadful. A 4-year old?
Appalling.
Don't we have enough challenges in raising daughters with a strong sense of self, and not allowing the body politic to govern their head space as well as their body space? Will we have to begin fighting these battles earlier than ever, to head off what occurs in the tween years?
Don't we suffer enough body image issues – more worried about how we look than who we are? Tying our sexual marketability to appearance, and our self-esteem to sexual marketability? Must we encourage this tendency in preschoolers?
For me, the irony is that my own experience of French men and French women is one that honors sexuality, approaching it in both a playful and natural way. French women have long exercised both their brains and their femininity, in a rational fashion.
So what's up with these latest trends in the fashion industry – younger and younger girls used as models? And blatantly sexualizing tiny little bodies? What possible justification could there be – other than money – for such absurdity?
Do pop over to The Illusionists and read the details. I'd like to know your reaction.
If you have daughters – or granddaughters – would you put them in baby-sized bras as if it's normal?
Big Little Wolf's Daily Plate of Crazy