This parenting piece popped up recently: 10 Things You Should Never Say To Your Kids. And naturally, I clicked.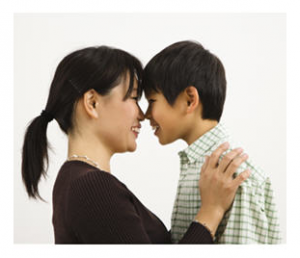 I was curious to see if I had or hadn't applied the latest advice in my own mothering style over the years, and I was prepared to be annoyed.
I was.
But I was much less annoyed than I anticipated, with a common sense approach that serves as a reminder to always choose our words carefully.
I admit that I'm leery of those who tout the latest Great Thing on any subject, and even more so when it comes to children. I am also disinclined to accept parenting advice from non-parents, with a few notable exceptions.
In fact, we seem increasingly embattled these days when it comes to parenting camps.
Should we mother "Parisian-style" or Attachment-style? Shouldn't we breastfeed no matter what, but how long is too long to do so? It's as though parenting itself has become a competitive sport, which leaves me uncertain if parenting advice helps or hurts.
Parents: Use Your Words!
As for the list of parenting tips, it offers phrases not to use with our kids. Much is reasonable, underlying the principle of "Parents – Use your words!"
Here's a quick summary of a few of my favorites must-nots, and why I find these particularly important.
Ready?
Here goes. And remember – don't say the following:
Try, try again
To be told to try harder is frustrating, ignores your child's effort, dismisses his or her skill level, and offers no tangible suggestion to make a difference. Better to be specific with an age-appropriate recommendation, or to ask an open-ended question. For example: What could make this task work better? What can I do to help? The idea is to encourage discussion and finding a solution.

You're such a great eater! / You're such a picky eater!
These seemingly innocent comments that categorize a child's eating behaviors can lead to a negative body issue which we know is a huge problem. We are a society that is fixated on what we eat and don't eat; again, it's better to offer specific feedback without any judgment, for example "I'm glad you tried the beets, even if you didn't like them this time."

I told you so!
This accomplishes nothing! It's a knee-jerk response to a frustrating situation that is at least as frustrating to your child, or it's an attempt to take credit where the credit is due to your child. In the first case, I'd recommend you take a breath, walk away if you must, and come back when you're calm. (Especially important with adolescents who can talk circles around us or simply storm off.)
Address the specific consequences, framed in a fashion to change behavior if it yields a negative outcome, or to praise it if it results in a good one. For example "Studying for the math exam really served you well," or "How can we look at your schedule together, and find a way for you to get the study time in that you need?"
More Tips on Talking to Kids
The remaining things not to say (in the article) take a similar approach. Be specific, consider a question, don't take the responsibility (good or bad) where it isn't yours. Do try to position your remarks in a positive fashion.
Now here's what I don't care for when it comes to this sort of advice. There is an assumption that we are all skilled with words, and able to think before we speak.
Poor assumption. Communication comes more naturally to some of us than others, and I'm weary of all the "shoulds" that American mothers feel they must take on.
I have put a lot of these "positive framing and open-ended" approaches into practice over the years, but it took me years, and I didn't always succeed. I use these same tactics in any relationship – personal or professional – because chiding, nagging, and judging rarely build bridges, or sustain them.
Good (Relationship) Communication Skills
The underlying basics in these talk tips deal with communication skills that are honed over a lifetime.
We're only human. Kids – like spouses, partners, parents, siblings, exes – will push our buttons, and we may snap, slip, or snarl.
If you aren't a polished talker, there's nothing wrong with the tried-and-true practice of counting to ten when you're mad, and it's always advisable to think before you speak. But if you do say something you wish you could take back?
Apologize and mean it. Explain (specifically) why you're saying you're sorry, and remember this incident for the next time so you don't repeat it.
Do you take parenting advice?
Are you tired of the Mommy "Style" Wars?
Do you take your cues from your kids?
Do you exercise the same sort of approach in your adult relationships?
You May Also Enjoy