In a discussion that began a few days ago with what you might consider a "You Are What You Eat" theme, as the conversation continues, it becomes more grim.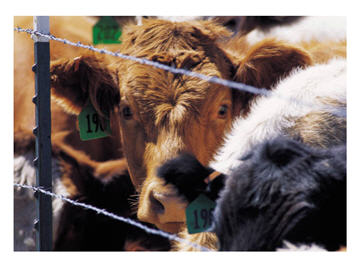 La Bergère Basque offers a glimpse into her way of life in this comment, pertaining to the local food supply in her village in the Aquitaine region of France. She also offers information about governmental inspection frequency, methods, and "controls" relative to the standards required for food sources to be considered organic.
I thank her very much for this view point, after which I took a few minutes to look for something on our processes in the U.S., by way of comparison. In doing that, my concerns over food additives were overshadowed by related subjects that are at least as worrisome.
I was particularly affected by this article from The Daily Beast on "America's Dangerous Food Safety System." In my opinion, the article is a must-read, and if it worries you, it should.
The Daily Beast article by Eve Conant, dating to September 2011, references a Newsweek investigation of America's safety net against food poisoning and bioterrorism.
The Politics of Food
Naturally, there is a political side to the equation. Among many points made by The Daily Beast are the following:
• The two agencies on the front lines of food safety, the Agriculture Department and the Food and Drug Administration, have different risk assessments, legal standards, and resources committed to the effort.
• USDA inspectors admit they are stretched so thin that they frequently miss required inspections at some plants, particularly in the populous Northeast.
• FDA inspectors physically check only about 1 percent of the food shipped into the United States from foreign countries and get to only about a quarter of domestic plants a year.
Frightening? Scandalous?
The report goes on to explore the budgetary issues, the years expended to expand testing of e coli strains from one to six, and the politics involved in all of this – as it comes down to establishing sufficient controls consistently, the manpower to execute on enforcing them, and naturally – the budget dollars to support both.
E Coli Outbreaks
I don't mean to imply that the U.S. is the only country with these issues. We aren't. Outbreaks in salmonella and e coli poisoning still occur across the globe. Germany experienced a major incident in Summer 2011, which caused 32 deaths and more than 800 cases of hemolytic uremic syndrome (HUS), which is, according to the CDC:
… a type of kidney failure that is associated with Shiga toxin-producing Escherichia coli, or STEC, infections.
Closer to home and very recently, most of us are aware of an outbreak in several Southern states which has yet to be entirely traced, and caused the death of a 21-month old girl.
According to Eyewitness News in New Orleans:
The likely exposure is a food source but this has yet to be confirmed.
The New Orleans article cites infectious disease expert, Dr. Brobson Lutz:
Dr. Lutz said humans and pets have millions of E. coli living in their colons, but the real trouble comes from the mutated strains usually transmitted in meat or beef.

He believes that anti-biotics in livestock feed are contributing to creating super E. coli strains that have mutated and become extremely toxic to people.
Start with Awareness, Continue with Political Action
While this conversation began (a few days ago) with the concerns of French women over excess pounds, and the need for awareness relative to diet dramas and health issues, clearly, there's more to unravel.
As for controls, in the U.S., we have the Department of Agriculture (USDA) and the Food and Drug Administration (FDA). Articles such as the one in The Daily Beast reveal some of the challenges they face.
Beyond the problems of obesity – heart disease, diabetes and the resulting strain on our healthcare system – do we know what we're putting in our bodies? Shouldn't we?

Shouldn't we focus on putting our dollars into changes that address root causes and seek to prevent health problems, even if we realize there are no guarantees?
I don't want to oversimplify what is clearly a complex problem, involving agri-business, small farmers, supermarket chains, restaurants, institutions (schools!) and more. So I will return to awareness as a first step, and individual responsibility as part of that – paying attention to what we consume and where, not to mention our political process at a more micro level. This is more than a matter of vanity, conscience, or even dollars. It is essential to our health, the health of our families, and that of our neighbors – locally and globally.




© D. A. Wolf

Big Little Wolf's Daily Plate of Crazy