I huddle over my laptop for long periods of time and I have for years – even during my tenure as a traditional wife and mother. In those days, I did so in the small hours of the night. This is nothing new for a writer, or for those compelled to write, and naturally, if you make your living by the written word, the intensity of the experience can be extreme.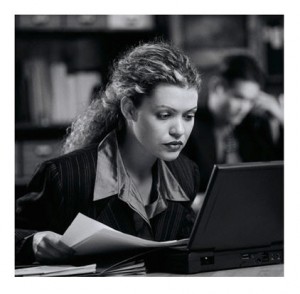 Where does that leave the household duties? Where does that leave relationship time? And what about energy?
Sometimes, all are languishing – and competing.
Personally, I find writing simultaneously energizing and fatiguing. While any job is tiring, I suspect living with writers can be dull dull dull – a challenge for those who love us, when they need to ease us out of our heads.
We lose track of time. We disappear, or seem to. We look up – and it's mid afternoon or evening and we don't realize we've missed meals, the window of time for critical phone calls, yet another day to attack the laundry, the stack of bills, the files that are screaming to be organized.
By the time I realize I'm hungry and it's nearing night?
Even warming leftovers seems like too much trouble, though I've always made sure my kids were taken care of. As for cleaning, bill paying, errands – we do what we can, when we can.
But I'm quite certain I would benefit from having a wife.
The Benefits of a Traditional Wife

Last weekend, after a particularly exasperating stream of days and nights of domestic irritations (everything always breaks at once, doesn't it?), online forms for critical parenting-related duties (yes, those drag-on dreaded financial aid tasks), and my own Checklists To Attend To, let's just say – I was pooped.
The two days I couldn't consume anything but soup (recall the Chipmunk Cheek?) – well, that added to the aggravation of the week.
A friend arrived at my door on Saturday with two bags of food, and while I continued to work, Said Friend prepared a Fabulous Meal, provided a 5-olive martini, cleaned up after aforementioned feast, and the following day (as I put in another 14 hours, some of which was spent screaming at my computer clogging over updates) – coffee magically appeared at regular intervals, along with kind words, and later, a divine dinner of salmon and salad.
When I looked up it was dark, and a kind face was sitting across from me with a little smile. I glanced around the kitchen – everything was rinsed and loaded in the dishwasher, leftovers slipped into the fridge, and Said Friend bid me a goodnight.
That's when I thought about my marriage, and the sort of thing I did routinely, when my spouse was there, and particularly when I could tell he was pressed or preoccupied.
Coffee appeared, meals appeared, children were whisked in and out, dishes were stacked (I admit, I did leave dishes in the sink if I could get away with it).
What is a Caring and Attentive Partner Worth?
The bottom line?
I was the caring partner whose role was, among other things, to read the mood of the household – to anticipate, respond, facilitate – to the extent it was possible. I recognize that this behavior is old school, and it didn't come without serious sleep deprivation on my part (I had my own corporate job I was juggling with parenting), but I was the wife in the traditional sense – there to support my husband.
As my Kindly Friend has shown me, the role of "wife" – or more precisely – partner who recognizes your needs and assists out of love, compassion, and fairness – is an admirable and essential role.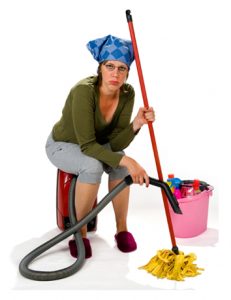 If you ask me, it's a role that both in a relationship own and should willingly take turns at sharing, tuning in to their partner's stresses or fatigue, and in so doing, strengthening the bond.
So I just may need to hire myself a wife.
Unfortunately, there's no guarantee she'll be happy with the job description. And besides, it isn't in the budget. Still – if I could – I wonder what he or she might merit, in terms of salary?
Do you need a wife? Are you the wife?
Do you and your partner take turns in care and support of the other?
Do you exchange traditional "gender roles" when circumstances warrant?
Do you ignore the notion of gender roles, and fall naturally into habits that suit you?
How much would you pay for a cook, housekeeper, babysitter, driver?
You May Also Enjoy