If you're a Stay At Home Mom, a.k.a. a SAHM, and your children are in school for part of the day, how do you spend your time? The hours between 9 and 2, or 9 and 3?
Comments from a recent post on female stereotypes reinforced the reality that my personal experience is just that – my own. I've known single mothers who juggled work for pay and caring for kids, married mothers who juggled the same, and married mothers who are more traditionally classified as Stay At Home Moms.
Clearly, around the Internet, we hear from Stay At Home Dads as well, thoroughly accustomed to caring for kids and home the way women once did, exclusively.
For purposes of discussion, let's set aside the hybrids who, like me, earn their living while physically at home. Then there's the issue of the single mom and the mommy track, which is also a special variation. But these are topics for another day – including how to manage that particular juggle, get creative with expectations, and set appropriate boundaries. So may we chat about what it means to stay at home? The responsibilities and tasks actually involved?
For those who are the "traditional" SAHMs, I'm interested to know how you spend the hours you aren't with your kids.
Stay At Home Moms, Sixties Style
My own mother was a Stay At Home Mom – the norm in the 1960s – but once the kids were in school, she went back to college to earn her degree. Every hour she wasn't pursuing a household or mothering-related duty – cooking, cleaning, caring for kids, shopping, budgeting, volunteering, planning parties, running errands for my dad… wait… that's a rather extensive list!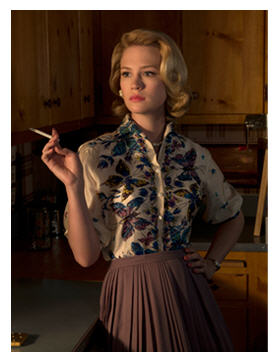 Well, whatever hours were left, there were the weekend trips to go antiquing on occasion, and otherwise, she was attending classes and studying – with a vengeance.
I admired (and emulated) her dedication to learning, and her unflinching discipline. Having raised two kids alone and juggling an assortment of jobs, I appreciate her accomplishments even more at this stage. I see those 10 years of taking courses while technically a SAHM and wife as both fulfilling and trying.
And remember, this was exceptional behavior at the time.
At the end of that decade, my mother had earned herself a college degree at a well-respected major university. And she graduated with honors, at that.
Betty Draper – Are You Still Out There?
My mother's sixties social circle? Her friends?
Those were definitely the days that resembled Betty Draper at the neighborhood cookout – pill-popping to lose weight, chain smoking to keep it off, gallons of alcohol in an assortment of cocktails. My own parents neither smoked nor drank – and my father's free hours were spent on the golf course, while my mother's, as I said, were devoted to her text books.
I won't say I don't know women who have time for manicures and pedicures, or to grab lunch with a friend. And you know what? If you're running a household and chasing after little ones – or even big ones – aren't you allowed a few hours off?
To be frank, the married mothers I've known well had no time for visits to the salon, to the gym, or to the tennis courts. They were busy assisting spouses with their careers, and if they could, they were pursuing new interests of their own. I understood the former, and envied the latter. I would have loved a few hours a day entirely to myself, without responsibilities hanging over my head.
And if you're a divorcing or divorced mother? If you were a Stay At Home Mom, how difficult will it be to transition to your new reality – adding work-for-pay to the mix, or scaling back everything in order to continue to be at home?
Judge Not, Lest… You Know What
I will add another point of comparison. One acquaintance of mine, a professional woman in the corporate world, was raising one child. Her husband was the more hands-on parent, with a secure yet flexible professional position. They also employed domestic help.
The net? Two parents, two good jobs, one child and assistance with the house, errands, doctors, after school activities, and homework.
I didn't want her life, but I certainly envied her situation which seemed very manageable because of the support network she had in place. Hell, it was more manageable – without question. To me, her parenting life was a day at the beach!
The fact was – three adults split the work of that one household and one child. Their family life was relatively calm, included vacations, a clean house, and yes – a really great kid, now in college.
Of course, even if I had chosen the life of the Stay At Home Mom, divorce would have dramatically altered the picture. Still –
So what exactly does a Stay At Home Mom – or Dad – look like, in the 21st century?
The often overlooked "duties" of the Stay-At-Home Parent, male or female?

Image of January Jones as Betty Draper, Courtesy AMCTV.com.
You May Also Enjoy