Yesterday's musing on change generated some interesting comments, and a flow of additional thoughts on this topic that warrant further exploration.
Perhaps it's the time of year. What better season to undertake changes in ourselves than Spring, as renewal and regrowth in nature remind us that change is possible?
Among the comments that intrigued me was the issue of gender differences. Are women more willing to attempt change than men? Changing themselves, or changing others? Are those changes likely to be skin deep, or part of the emotional and behavioral terrain?
And my own questions continue.
Is it easier to change when we're younger, or is that a simplistic myth?
Should we be more actively modeling change for our children – possibly using a different vocabulary, and one that is more specific? For example, we might speak of encouraging flexibility, resourcefulness, open-mindedness – and make very sure we're acting on those traits in a case of "do as I do" rather than "do as I say."
Are we more likely to change when we're in a relationship – and a supportive one at that? A relationship that anchors us in some fashion, so change is less daunting?
One comment that truly captured my interest came from Alain, as he mentioned "an anchor to help the other partner welcome the change."
Is that the key to positive change that does not fracture a relationship? Is it key to sustaining change that is desirable and positive? Without support of some sort, are we less likely to change, or more easily undermined in the process of change – by ourselves or others?
What about anchors with chains that are so long and heavy that they threaten to tangle us up and ultimately sink us?
Self-Sabotage
The concept of self-sabotage isn't new to me. I doubt it's new to most of us. We start off in a new relationship full of chipper determination to "do better" than we have in the past, and we fall back into old routines that bring the romance crashing down. We begin a project, a set of resolutions, a diet – and we undermine our own progress by giving in to temptation or, simply out of habit.
I think of self-sabotage as a resistance to change in ourselves – out of discomfort, fear of the unknown, lack of awareness or denial of our own destructive patterns.
My own experience with self-sabotage dates to childhood, as I watched my stunning but obese mother fail at losing weight, time and time again. She would lose twenty pounds then regain thirty; lose forty and regain fifty. Once, in her forties, in a program that required a year of her life and extraordinary courage, she succeeded. She lost more than 100 pounds, and for awhile, she kept it off.
She struggled to recognize the woman in the mirror. Her relationships weren't suddenly "fixed" after losing what she viewed as The Obstacle to All Things Good. Instead, she found herself with no more excuses for why the world wasn't going her way. Without addressing the real issues, a year later she was back to where she began – obese, and more defeated than ever.
She had shed the weight, but not her unhappiness, not her destructive habits, and not her cruelty.
Sabotage by Supposedly Supportive Friends
What if we aren't resistant to change, or we accustom ourselves to it, taking the time we need to process the change?
We may be adjusting to positive changes physically, emotionally, financially, or professionally. But what if those closest to us – family and friends, even co-workers – feel threatened by the changes we are undergoing?
Who hasn't observed (or experienced) the long-time pal who loses a great deal of weight – and suddenly garners all kinds of attention not to mention, a growing confidence? What about relatives who say they liked you better the way you were before? Or those who put temptation in your path – a cigarette if you're trying to kick the habit, a drink if you're going off alcohol, a piece of chocolate when you're paying attention to your eating habits?
Is it a matter of competition, or fear that the nature of the relationship will change? Is it the usual – we're more comfortable with whatever is familiar or, it's difficult to see someone else achieve success if we, ourselves, haven't found a way to do so?
Does it boil down to envy? Does it differ in every case?
Anchors Aweigh?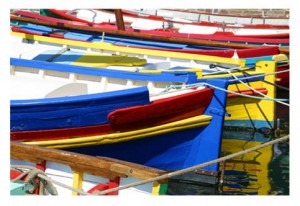 When Alain offered his comment that we need an anchor in relationship, and a welcoming one at that, the image I saw in my mind's eye was of small boats, colorful, able to float but not drift too far. I imagined boats anchored sufficiently so as not to be at risk, but allowed to move with the ebb and flow of the tides and currents.
When we face illness, loss, divorce, unemployment, periods of inner struggle, battles against addiction – even the years when teenagers try every ounce of patience we have – where do we find our anchors? How do we keep the world recognizable as changes beyond our control must be confronted, as well as those we choose to undertake?
When we initiate personal change, whatever the impetus, how do we find the means to reassure those people in our lives who act as anchors to ground us? How do we keep them in our corner? And what about those changes that require us to pull up anchor – and go?