There was cruelty in the way she did it. And no matter how many times I asked her to stop, she refused.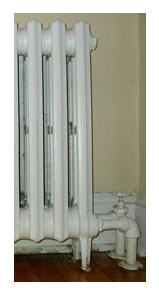 But then, there was cruelty in the way she approached many of those she professed to love, and I still feel the sting of her words, and the burn of her unanticipated rages. They appear in my otherwise pristine dreams. They echo among my lost and fading voices. At moments, I am afraid it is her face I see in the mirror, her body emerging out of mine, her invective coiling up to strike, venomous as the rattler.
But no, I am mistaken.
* * * * *
The New England winters are long and the dawn is brittle, worsened by her insistence that the thermostat be set below 60. She is a bear of a woman, and always flushed with some hidden source of heat. I imagine she never feels the cold.
But I long for the clank and moan of the old radiators, water permitted to flow freely through their functional passages, the press of my body against the painted metal for those few minutes of warmth: I can toast my back and my hands before dressing, then hurrying out the door to school.
Most mornings, I huddle under the covers for as long as possible, buried beneath layers of blue woolen blankets from Filene's, and a thin white coverlet with careful stitching but little weight.
I sleep until she enters – never knocking, always boisterous – and she marches straight to the window and snaps up the heavy white shade. It hits the top of the frame with a loud "thwack" and she bellows: "Rise and shine!"
And she laughs.
I hate daybreak. I hate winter. I hate this woman who disregards my requests, my need for separateness. I hate this woman who will not see or hear me, and instead, she laughs.
* * * * *
This morning, I wake my son as usual. Quietly, I say his name.
I try several times and the clock is ticking. We cannot be late again, but I see traces of paper and balsa wood around me – another project leans against his stack of books.
I can only assume that he worked through the night. I say his name one last time and he begins to stir. I stand a little closer and bend, whispering: Rise and shine, my lovely son.
* * * * *
Do you ever notice that syllables sound themselves out and string themselves into meaning, tumbling out of your mouth to your own surprise? Do you wonder why they didn't disintegrate decades earlier, and where they lodged themselves in their dormant state?
Are you stymied when they seem to resonate, suddenly, with an entirely other sensibility?
* * * * *
In winter, I set the thermostat to 72 degrees and I still layer on a sweater and a scarf in my house. In winter, I sleep under comforters and throws.
In my home, there is no dismissal of opinions, of privacy, of necessary comfort – everyone's comfort. In my home, there are no rituals that flex the muscles of disrespect.
Instead, there are gentle awakenings, awareness that the hours may be dark and draining. There is the shared experience of working hard.
* * * * *
This morning I speak words from an unknown center, hearing them newly, imagining what it would be like to wake to the image of a rising sun, to the pleasures of shining brightly, to the certainty and evenness of a parent's love, to the register of love.
I wonder why my mother's words formed an assault, projected daily in disciplinary fashion, such that I could never process their potential – or our potential, as mother and daughter.
I think of the years of missed opportunities, unable to comprehend the woman who raised me, the mother who squandered her radiant face, the mother whose pain possessed her, the mother who poisoned so many beginnings, the mother whose cruelty knotted our ending.
In her shadow and her light, I deliver a message to my sleeping son, a message that serves as a directive to rise, and I hope, encouragement to shine.



© D A Wolf

Big Little Wolf's Daily Plate of Crazy