Midlife madness?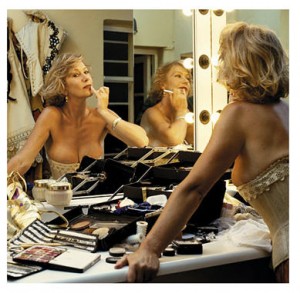 Never went through it. No string of affairs, no taking up bungee jumping, no lifting my boobs or making them bigger (or smaller). No buying myself a hot little red MG.
I know, I know. I'm showing my age on that one. But then – I'm talking about age. Midlife! Women at midlife!
Have you hit your midlife? Would you know it if you had? Do you think you'll go crazy?
Some put midlife at 40.
Nah. I say go with 50. At 40 you're still full of piss and vinegar. You're hot stuff. You're pre-perimenopausal (sorry guys). You're a Spring Chicken!
But hang it up at 50. You can still be hot stuff but there's no more pretending. No Magical Thinking. You're middle-aged, so embrace it – no matter how old you look, how young your kids are, and how much dermabrasion you've shelled out the bucks for.
My Mirror, Myself
How I look at middle-age these days isn't in the mirror. It's in accomplishments, energy stores, goals yet to imagine, probabilities of having time. When I do gaze in the mirror, it's through my puffy eyes in the morning, or rifling through the medicine cabinet for Motrin to ease the ache in my lower back.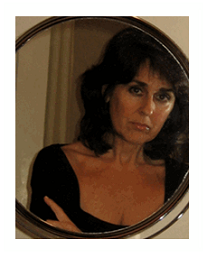 And then I move on to the kitchen and my laptop. To coffee and words, to stirring the pot, to reconsidering myth. And other mirrors – things I must face. Empty nest for one. The damned AARP envelopes that keep arriving, for another. The need to drill for more energy.
The bills. Always the bills.
And the hard, cold realities of midlife, money and marital status… not to rain on my own parade.
Community and Comparisons
Communities are coming to mind – the delights of mixing up age groups, of sharing stories, of helping others. Being helped by others.
Last weekend, on Father's Day, I lunched with a gentleman friend of 60, his  mother of 83, his son of 24. I loved every minute of it – the stimulation of varying perspectives, the sparkle of enthusiastic exchange, the exquisite lines – each hard won – on the face of a very beautiful older woman. 
Options for communal living are coming to mind. Responsibilities. Challenges.
My own parents have passed, but I have friends who are dealing with elder care and dementia. This woman I mention is fit, elegant, and easy to converse with. She has moments of lucidity, and others that are muddled. But humor and language enliven her. Socializing is good for her.
Socializing is good for all of us.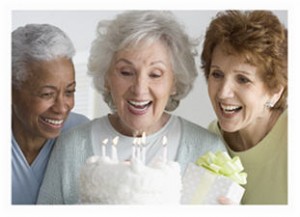 I am reminded that midlife is not old age, that my spotty memory at moments is not dementia but fatigue, stress, hormones, and yes – the natural progression of aging.
As is wisdom, if we're attentive. As is compassion, if we look beyond ourselves. As is a shift in priorities and lifestyle, by virtue of both.
And at midlife though I am, I know this is a complicated stage, a grieving stage, a refocusing stage, a good stage – if I hang onto this: There is so much to look forward to.
Little Pleasures
In my morning (online) reading, I came across 3:00 am musings on midlife – by Amy Ferris. (If you don't know her, she's the wonderful author of Marrying George Clooney – and hey, girlfriends! He's on the market again!) Clooney aside, Ferris impeccably points out that she, too, is at midlife. She seems to relish the realization, in all its murky splendor, and writes:
So here's to us: the bold, audacious, strong, gorgeous, talented, and powerful women who are proving that 50 is fabulous and mid-life is no longer a final destination, but an express subway stop.
I return to my bathroom cabinet.
Survey the meds. Only two.
I dot moisturizer on the laugh lines, a little gloss on my lips. Not bad for a sleep-deprived middle-aged momma who's still kicking, still hoping, still a moderate optimist… even without the MG.
You May Also Enjoy