I love having my children home. I love having my children home. I love having my children home.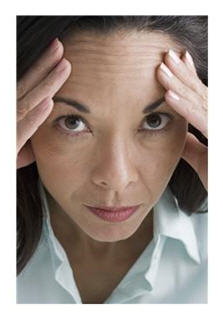 I do.
Really.
I love that my sons are home from college and here for awhile. But it's been less than a week, and the Grand Central Station Effect is wearing me down sooner than anticipated.
Contrary to popular belief (ahem), I am not a saint. I am not June Cleaver. I am not a Mythic Momma who never loses her cool. And I'm stressed. And cranky. And a little surprised to find myself in this annoying state, and apparently in record time.
Is it possible that I've already shed my parental proclivity for tolerating teenagers? Have the last four to five months of relative quiet really changed me, or is there some other underlying cause for capital crankiness?
Attitude of Gratitude
I have many reasons for gratitude: I'm more or less healthy, my sons are healthy, they're doing well in school (and liking it, which is just as vital), and I'm enjoying a lovely relationship.
Then again, I'm struggling with accomplishing some things that are critically important, managing some serious issues, and likewise, slowed by challenging and competing priorities. I also know myself to be a woman who requires considerable periods of time alone, and I haven't had enough of that commodity in the past week.
Greta Garbo, move over!
College Kids (Budget Bummer)
The addition of my sons and their pals to my mental mix – much less my inundated single parent budget?
Frankly, feeding my two for close to a month is challenge enough. When unexpected visitors arrive at meal time, naturally I want to make room around the dinner table. But in my head, I'm counting the dollars. I'm worried about the dollars.
When the partying means more hours of heat and lights, again, I'm tallying expenses.
And yes, I'm cranky.
Family Fortitude?
Sure, I'm happy to have a clue where they are, to hear their laughter, and to know they're safe. I'm happy to see their friends and know they're comfortable sitting back and relaxing. I'm well aware that they've worked hard at college and haven't been home since August. They deserve this break. They deserve to feel at ease in their home. I want them to feel at ease in their home, and inviting their friends to join them.
I'm fine with two or three hours of noise and then I'm not so fine with it.
Two or three extra kids around? No problem. But not twelve, and not nightly.
I come to realize that parenting is more than a marathon; it's also a tolerance for interruption and chaos, for open-ended sharing and constant care-giving, and for setting boundaries that we sometimes forget need to be reset and differently. Parenting involves tolerance that we build up with time, and then maintain with familial fortitude that becomes routine.
And when we let down?
Having (at last) reclaimed a bit more self and space for self, it's now difficult to relinquish either.
Kids Cooking (Weird Science)
Doesn't everyone enjoy Weird Science? 

Waking early yesterday to a sink full of dishes and a stove top covered with pans was not a source of maternal contentment. At 1:45 in the afternoon when I lectured my first-born on the unacceptability of leaving cooking crap everywhere, he informed me he planned to clean up when he got up.
I pointed out that the rest of the household didn't rise at two in the afternoon, which left us tending to his middle-of-the-night kitchen chemistry, if we wanted to actually use the kitchen, that is.
Then he was cranky.
Might I add that he was in and out all evening with my car, and friends in and out, for whom he was doing the experimental Mad Scientist Recipe from Mars?
Children Becoming Adults
Oh, I could've and should've been nicer in the way I handled that little interaction.
Coulda woulda shoulda.
But like I said, I'm cranky. And I do realize that he's used to living on his own in a university apartment, juggling his full schedule with part-time jobs, and answering to no one.
Therein lies part of the disconnect. Shall I repeat it for emphasis?
Answering to no one.
Negotiating with Kids (Compromise All Round)
And of course, when college kids return to the nest, there's a bit of a power struggle over house rules (or at least considerate cohabiting), a parent's tendency to worry (as we always do), and the child who is no longer a child but who is our child wants his (usual) freedom to come and go and do as he pleases.
Cue the conflict. Activate the applause for the (theoretical?) ability to negotiate guidelines. Exit (we hope) both chronic crankiness and parental petulance.

Last evening, both boys had the good sense to do their socializing largely elsewhere; a very small gathering (by my younger son) took place in our living room, and I woke this morning to a clean kitchen and a much loved familiar face – an extra 18-year old asleep on our sofa. I covered him with a second blanket and as he stirred, I whispered for him to go back to sleep.
Are You Cranky?
Seeing one of my boy's best friends where I haven't seen him in over four months? That filled me with tenderness.
Cranky?
Not me.
At this moment, I couldn't be more content.
Big Little Wolf's Daily Plate of Crazy