Greta Garbo.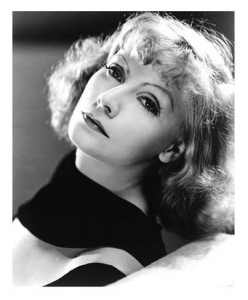 Stunning woman. Fascinating actress. Iconic in every way.
Her beauty and mystery is heightened by the mythology of her reclusiveness, disappearing from public view following retirement from film at age 36.
Like many of us, when I see an image of Garbo, I recall the famous line from 1932's Grand Hotel: "I want to be alone. I just want to be alone."
And you know what? I get it.
For some of us, spending time alone is never desirable. For others, it's more than relaxing; it's absolutely necessary.
Perhaps it's a function of years of parenting, or a sign of being anti-social, or timid. Perhaps it depends on how you make your living, and the manner in which you find a means of escape.
But what about the element of nature? Or is needing to be alone a matter of nurture – environment and situation?
Temperament
As a child, I lived in my imagination much of the time. I played on my own, often reading, writing, or drawing. I bordered on shy in some situations, grew out of it by my teens, and happily socialized and interacted with others – especially when it came to substantive discussion on subjects that interested me.
I traveled alone. I explored alone. I was comfortable alone, and equally, with new people. Yet I have friends who are staggered that I changed countries on my own, that I ventured overseas solo, and that I still do so, when I can. And I enjoy it – the heady sense of freedom, the possibility of adventure.
And even now, I recognize my particular needs: periods without speaking, time consecrated to myself, the reality of answering to no one. Especially after a married life in which the compromises were many. Too many. For too long.
Admittedly, as a single parent, alone time has been rare. Perhaps that's part of why I continue to cherish it to such an extent?
Alone in Relationship
Do I want to "end up alone?"
Of course not!
Who doesn't seek the company of a special person, of loving friends, or even a social circle of playmates you can thoroughly enjoy? And when it comes to a serious relationship, no one wants to feel alone, to feel disconnected from the very one who should know you best and vice versa.
For many of us who have been married, we know that particular loneliness. In place of trust, companionship, and emotional intimacy, you live like strangers or roommates, alone in a couple.

Alone Happily, and Together
But what if you choose to be alone some of the time? What if it nourishes your creative spirit, or allows you to find a place of calm in a chaotic lifestyle? What if you consider "space" to be part of a healthy relationship?
What about being alone – together?
Surely I'm not the only one who adores the idea of being able to sit on a couch with a romantic partner and read. Really read. Your feet touching. The presence of the other just enough – and not too much.
Along with passion (and plenty of it, thank you), togetherness when it comes to discussion and interests, I know I need time to myself. I need it to write. I need it to think. I need it to offset the harried juggle of my daily doings. Yet reflecting on childhood, the years of traveling alone and living alone, this seems to be part of my nature.
But how do you introduce the notion of being alone together, of thriving on affection, but not every moment?
Talk much?
I spend time talking, and time in the quiet.
I'm an extrovert. I'm an introvert as well. Quite possibly, more of the latter than the former.
My relationship style reflects the same contradictions in my personality, and I know it. I'm also highly adaptable, taking on behaviors of those around me, and wanting to please, when I'm in a relationship.
But what about the need for silence? What about divergent personalities? In a relationship, does a hybrid personality type need another hybrid,  someone who can tolerate – or better yet, appreciate – the range of moods from gregarious to contentedly quiet? Is it possible to communicate your need to be alone without hurting the other?
Can you learn to read your partner with time and experience?
Is it possible to simply say – I want to be alone?
Is it how you ask rather than the fact of it?
How much space is "healthy" space, when it comes to a relationship?
You May Also Enjoy