I shove a large cardboard box to the left and reach deeper into the trunk for one of the shopping bags. I'm grateful that my purchases haven't tipped over in transit and spilled among the newspapers and pine needles left from hauling the holiday tree.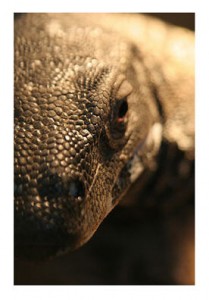 I feel the fatigue of the day in my muscles so I straighten up and then roll my shoulders in small circular motions to relieve the tension. But then I hear a noise I can't quite place, and I jump back just as a huge Komodo dragon emerges from behind another bag, climbs out of the trunk, and slithers away into my overgrown grasses.
I wonder where he's wandered off to and if Terminix considers hunting an eight foot lizard part of "pest control services," but I have no time to call and find out. I've forgotten yet another Critical Item and I drive back to the supermarket (for the third time) and begin weaving my way through spinach and red leaf.
Suddenly I'm aware that I'm weak and I know it's from hunger, so I reach for a bag of pre-washed greens and tear it open, dumping it directly into my shopping basket and then searching for a fork. I turn to a man behind me in a derby hat and ask for Balsamic.
And now for something completely different, he says, and of course, I wake up.
Girl Interrupted
This time I'm the one who sounds frazzled while my son's voice is calm and bordering on amused. I'm acutely aware of all the times the roles were reversed; he is the child, I am the parent, and my job was to calm him with my voice and my manner, and help him see alternatives and options for whatever was concerning him.
I haven't had a real conversation with him in some time, but he's caught me on a day of non-stop interruptions, a day of running through my checklists and not coming close to getting things done, a day when an unanticipated and time-sensitive task has interjected itself on my unsuspecting plans, as company is en route, and my computer is running sluggishly besides.
Damn lists.
Damn Internet.
Sweet son.
Chillax
I'm cranky and he's chill and what I really want is to say I'll call you back but his voice sounds so full and robust and relaxed and that's music to my ears as the saying goes, and the Komodo dragon at the periphery disappears again, at least for a few minutes.
But pressing tasks are pressing tasks; I want to tell him that I'll call back, but I don't want to miss this connection opportunity. He isn't home from college yet, and when he and his brother do arrive, I know the cycle: Eat, Sleep, Socialize, Repeat.
And we don't always get to pick our spots when it comes to communicating with our children.
"I'm listening," I say, though I'm scanning an article in one window on my screen, drafting an email into another, and I'm taking notes on a Word document.
In fact, I'm not listening, and naturally, he knows it.
My adult voice is nagging. Tell him you love him. And tell him you'll call him back. 
Just Say No
I'm not stressed, but I am busy. Too busy. The kind of holiday busy that quickly transforms into stress if we don't watch out for taking on too much. The kind of busy that bleeds into frantic – when we haven't allowed for any slack.
"I'll have to call you back," I say, and he says fine, and that's that.
There have certainly been times when I've said no to my children – hundreds of times; it goes with the territory. Usually, the "no" was a matter of assessing a situation and realizing that "yes" was unhealthy, unsafe, or logistically unworkable. No on a Monday could give way to Yes on a Wednesday, or Yes any day during a particular week might mean more juggling than I could manage.
But this particular "just say no" to myself?
It's not about withholding permission for a party or the car keys, or a last minute change in plans that would scramble the work week. It's a no to the son I've missed, and to a me who in that moment is unable to be my best, my most attentive, my most loving and reasonable self.
Best Foot Forward
How often do we put our best foot forward for others, but don't do so for ourselves?
We give to strangers, to acquaintances, to co-workers and likewise to our partners and our children. We grow accustomed to nurturing, and setting aside our own priorities; worse, we ignore our need for sacred spaces – twenty minutes in the quiet to write, twenty minutes of solo walking, twenty minutes to read or to indulge in the (therapeutic) beauty of boredom.
When we give away too much of ourselves – especially as women and mothers – we may discover there's little left that we admire. The perpetual best foot forward that doesn't include a "self" quickly results in a dismal reflection in the mirror, and a family out of balance.
Maturing Teens (Maturing Mothers?)
My multitasking swallows another two hours, as my company arrives and dinner is late but we laugh all the same and I relegate the remnants of the dragon's image to the back of my mind.
I glance around my cluttered house that needs a heroic cleaning effort over the next three days, and I tell myself it's no wonder that I imagine dragons crawling out from behind boxes.
Later in the evening I call my son and this time, we chat at length and enjoy the conversation. I am aware of his ease in dealing with me when I'm frazzled, his flexibility about my schedule, and I remind myself again that there are times to say no – in order to say yes.
And there will always be dragons.
Do you bite off more than you can chew this time of year?
How do you carve out your "sacred space?"
When all else fails, does humor help?

*Flickr image of Komodo dragon, Creative Commons 2.0, provided by Bas Lammers


Big Little Wolf's Daily Plate of Crazy