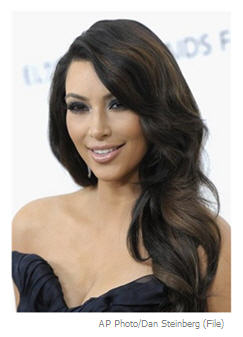 What could the latest celebrity breakup have to do with you – or me? Or our children, for that matter?
You'd have to be living under a rock not to have heard about socialite-reality TV star Kim Kardashian's mega-watt wedding, and just 72 days later, her filing for divorce.
72 days, as of yesterday, when the news hit all the media outlets and pundits (along with celebrity watchers) began their musings and their dissections of the latest public marital meltdown.
But there was no meltdown, at least, not that we're aware of. There were indications (in the press) of issues (per Kim), and subsequent stories abound that hubby Kris Humphries was caught off-guard by the divorce filing, just days after celebrating Kim's 31st birthday together.
There is talk, understandably, of whether or not the entire marriage was a sham, and in our Fame-for-Fame zeitgeist, who wouldn't give some credence to that possibility?
You might say this celebrity news bonanza has nothing to do with us.
With you, with me, with our children. With the way we enter into marriage and, at times, leave it.
You might claim "Starter Marriage" and thus, no harm no foul. Even more so, you think, because this celebrity couple wasn't married long enough to begin their family, which makes ending the union even simpler – despite the media and money involved.
So what if they join the ranks of those on the list of shortest celebrity marriages that include Britney Spears and Drew Barrymore among others?
Yet if we constantly turn celebrity marriage and divorce into the stuff of headlines – and do so without examining what's really going on – aren't we negatively impacted all the same? Can't we read the reported statement issued by Kim Kardashian – "After careful consideration, I have decided to end my marriage" – and consider it nonsensical? How can a few days or possibly weeks constitute "careful consideration" when it comes to filing for divorce?
As for what is going on – is it the need for attention? Romantic delusions? Sanctified sex? An utter lack of understanding when it comes to sustaining real relationships?
Yes, I'm using examples taken from La La Land, and we all know that Celebrity Time operates at lightning speed in comparison to the way time moves for the rest of us. But divorce can be a dreadful experience – a kind of death that drags on, for which there is never complete closure. Marriage isn't a fling; it's a commitment. Divorce shouldn't be an "oops, my bad;" it ought to involve serious soul-searching and comprehension of its consequences.
Our tweens and teens see these Hollywood celebs – they skim the press, they gaze at the parties, they absorb the glitz and the glam, and likewise, the nonchalance with which we slip into fantasy weddings, and slip out of anything that doesn't suit us. How could they not be affected by these impressions, especially with so many of us increasingly cycling through a series of marriages?
Most of us marry in good faith and with the hope that it will last. But the more I see of celebrity marriage and divorce, the more I read of reaching for "personal happiness," the more emphasis we put on weddings rather than the substance of a solid marital relationship, the more we don't discuss the need to form life partnerships on a basis that is more than romantic – I cringe, and I worry.
Whatever happened to relationships founded on common values and character? Chemistry is essential of course – as is, in my opinion, a healthy sex life. But without shared beliefs and consideration of your partner, what are we left with other than the perpetual dissolution of marriages, and likewise, the disappearance of anything recognizable as a stable family unit?
I believe in allowing individual marriages to take their own shape, and I do not believe that marriage is a necessity. But whatever form you give to commitment, I believe it's important to do the work to honor it.

Big Little Wolf's Daily Plate of Crazy